10. White Dwarf WD 1145+017 Photometric Monitoring Observations
by Amateur Observers Bruce Gary (HAO 0.4-m), Tom Kaye (RVO 1.1-m) and Ed Mullen (SCO 0.5-m)
B. L. Gary, this is the 10th web page devoted to observations of WD1145. Last updated 2023.03.30, 21 UT

Why WD 1145+017 is Important



White dwarf stars provide us with time-travel views of our solar system's future. Almost all stars become white dwarfs after their supply of hydrogen fuel in the core is exhausted. For decades astronomers have wondered if a star's solar system survives the transition from a normal star through an expansion phase to a red giant, followed by a shrinking phase to an earth-sized white dwarf. The answer came slowly, and the first hint of it was from spectroscope measurements of white dwarf atmospheres; it was found that 1/3 of white dwarfs were "polluted" with minerals that had to come from planets or asteroids generating dust that continually fell upon the white dwarf atmosphere. So "Yes, some stars retain part of their solar system after becoming white dwarfs."



But the ultimate proof came when WD1145 was discovered: it had dust clouds in orbit around it that would block the white dwarf's starlight every orbit. This discovery hinged on the good fortune that the WD1145 system was oriented favorably, presenting an edge-on view to Earth. The dust cloud orbit periods ranged from 4.5 to 4.9 hours, which required that the orbiting objects have densities of at least 6 g/cc. This density can only be found in planetary cores, so this was evidence that a planet had survived the transition to a white dwarf. This was evidence that "For most stars their asteroids and planets will survive and accompany them on their eternal journeys as white dwarfs - for billions, if not trillions, of years."



Our sun and solar system are 4.5 billion years old. In another 4 or 5 billion years our sun will undergo the transition to a white dwarf. Afterward, our sun will remain a white dwarf forever – for 100 billion years, or however long the universe lasts. Our sun, like most stars, will therefore spend most of it total lifetime as a white dwarf accompanied by most of our present solar system of planets and asteroids. This is an amazing discovery!

2 of 10 - 2016.01.17 to 2016.07.13
: LC Observations - 2nd set of LCs, for 2015/16 observing season
3 of 10 - 2015.11.01 to 2016.07.13
: LC Observations - 3rd set of LCs, for 2015/16 observing season (N = 158) + Overview, Results & Model Speculations
4 of 10 - 2016.10.25 to 2017.06.18
: LC Observations - 4th set of LCs, for 2016/17 observing season
5 of 10 - 2017.10.23 to 2018.06.19
:
LC Observations - 5th set of LCs, for 2017/18 observing season
6 of 10 - 2018.11.06 to 2019.07.09
LC Observations - 6th set of LCs, for 2018/19 observing season
Previous observing seasons summary of results:
Observational findings that need to be explained by models
7 of 10 - 2019.12.02 to 2020.07.09
LC Observations - 7th set of LCs, for 2019/20 observng season
8 of 10 - 2020.11.19 to 2021.06.07
LC Observations - 8th set of LCs, for 2020/21 observing season
9 of 10 - 2021.12.12 to 2022.07.16
LC Observations - 8th set of LCs, for 2021/22 observing season
10 of 10 - 2022.11.21 to present LC Observations - 10th set of LCs, for 2022/23 observing season
(YOU ARE HERE)

Links on this web page:

Status & summary of results for recent observations
Waterfall plots
Activity plots
Phase-folded LCs for date groups
Kepler K2 observations analysis
Waterfall plots for date groups
List of observing session dates
Observing session LCs
Finder image & basic info
Data exchange files
(for all years: 2015/16, 2016/17, etc)
My collaboration policy
Physical layout of debris ring system
References & related external links
Summary of 3.7 years
of ground-based LC measurements
Collisions
(tutorial: Collisions for Dummies, other web site)
Cloud crossing event
(on another web page)
Status & Summary of Results for this Observing Season:

The level of dip activity during this observing season is the lowest for all ground-based observations during the past 8 years, and similar to what was observed by Kepler in 2014.
However, since late 2023 February activity has begun to increase. In late February a two-dip structure appeared and lasted for the week that observations were possible. The deeper dip was fixed in phase using the A-system period of 4.4955 hours while the smaller dip shifted in phase corresponding to it being in a larger orbit. When observations resumed in late March (after a long stretch of cloudy weather) a single dip was observed. It was present for a total of 5 days and varied in depth with a "time scale" of 3 days.


Waterfall Plots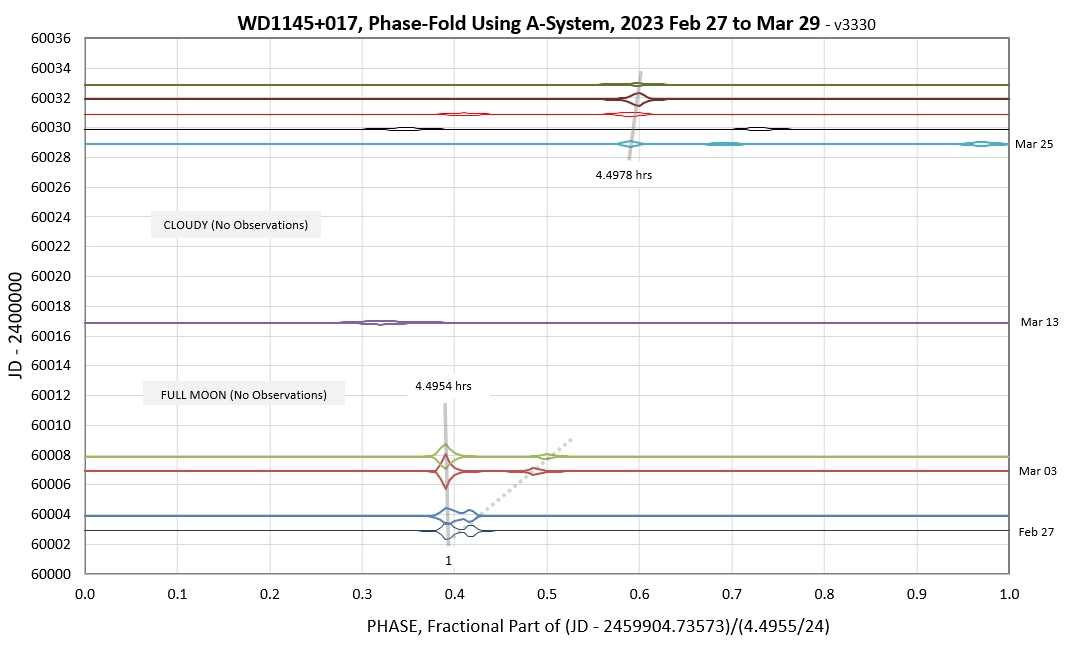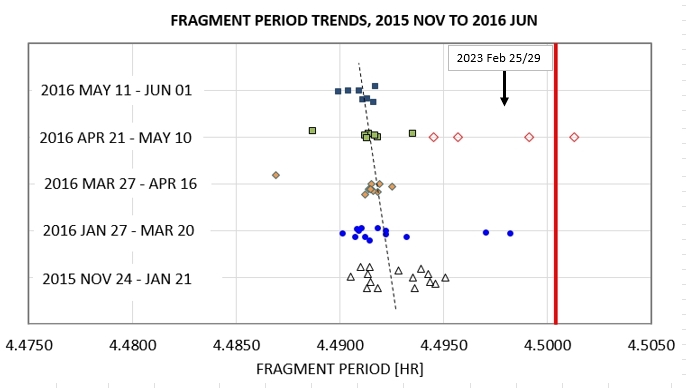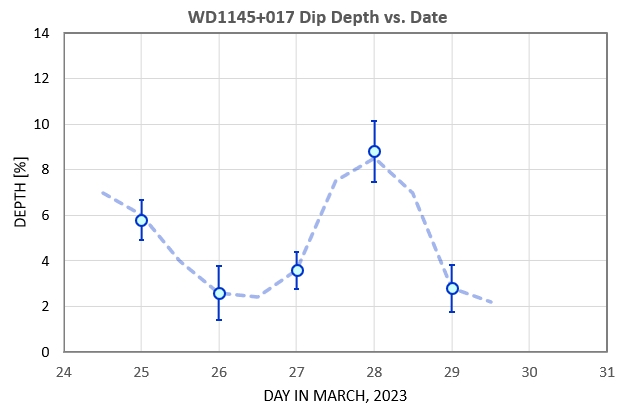 One interpretation of the following two waterfall plots is to say that a collsion occurred at JD-2450000 = 10002.3 (Feb 26), which produced two dust clouds in different orbits. The longer period (i.e., larger) orbit dust cloud. labeled "2" in the next figure, was produced by a large ("mothership") planetesimal that is the source for all fragment sin the A-system. The shorter period dust clod (labeled "1" in the next figure) is from a fragment that vame off the star-facing hot pole of the planetesimal. That dust clod is has a deeper depth (25 %) and retains a narrow width for the 6 days covered by the post-collision observing dates. The other dust cloud loses depth and has almost disappeared by the last observing date.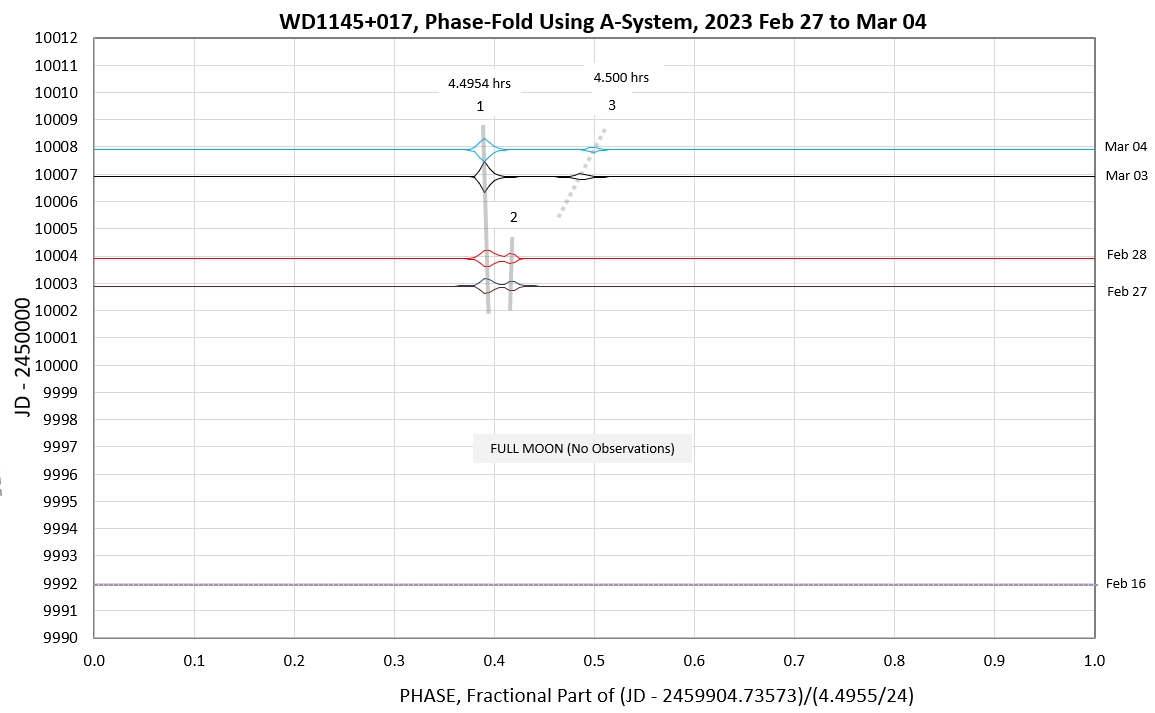 Activity Plots
The next 4 graphs show the level of "dust production dip activity" vs. date: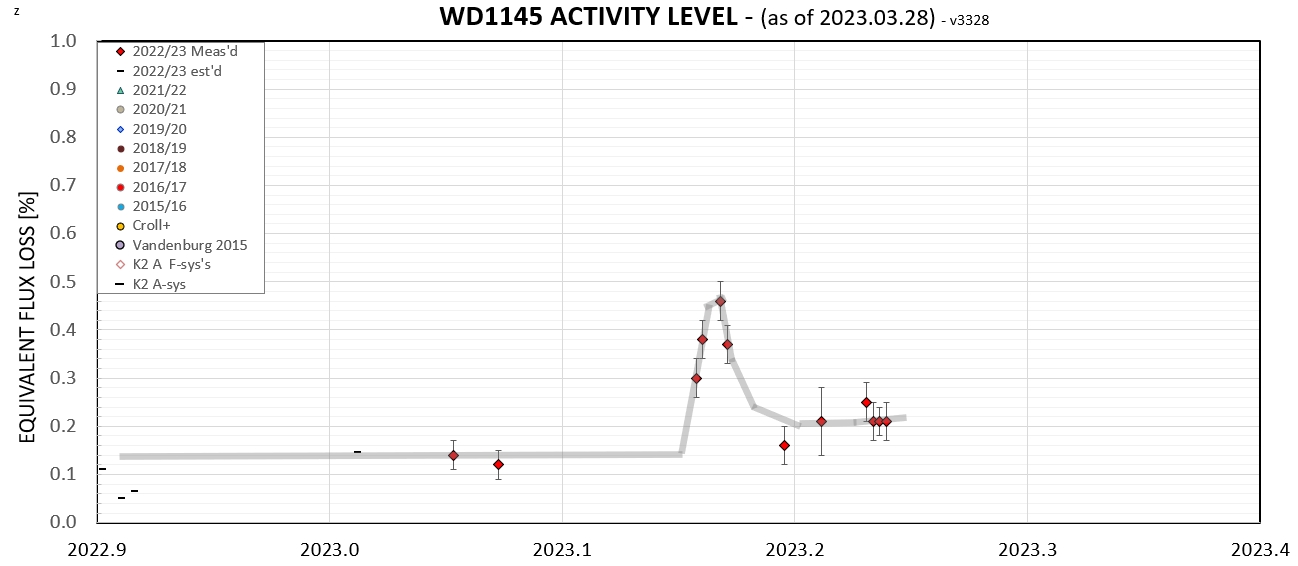 Activity for a 6-month interval for this season's observations using a linear scale for activity.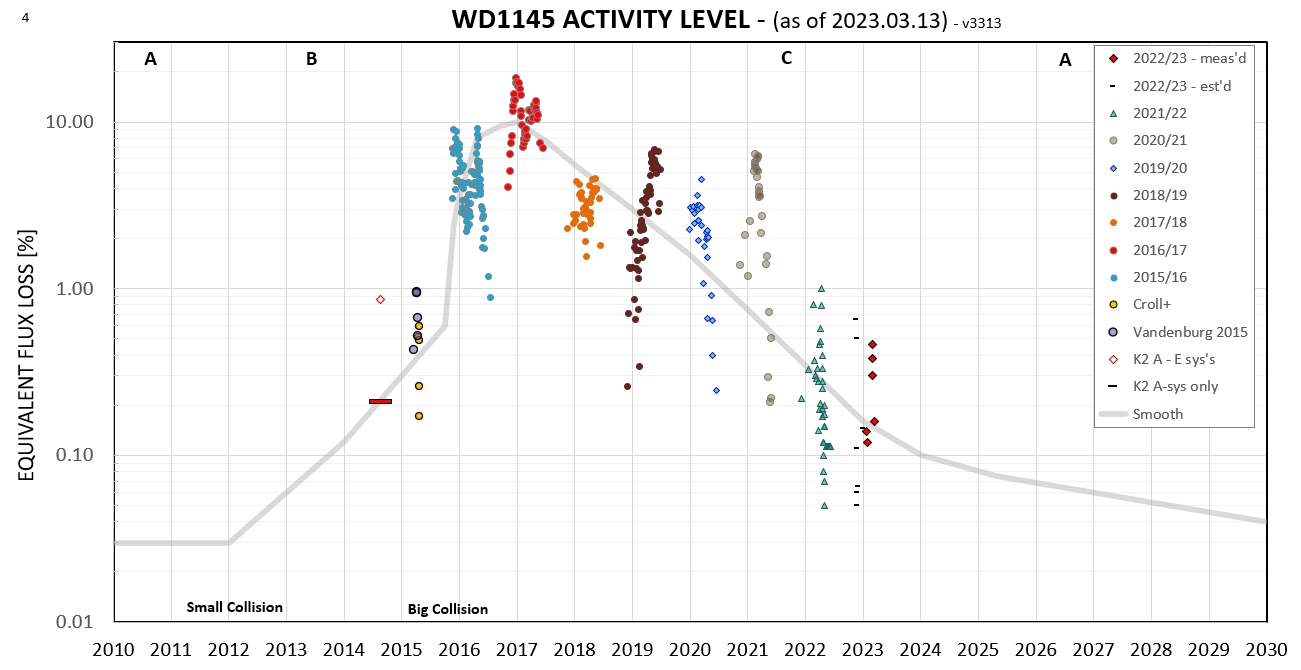 Activity for the last nine years, using a linear scale for activity.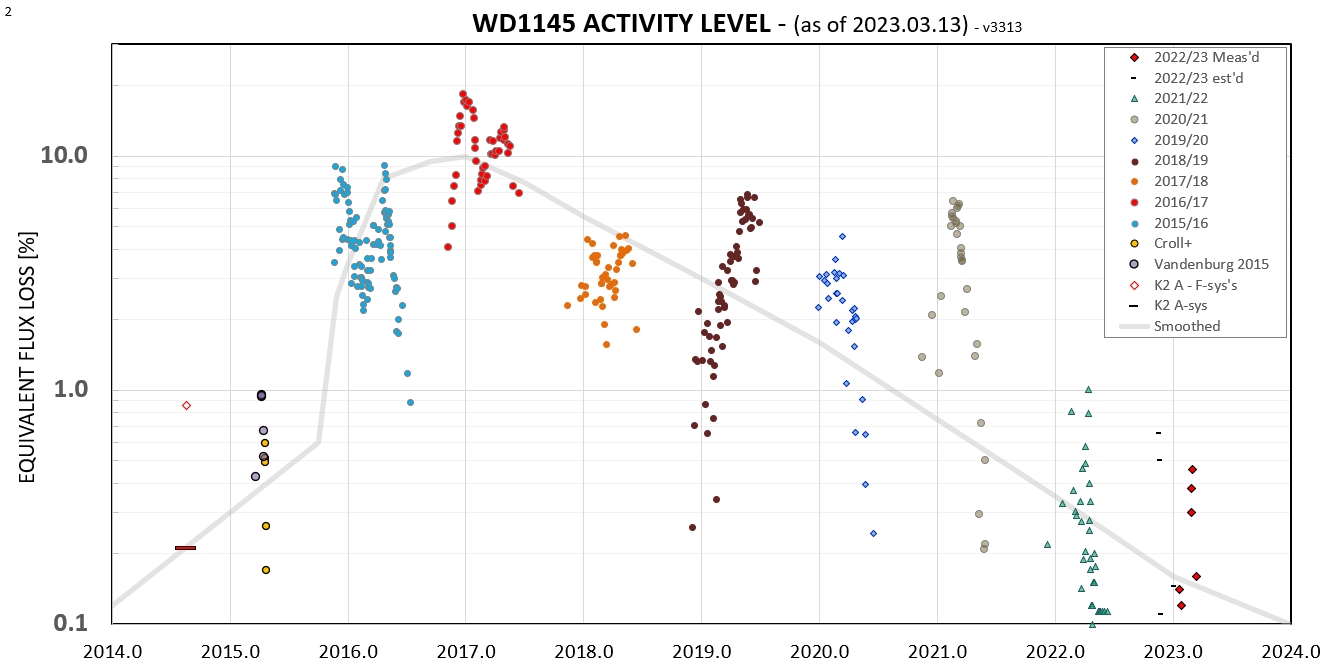 Activity for the last nine years, using a log scale for activity.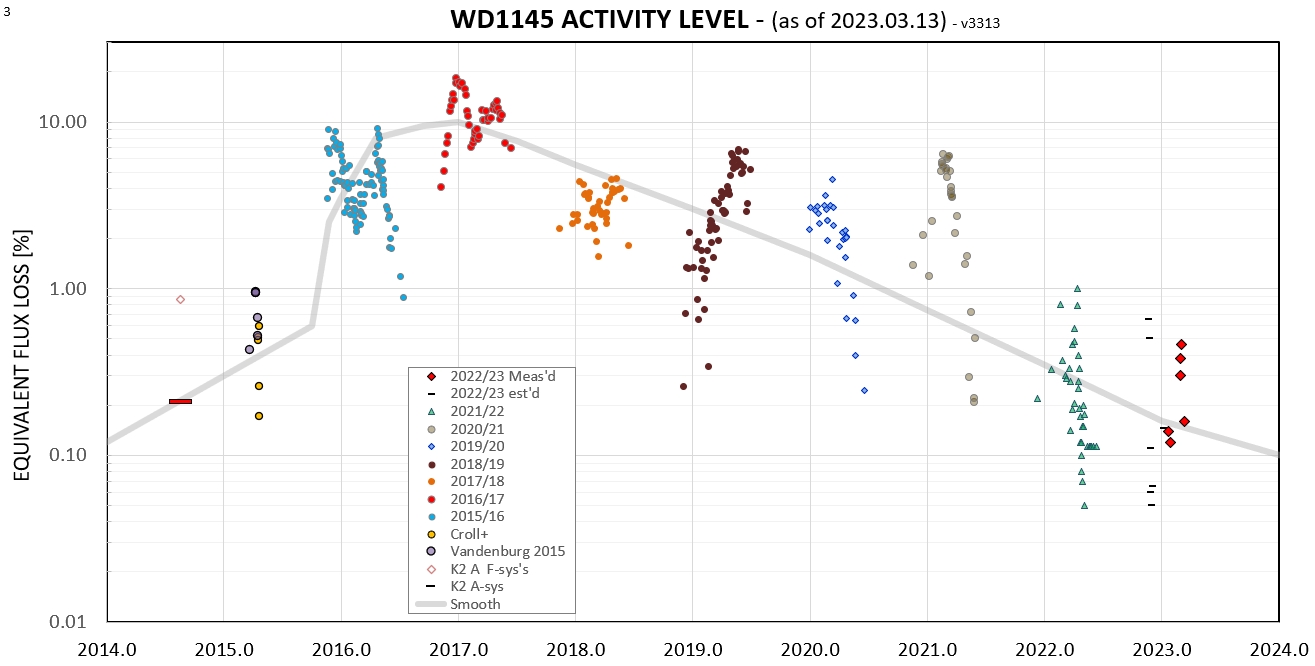 Activity for the last nine years, showing a smooth "eyeball fit."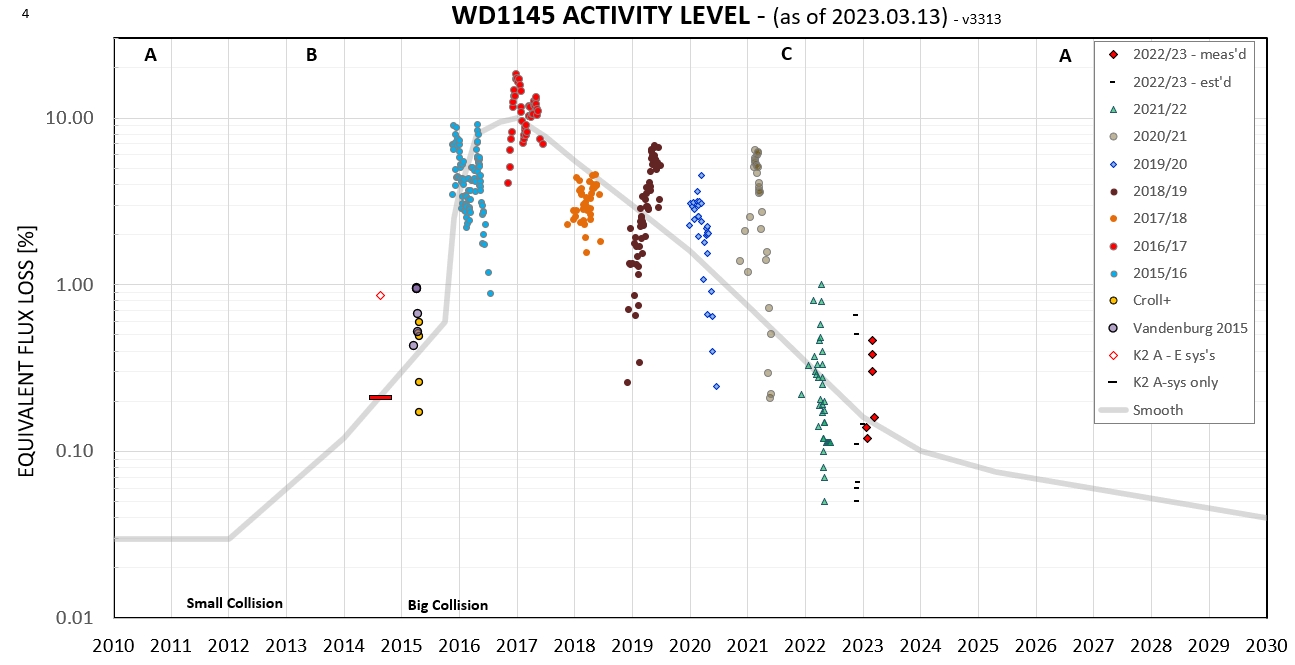 A possible "model" for activity based on collisions as triggers for increased activity. Only two actual measurement of dip activity has been achieved this season (the other symbols are estimattes, based on 1/2 of max). Kepler K2 data is represented by two symbols,the lower one is for the A-system periodicity and the upper one is the sum of EW for each of the A through F periodicities. The A-system EW is more appropriate for comparison with the other data since they are exclusively for the A-system (which dominated activity after the 2015 outburst). If duration of phase "A" is twice the duration of the combined phase "B" and "C" then it could be said that WD1145 is "active" 1/3 of the time. Does "1/3" call to mind anything (hint: fraction of WDs that are "polluted.")?


Data exchange file for activity values:
link
Phase-folded Light Curves for Date Groups
Since our SNR isn't sufficient for ruling out the presence of dips (at the 1 % depth level, for example) the following phase-folded LCs for observing session groups (of only "a few" days) will be our best product for assessing the presence or absence of dip activity.
Mar 25 - 27

Mar 03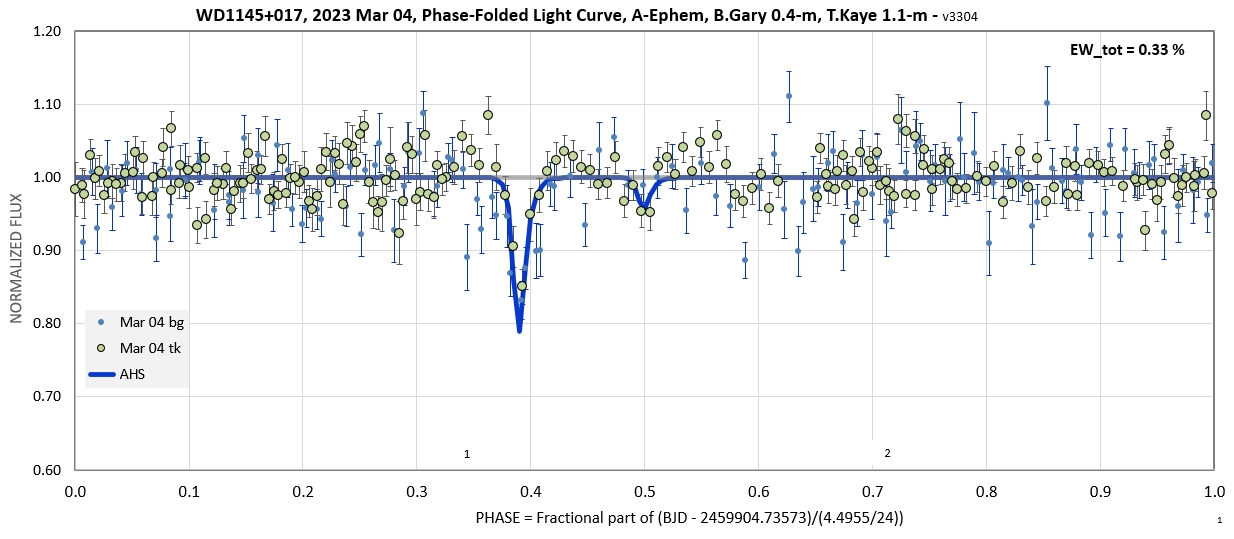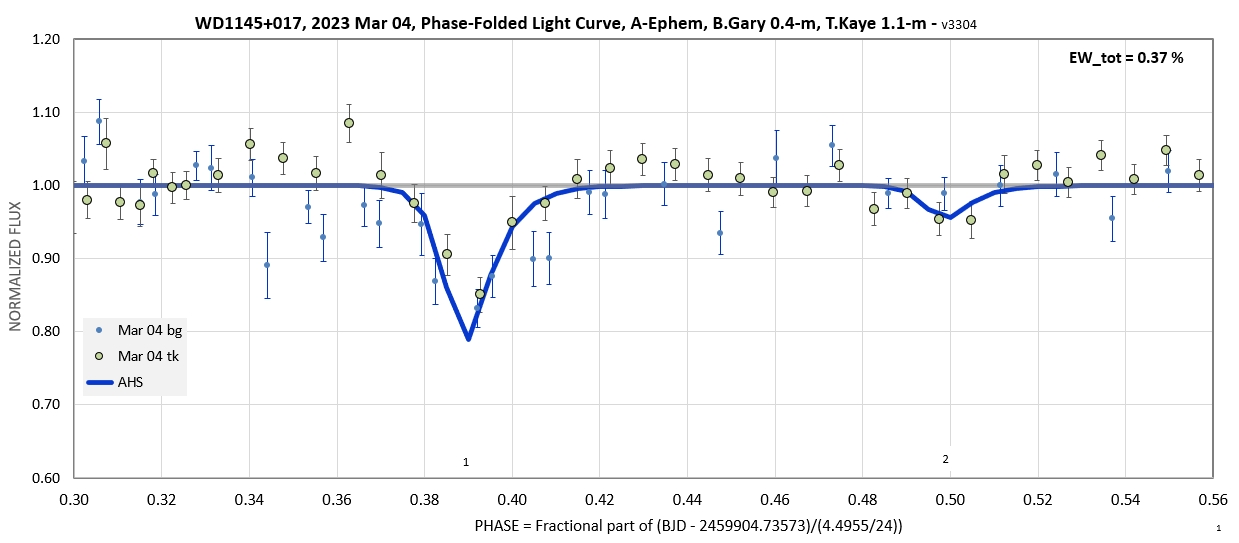 The 2nd dip is really not detected.
Mar 03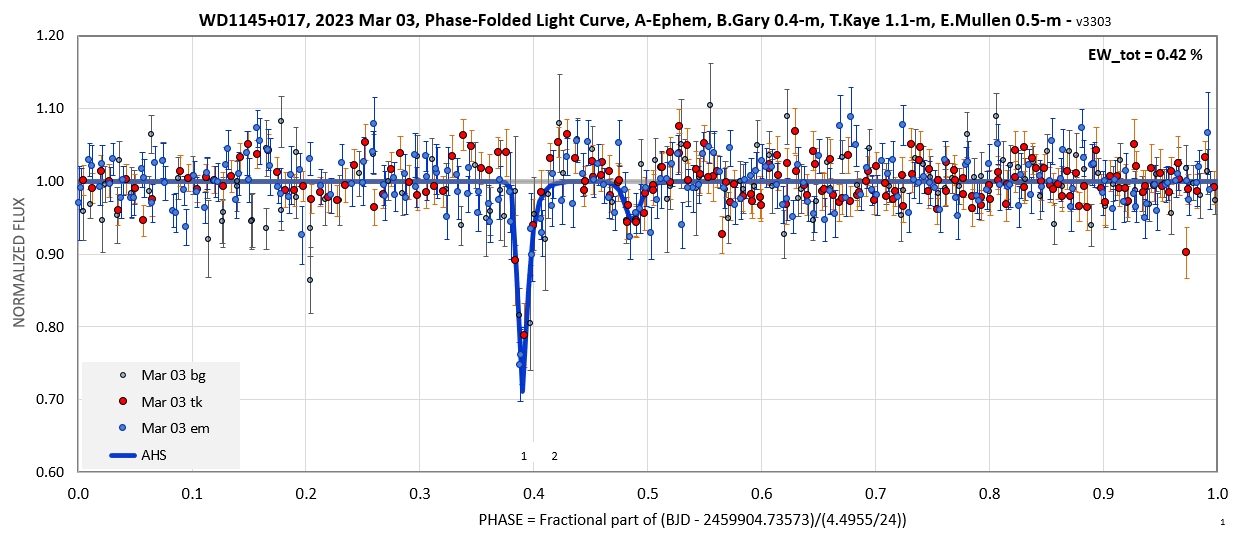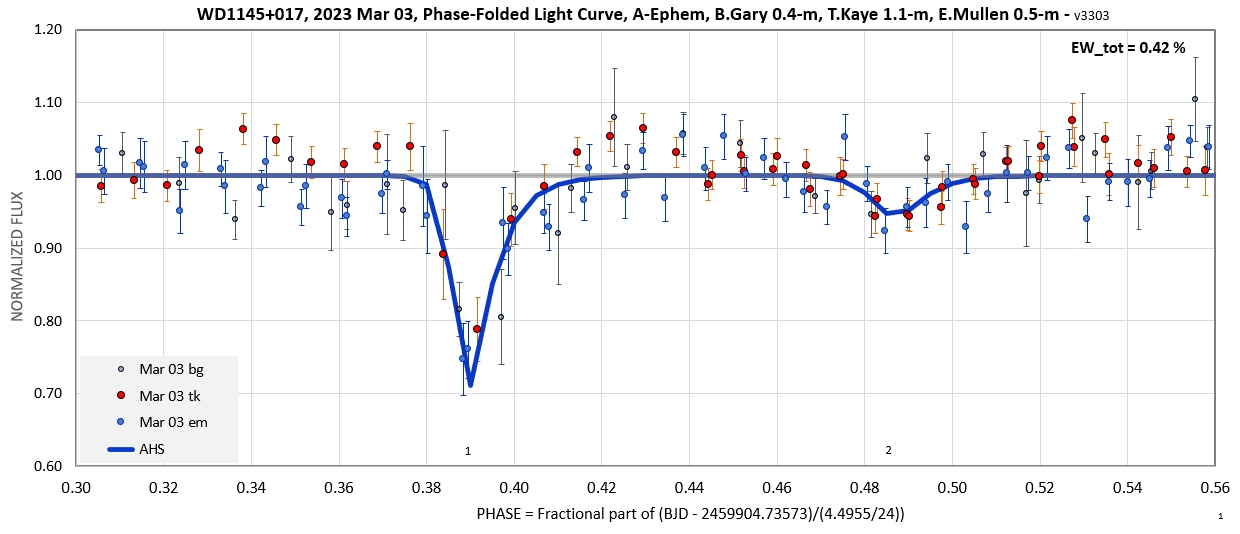 Group Feb 27,28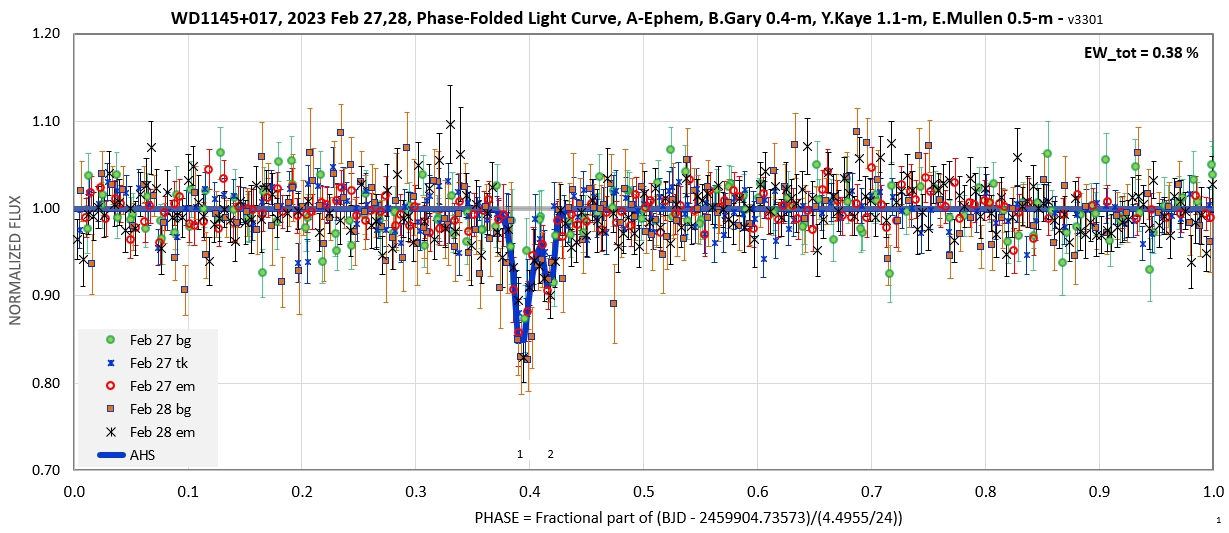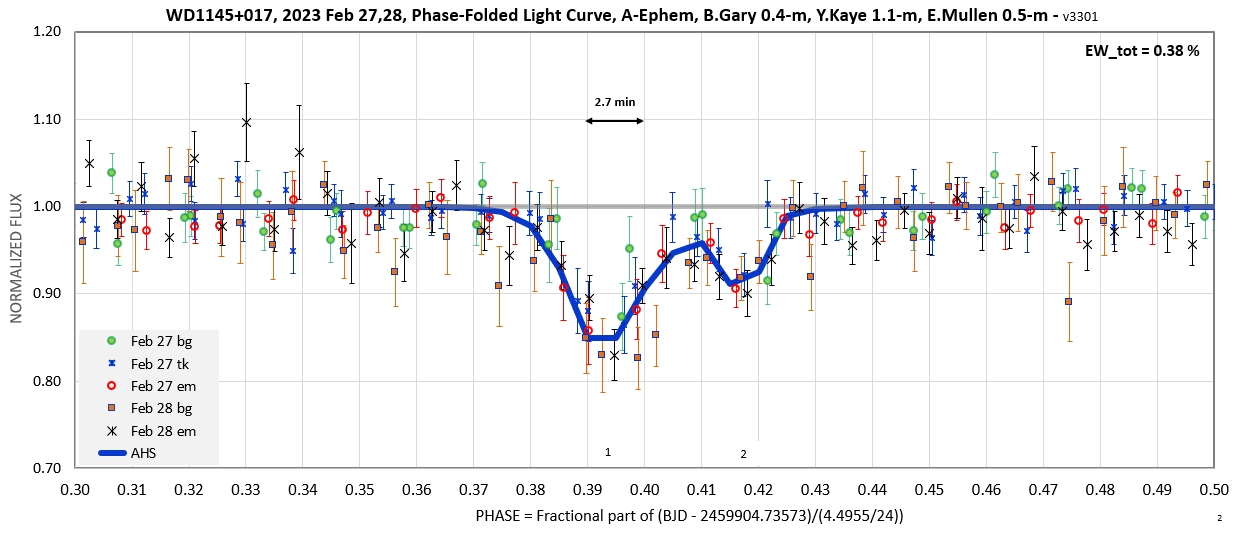 Group Jan 25-27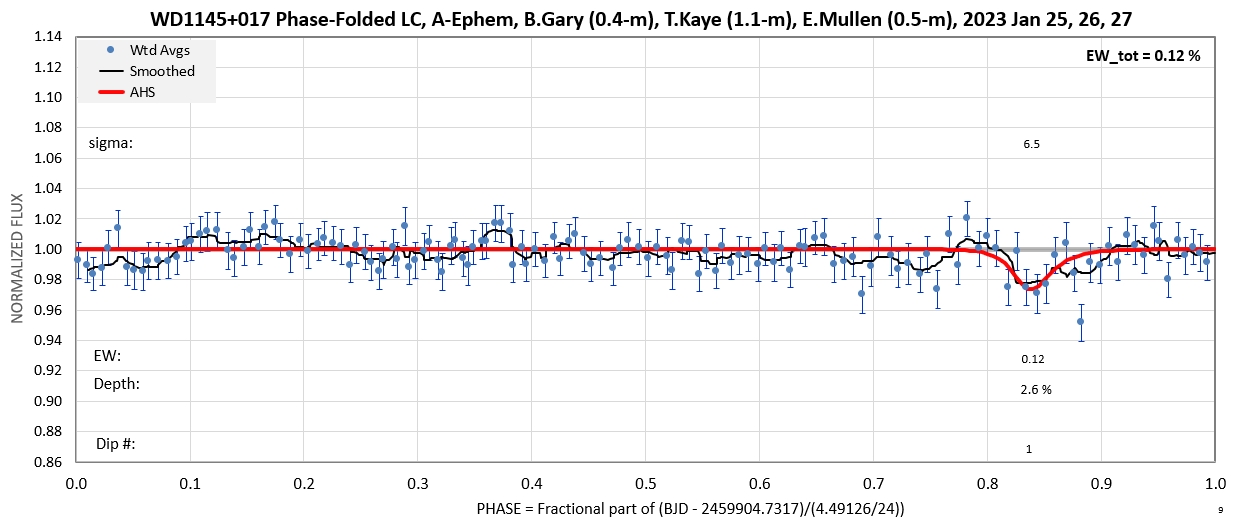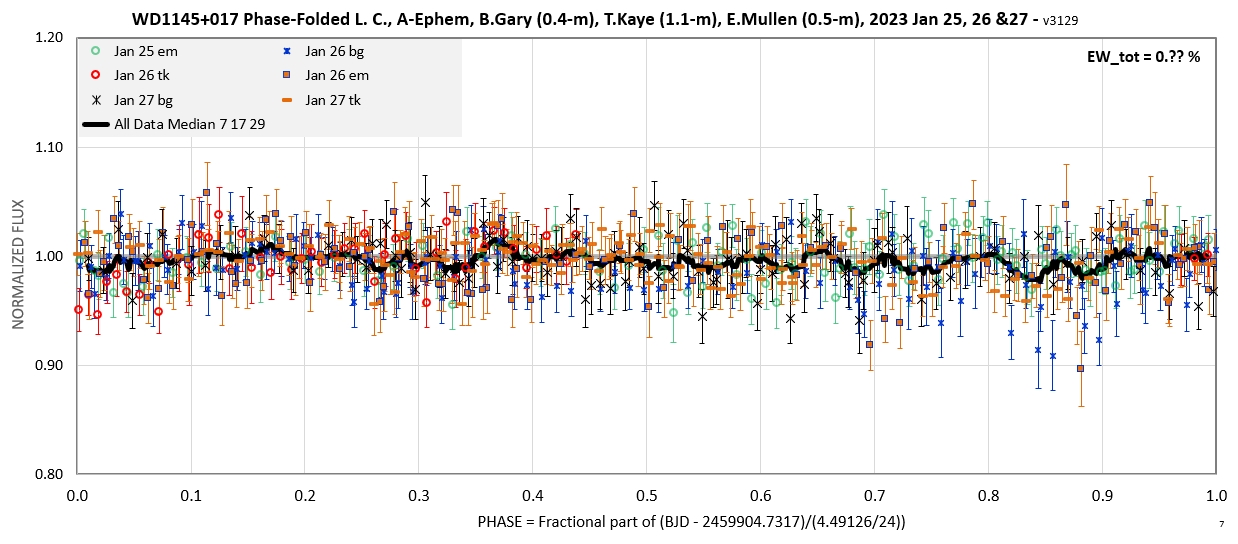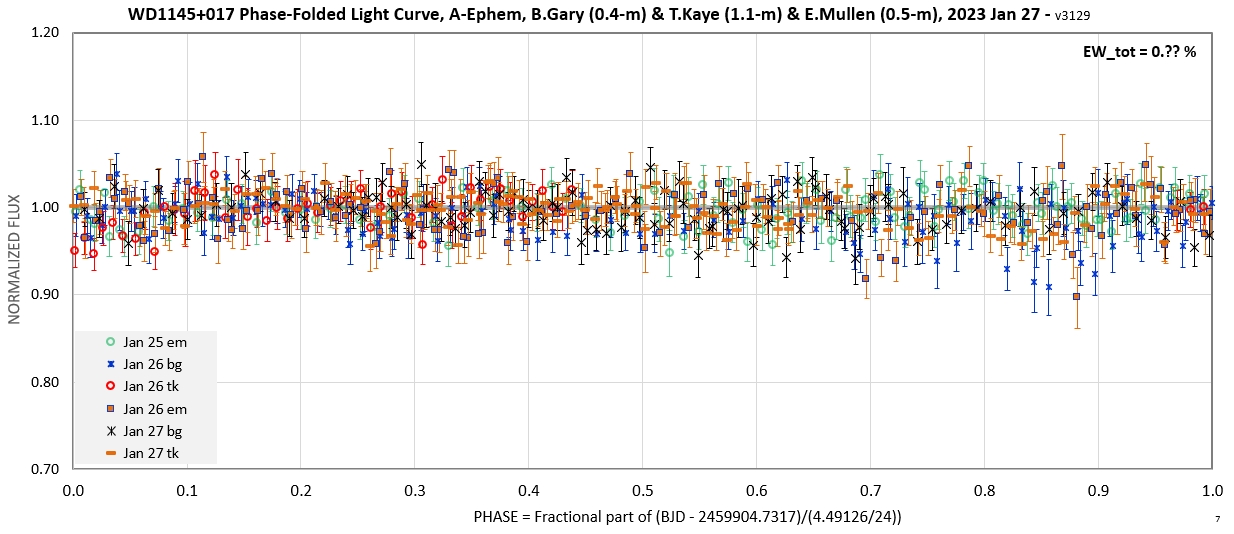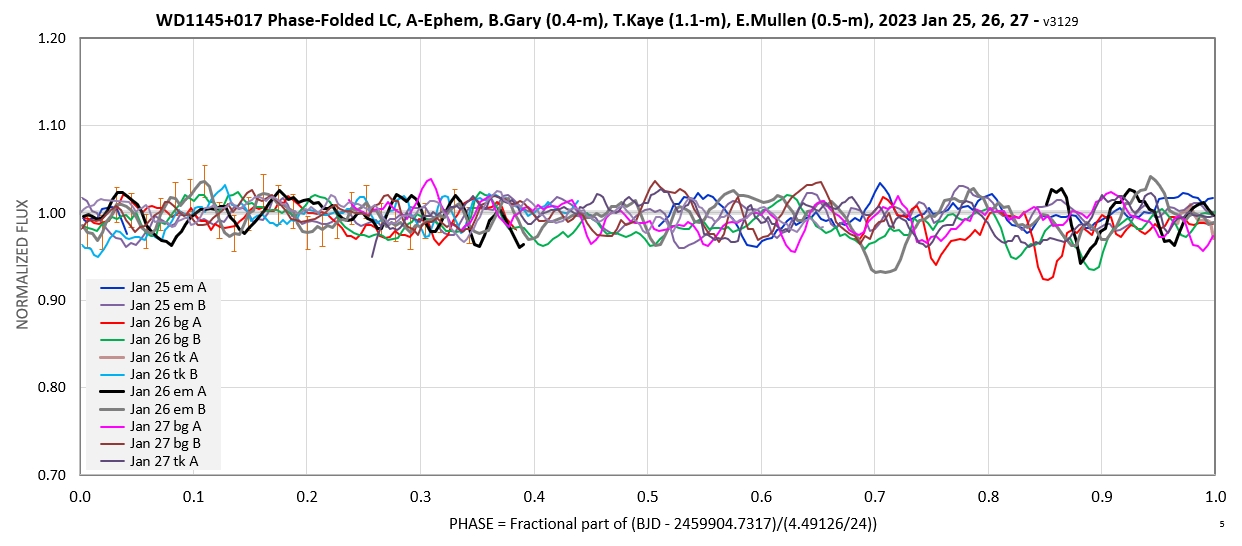 Group Jan 20-22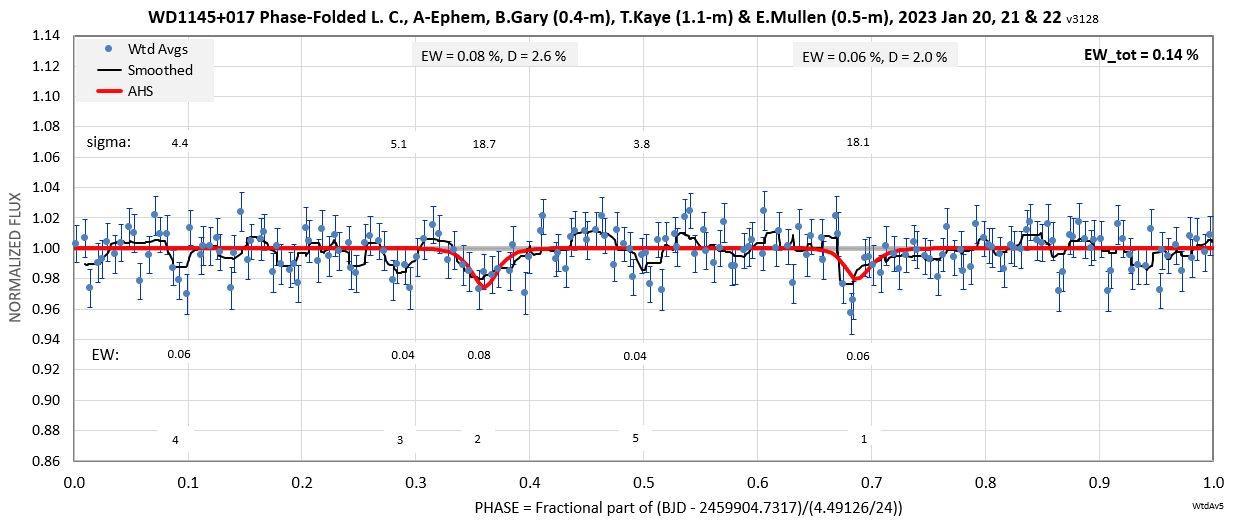 Adopted dip model fit for a LC for 3-day observing interval showing candidate dips and their statistical significance (sigma) and contribution to dip activity (EW).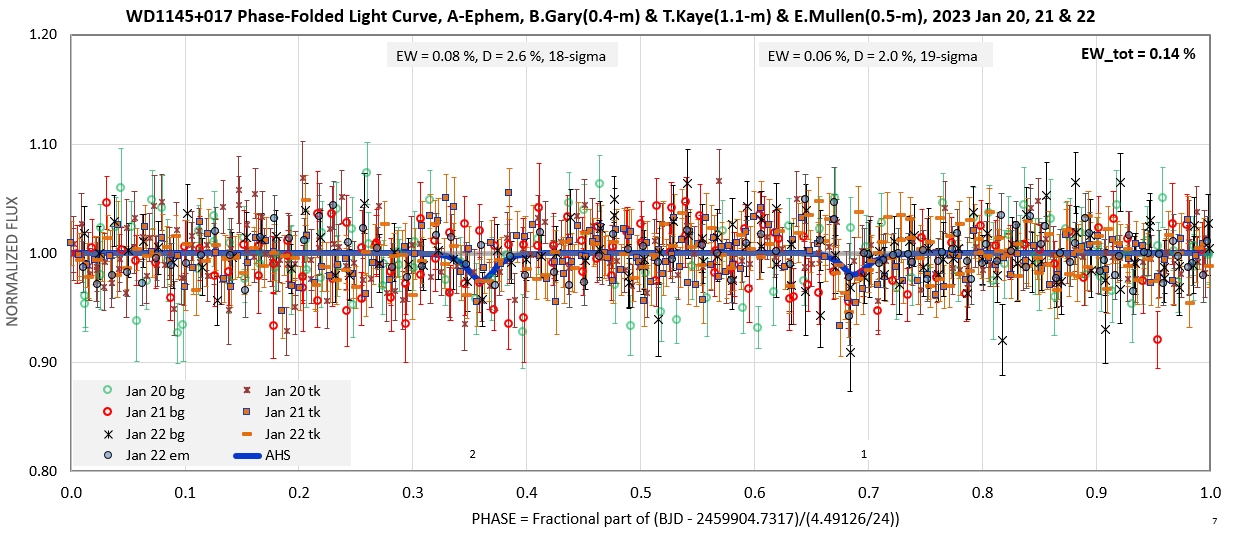 Phase-fold LC for a 3-day observing interval showing two possible dips .

Group Dec 20 - 31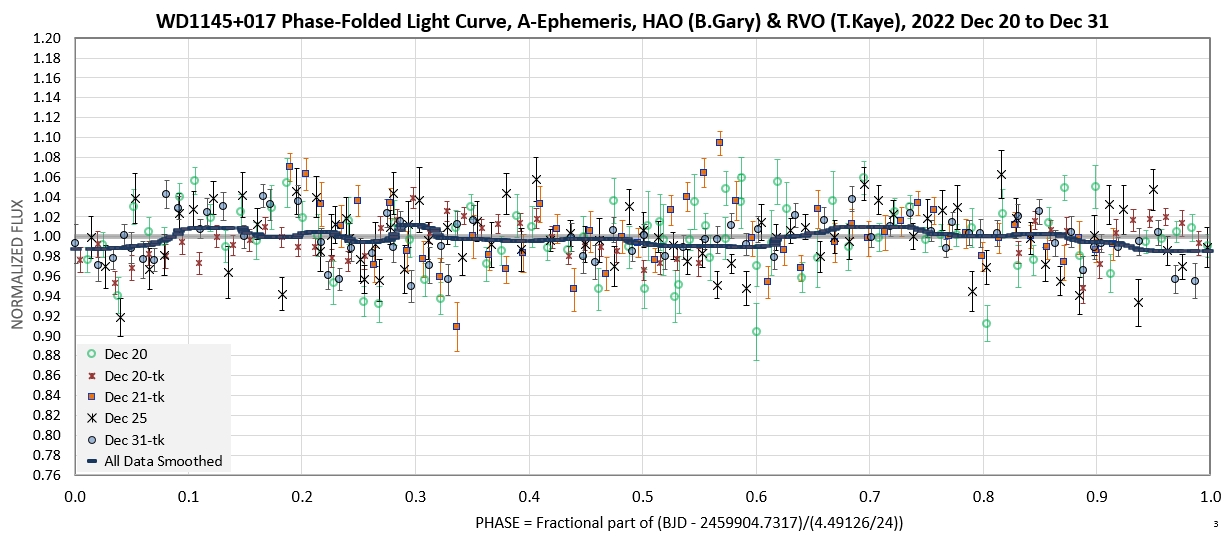 Phase-fold LC after combining all data for 4 days (5 observing session data sets) of the current group of observing sessions (using the A-system ephemeris).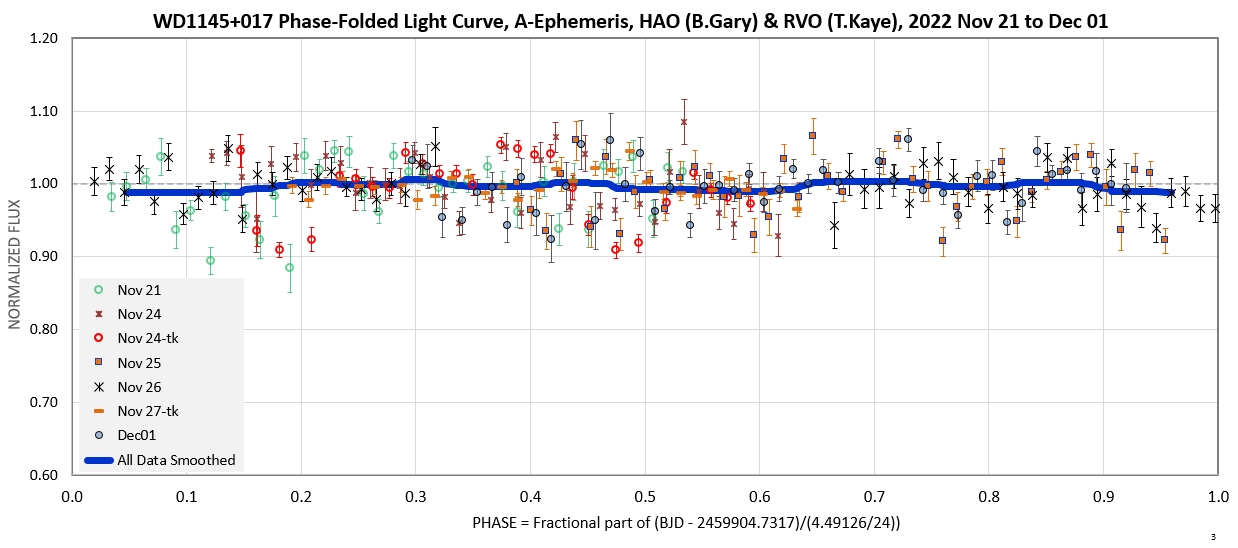 Phase-fold LC after combining all data for the first 10 days of the first group of observing sessions (using the A-system ephemeris).
This LC shows no dips (> 1 %) when data are combined on the assumption that any dips that are present belong to the A-system (4.49126 hrs) and that they persist for the duration of the 10-day observing interval.
Waterfall Plots for Date Groups


There are no credible waterfall plots yet because none of the LC show dips and we only have two credible phase-folded LCs (due to the low activity level).


List of observing sessions