A brightening appears to have occurred that is ABOVE the U-shaped model. I have no explanation!

I've taken the position that the current fade slope is less steep than previously modeled. This leads to an increase of depths for the March dips by ~ 1 %.

I want to suggest that careful use of AAVSO data can be used to produce good quality light curves, as I illustrate below. Congratulations, certain AAVSO observers!

1) This web page is for the 2018 observing season for KIC 8462852 (e.g., "Tabby's Star"), hereafter KIC846.
2) By now everyone knows about two important papers that appeared at the arXiv preprint web site on Jan 03: the Tabby Team paper (199 authors) summarizing Kickstarter observations & others, and a Deeg et al. paper reporting GTC (10.4-m) observations of dip depth vs. wavelength. Both confirm that dust with a small size component (< 0.5 micron radius) produce the dips. (Long-timescale variations are a completely different thing.) Links to these two papers are given in the References section (
below
).
3) Rafik Bourne and I have published two articles in
AAS Research Notes:
1) "KIC 8462852 Brightness Pattern Repeating Every 1600 Days" at
link
, and 2) "KIC 8462852: Potential repeat of the Kepler day 1540 dip in August 2017" at
link
. Preprints are available at
arXiv:1711.04205
and
arXiv:1711.07472
. A full-length (9-page) article, covering both
AAS Research Notes
topics more fully, has been published by
MNRAS
. You can see the final version (after 3 revisions) at
link
or
link
.
4) Finally, since I have probably observed KIC846 more than anyone, I may have earned the right to comment about the suggestion of "alien mega-structures" as a possible explanation for the unexplained dimming behavior before natural explanations had been exhausted. I'm going to repeat a complaint by the Dutch astronomer Ignas Snellen of Leiden Observatory, but first I want to present a brief justification for my right to complain by describing my pro-SETI credentials: 1) In the 1950s I demonstrated the feasibility of an alien civilization in our interstellar neighborhood to broadcast its location by transmitting a map of how constellations appeared from their location, and 2) when I led the JPL Radio Astronomy Group in 1968 I suggested that SETI should be a group goal with a Deep Space Station radio telescope, which my successor eventually did, using DSS-14, until it was killed by a Nevada senator who complained about this NASA project. (As an aside, I was hired at JPL in 1964 by Frank Drake who was apparently impressed by my Jupiter observations with the radio telescope he used for Project Ozma). OK, here's what Dr. Snellen wrote (from
link
):
"...there is no place for alien civilizations in a scientific discussion on new astrophysical phenomena, in the same way as there is no place for divine intervention as a possible solution. One may view it as harmless fun, but I see parallels in athletes taking banned substances. It may lead to short-term fame and medals, but in the long run it harms the sport. Same for astronomy: we should be very careful not to be ridiculed. I really hope we can stop mentioning SETI for every unexplained phenomenon."
The article (by Elizabeth Howell) ends with a quote from Morris Jones, an Australian space observer:
"The media is under pressure to deliver attention-grabbing news, but it's hard to expect them to judge fringe SETI as spurious when it comes from reputable institutions and qualified researchers. The best way to reduce these reports is to stop the production of questionable scientific papers in the first place."
Amen!
_____________________________________________________________________________________________________________________________________
Links on this web page
V-mag and g'-mag vs. date
Comparison with other observer observations
List of observing sessions
Finder image
showing new set of reference stars
HAO precision explained (580 ppm)
My collaboration policy
References
Go back to 5th of six web pages (for dates 2017.11.13 to 2018.01.03)
Go back to 4th of six web pages (for dates 2017.09.21 to 2017.11.13)
Go back to 3rd of six web pages (for dates 2017.08.29 to 2017.09.18)
Go back to 2nd of six web pages (for dates 2017.06.18 to 2017.08.28)
Go back to 1st of six web pages (for dates 2014.05.02 to 2017.06.17)
Reference Star Quality Assessment
(the 10 best stars out of 25 evaluated)
This is the 6th web pages devoted to my observations of Tabby's Star. When a web page has many images the download times are long, so this is the latest "split."
V-mag and g'-mag vs. date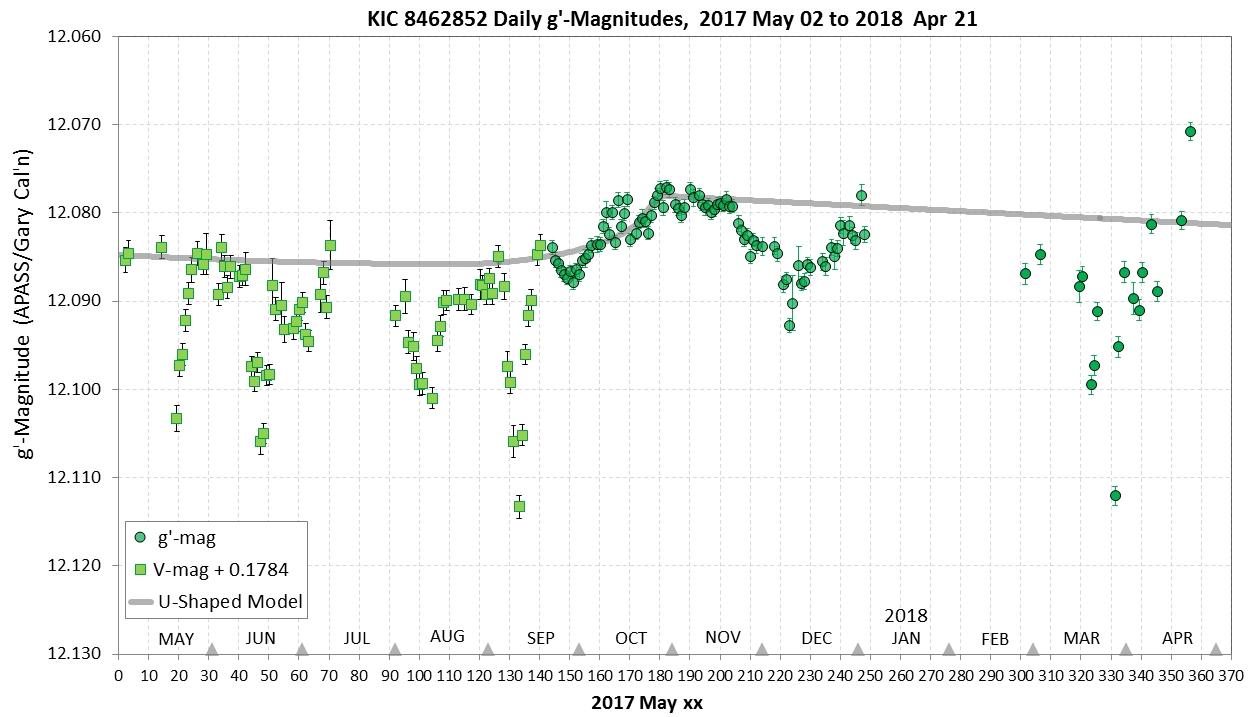 Figure 1.
Note that the "U-Shaped Model" is not well constrained for dates after 2017 Nov. I've arbitrarily adopted a straight line fit that fits data so far taken.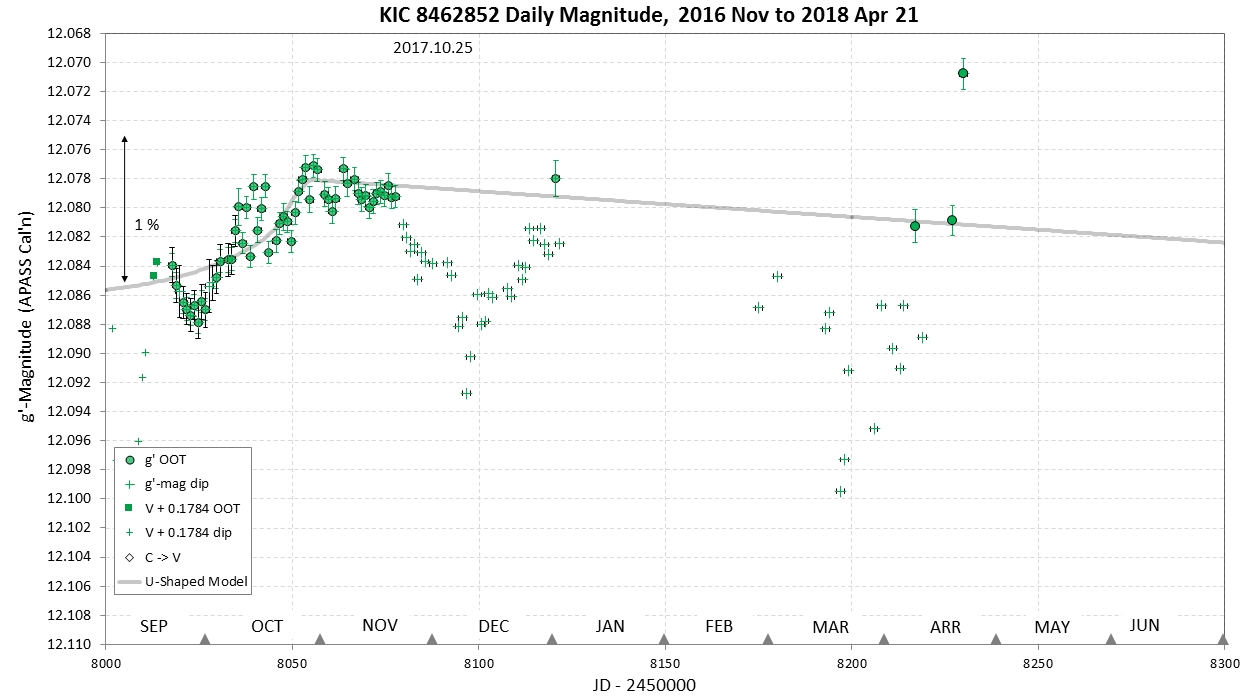 Figure 2.
This 300-day magnitude light curve shows the latest 10 months of data, with magnitude symbols coded for OOT vs. dip. Note the steep slope for 2017 Nov to now, which was "unexpected" and may not be be real. We'll need more observations to sort this out.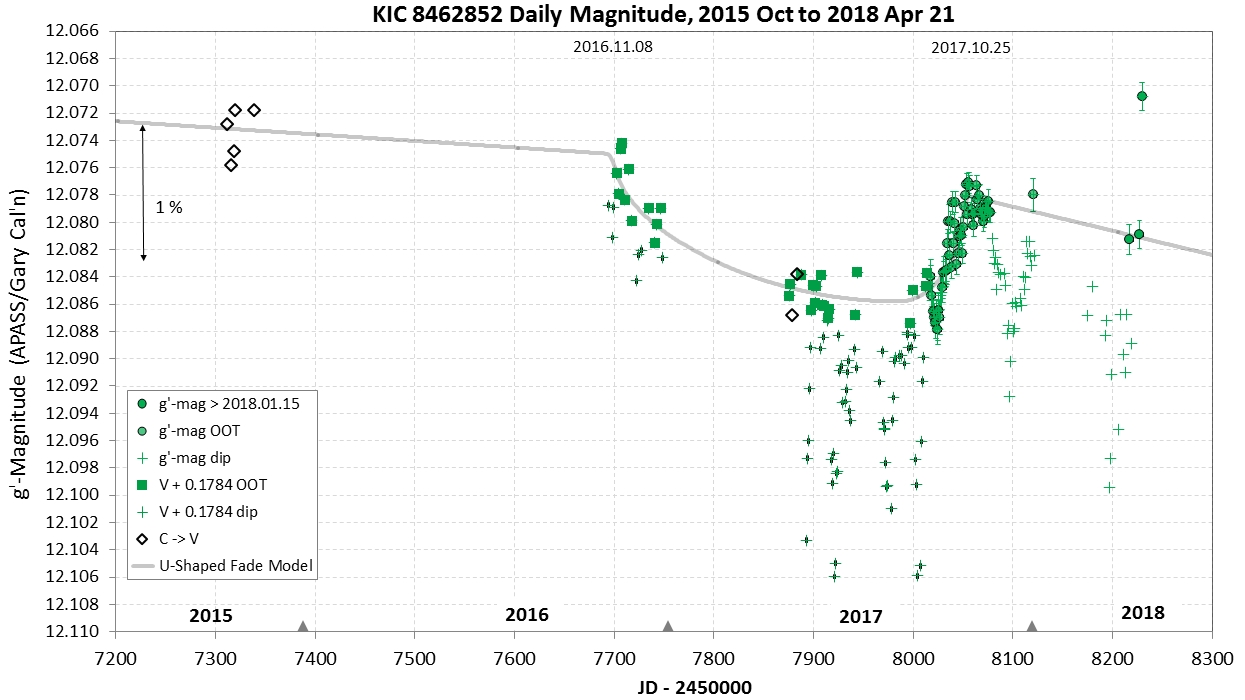 Figure 3.
1100-day version of above graph, showing some unfiltered observations converted to g'-band magnitude scale. I wonder if the OOT line for 2018 is less steep than shown here. Just a suspicion. We need more data!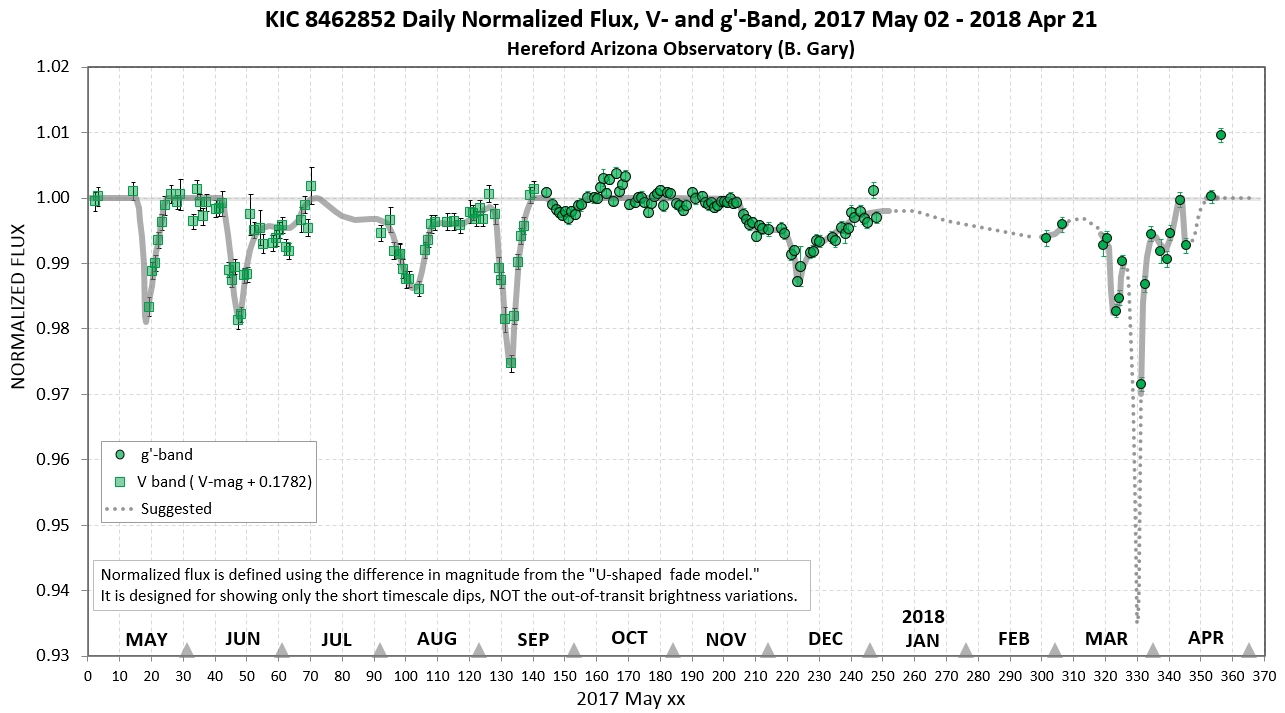 Figure 4.
If I adopt the U-shaped model (as shown in the previous graph) any departures can be identified as "dips." The latest measurements reveal a 6th and 7th dips (with a depth greater than 1.0 %) since Kepler.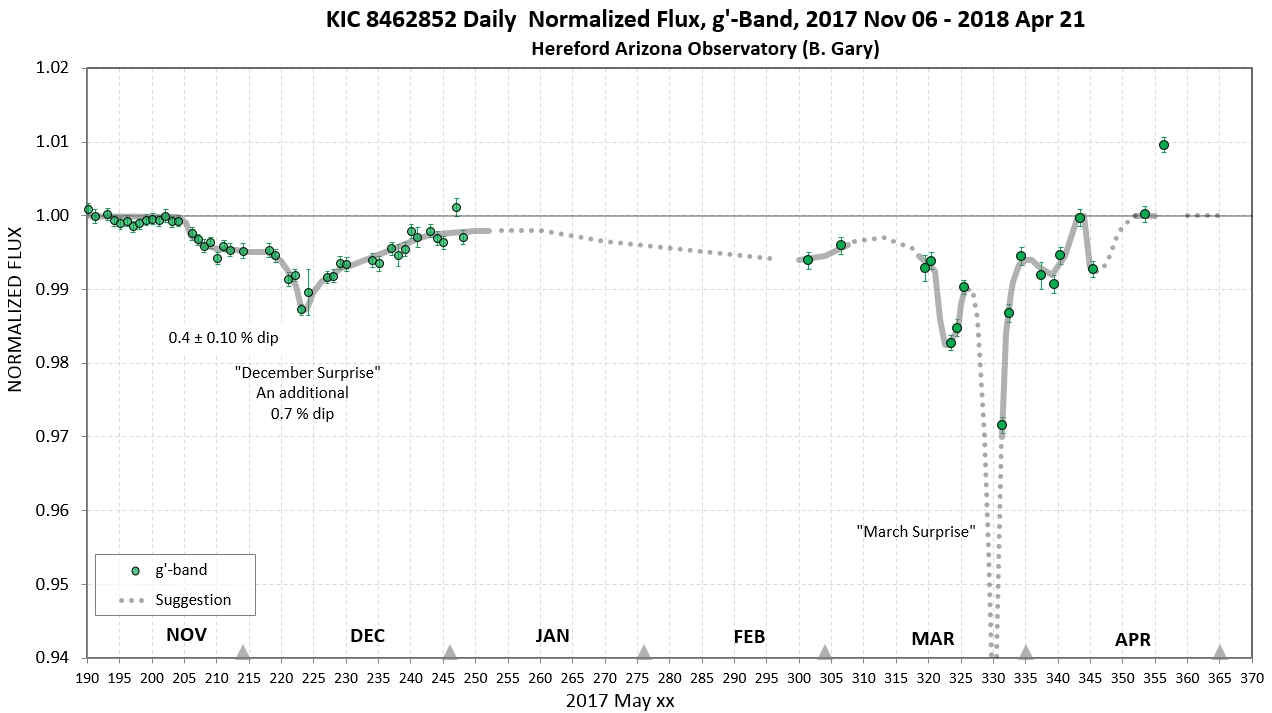 Figure 5.
This is just a date expanded version of the previous graph.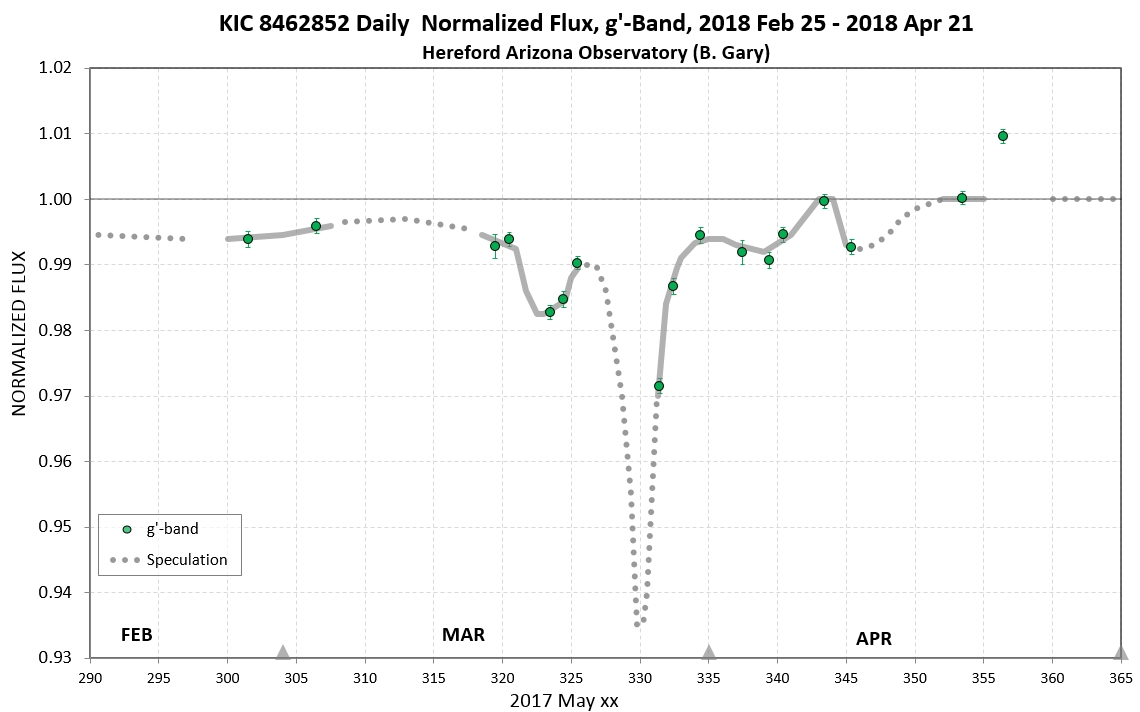 Figure 6.
Detail of above graph. I have a 2-day data gap for the first dip ingress, and a one week data gap for the second dip ingress (due to weather in both cases).

Comparison of HAO with AAVSO Observations
David Lane (AAVSO Observer Code LDJ) has reprocessed his 3 year's of KIC846 observations (lot's of work!), and has re-submitted them to the AAVSO database. Rafik Bourne has downloaded them and we have performed an analysis on the V- and B-band measurements. The LDJ V-band data for times of known dips were excluded, and the remaining OOT (out-of-transit) data was averaged in groups of 7 observing sessions. An arbitrary offset was applied to achieve maximum agreement (this is legitimate since every observer has a unique and unknown absolute calibration uncertainty). The purpose for performing these adjustments was to allow for an assessment of the presence of a U-shaped OOT pattern with an approximate 1-year timescale that has been derived using HAO data. The next figure is a light curve showing how the LDJ V-mag measurements compare with HAO data.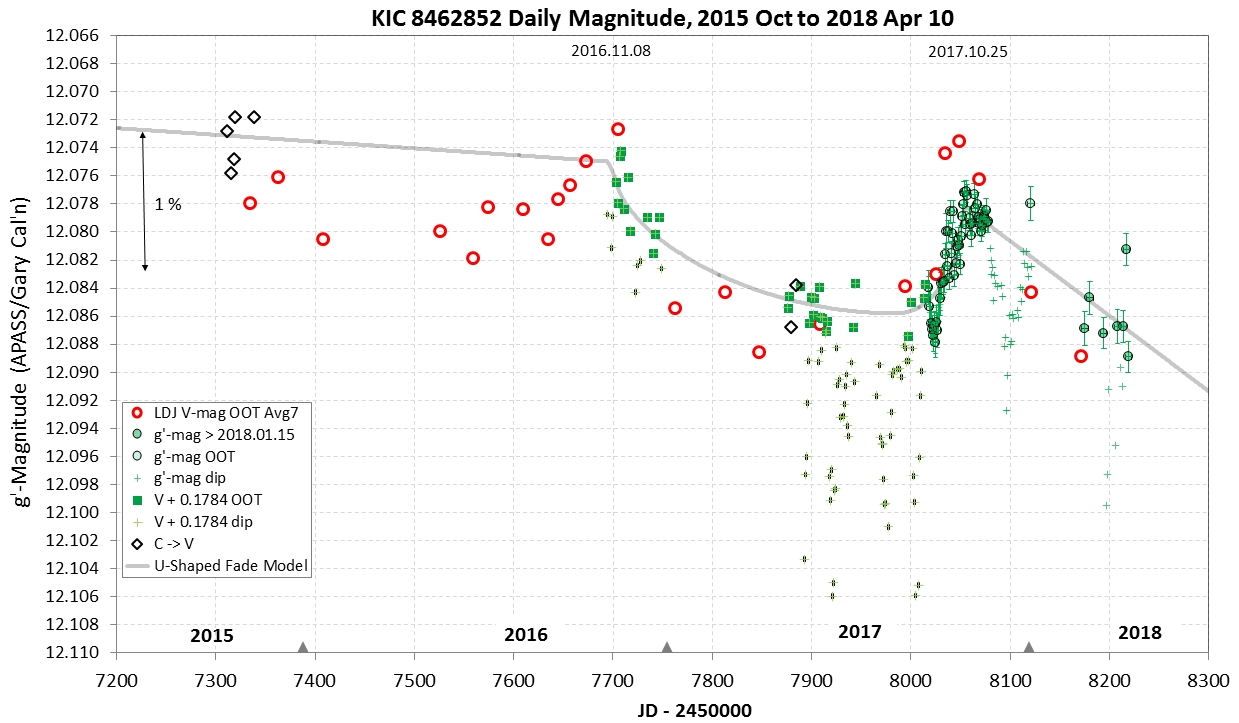 Figure 7.
Three-year light curve for two observers, LDJ (David Lane) and HAO (Bruce Gary). The LDJ symbols are averages of 7 observing sessions (3 images per session for early data, ranging up to ~ 25 images per session lately) while the HAO symbols are for individual observing sessions (>200 images per session, typically). LDJ data taken during known dip times have not been included in the 7-session averages. The LDJ symbols can therefore be compared with the HAO OOT symbols (solid squares and circles). (Clear filter and V filter observations have been converted to a g'-magnitude scale.)


This figure shows agreement of both LDJ and HAO data with the U-shaped, long timescale variation model. During the first half of 2016 we don't have information about the presence of dips, so some of the low LDJ symbols may be due to dip activity that lowered measured brightness.
I conclude that the U-shaped OOT model has support from both data sets. The depth of the U-shape is ~ 1.0 % and the duration of the U-shape is ~ 1.0 year. So far, the LDJ and HAO data agree in suggesting that since the time of maximum brightness at the end of the U-shape (near JD4 = 8050) a steep fade has been underway. LDJ B-band measurements will be presented here that show a greater U-shape depth than for V-band! This will provide a significant constraint on modeling the physical mechanism for the U-shape (large dust cloud vs. reflection of starlight by the dip clouds).
The next graph is a comparison of downloaded AAVSO data for March and April.
Data for 7 observers is shown with offsets chosen to maximize agreement with HAO and each other.
Figure 8.
Comparison of
"normalized flux" for 5 AAVSO observers and HAO during March and April, 2018. Uncertainty bars have been established using a neighbor difference method. An arbitrary offset has been applied to each observer data set to achieve agreement with HAO data, where overlap exists, and with each other (i.e., internal consistency). The 6 % dip at JD4 = 8203.4 is fitted well by an "asymmetric hyper-secant" (AHS) function. (The data in this figure was downloaded from the AAVSO web site: https://www.aavso.org/lcg.)
Transit Pattern and Speculation about Model for KIC846 Dust Cloud Geometry (not Physical Mechanism Model)
A thorough description of this matter is given in the 5th web page of this 6-part series of web pages:
link
.