J0328-1219 Photometry Observations by Amateur Bruce Gary (16" Ritchey-Chretien)
Bruce L. Gary, Last updated: 2021.01.19, 15UT

This web page is meant to be an archive of my light curve observations of white dwarf J0328 using the Hereford Arizona Observatory (HAO) backyard observatory (link).

Status


Figure 1. Combining all 6 LCs for December and 5 LCs for January show 10 dips in both data sets plus one dip in only the December data (Dip 11).


Notice the similarities and some differences between December and January. Some dust clouds are in slightly different orbits compared to other dust clouds (based on their different phase movements). This is similar to what happens at WD1145.

General Information


RA/DE = 03:28:33.5 -12:19:45, r'-mag ~ 16.6, white dwarf type DZ, T_eff = 8750 (170) K (Guidry et al., 2020).


List of Internal Links

Observing session dates
Observing session LCs
Finder image
Periodicity
My collaboration policy
References
External links

Observing Session Dates

Data Exchange File for all data: link

2021.01.18
2021.01.17
2021.01.16
2021.01.15
2021.01.14
2021.01.13
2021.01.12

2020.12.17
2020.12.16
2020.12.13
2020.12.12
2020.12.07
2020.12.06
2020.12.05
2020.12.04
2020.12.03
2020.12.02

Observing Session Light Curves


2021.01.18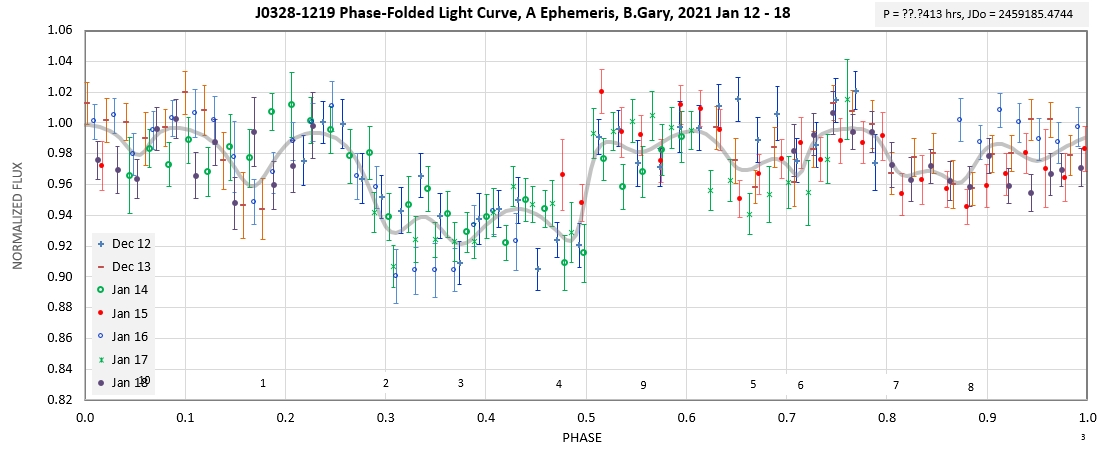 Note: Differences at the same phase between dates will exist if a B-system of dips is present.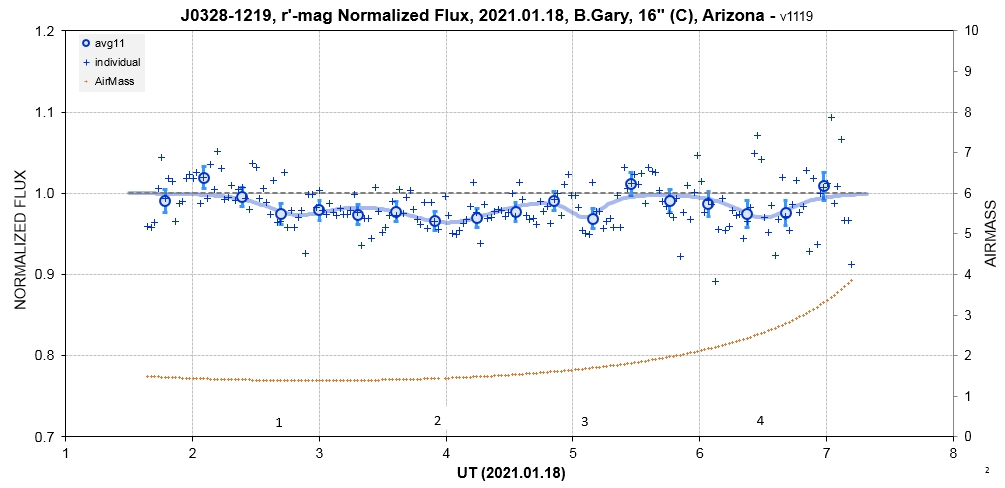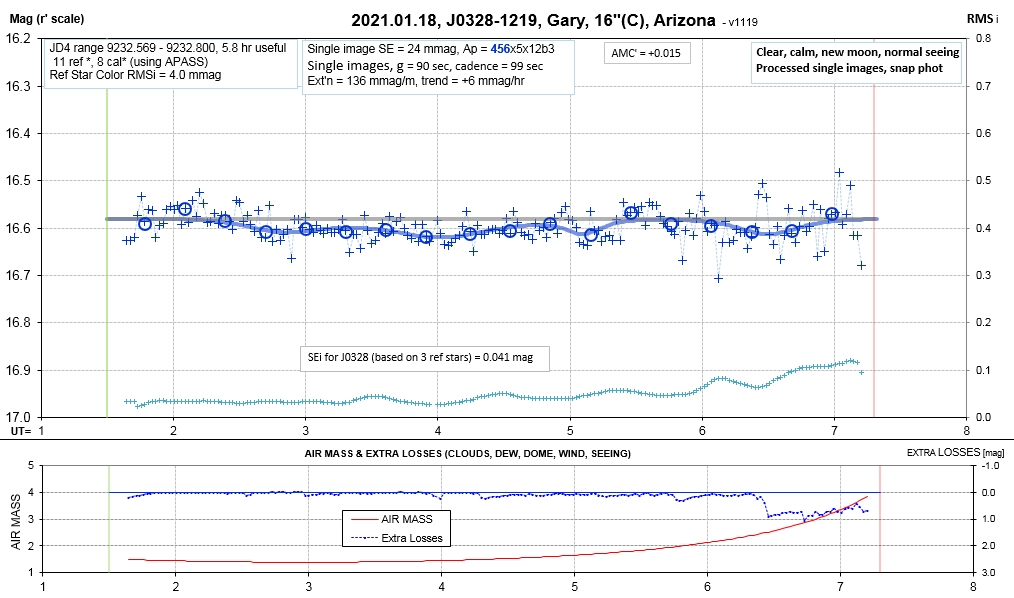 2021.01.17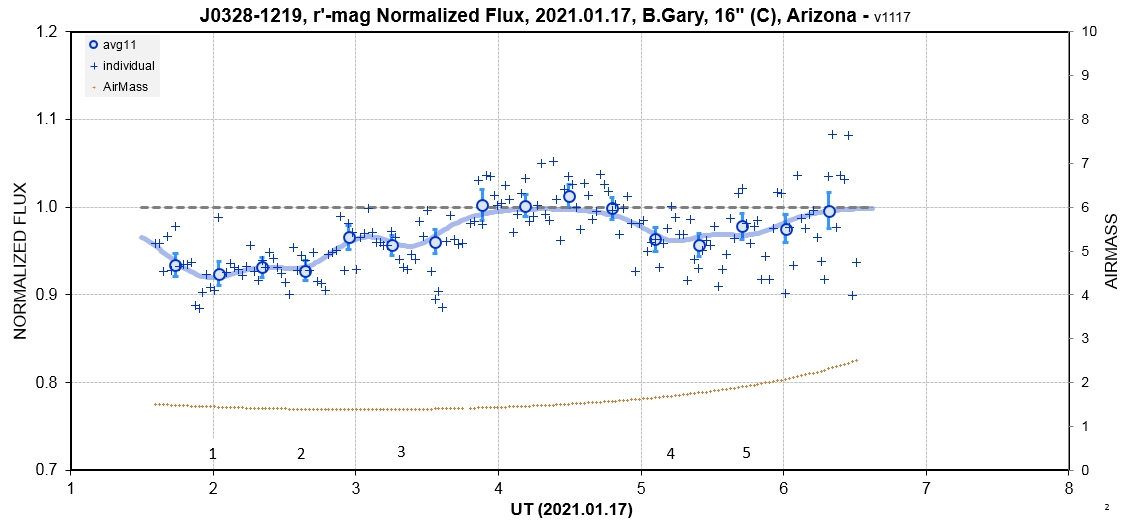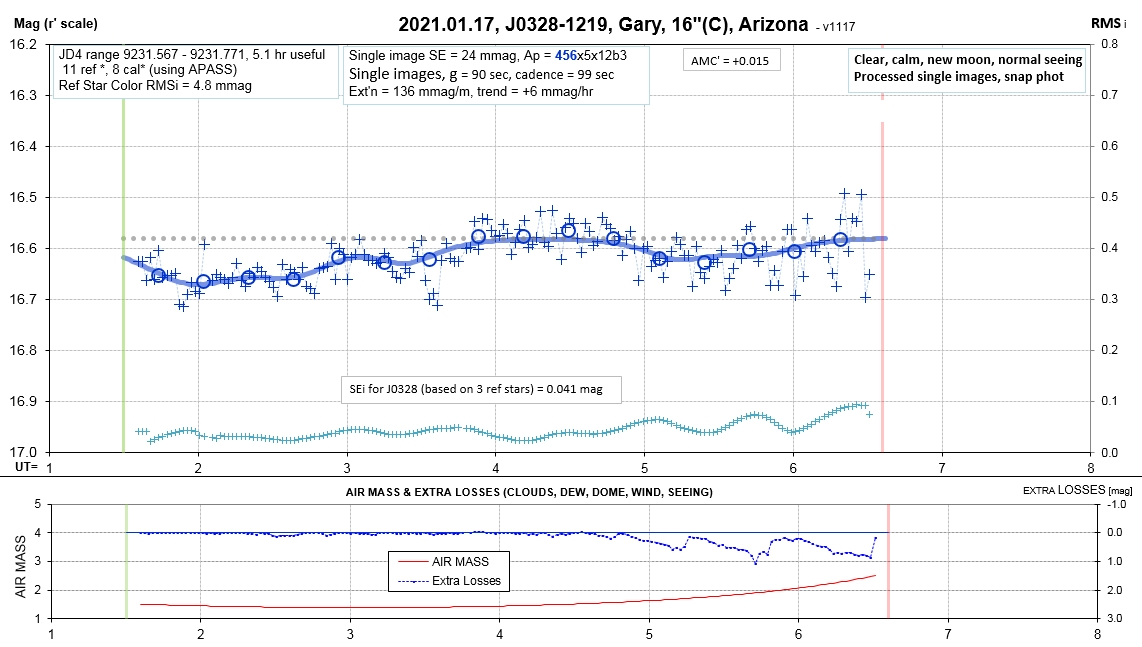 2021.01.16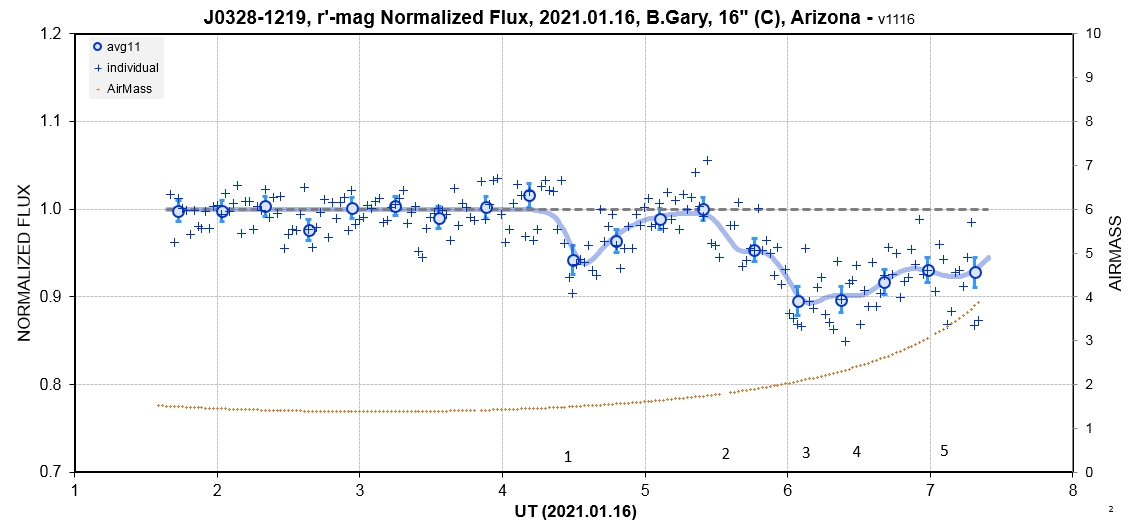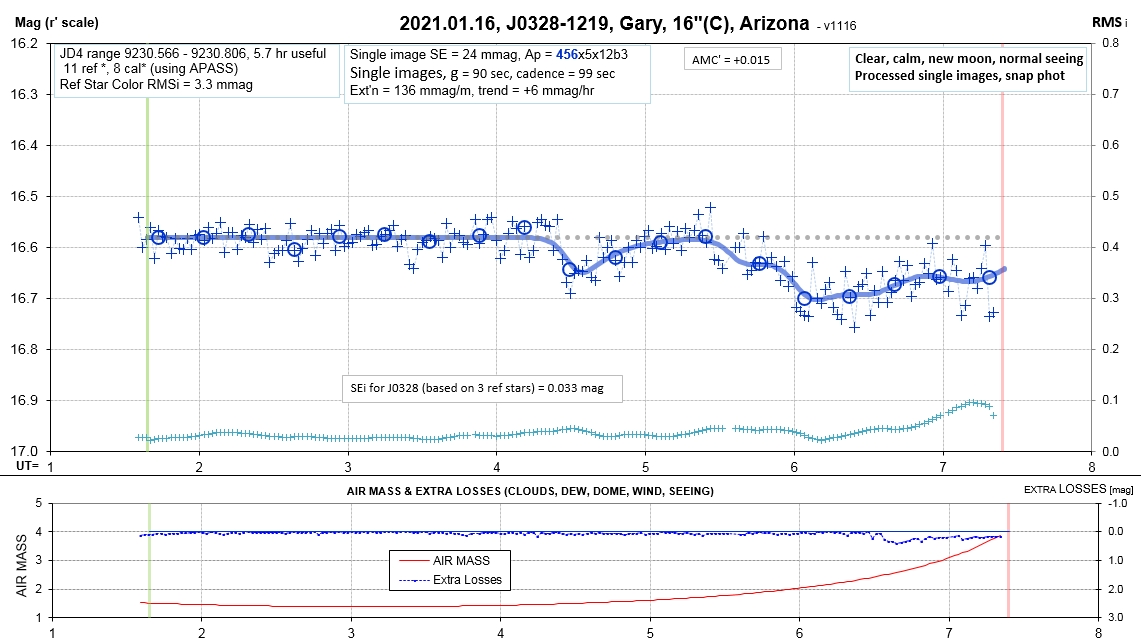 2021.01.15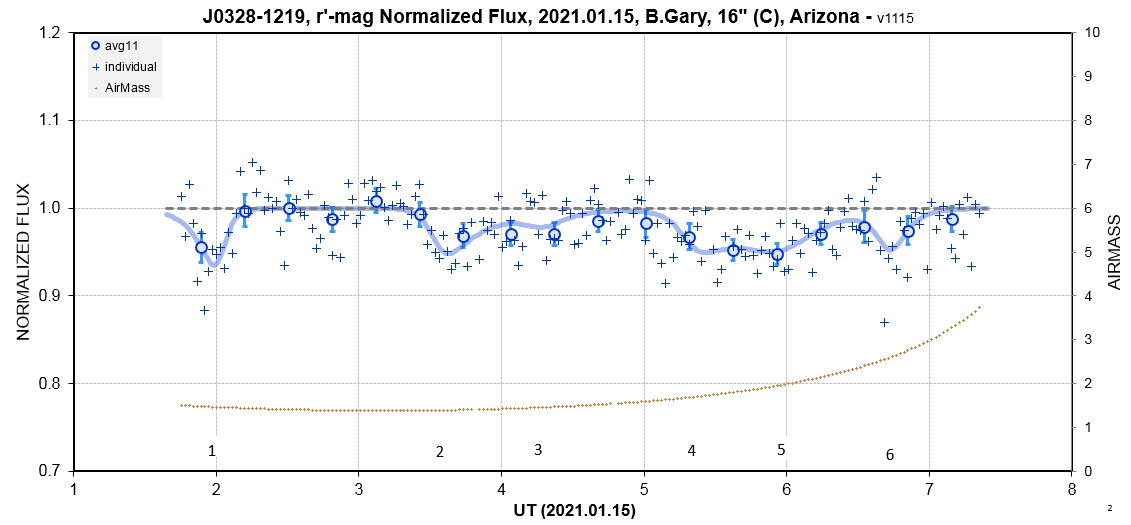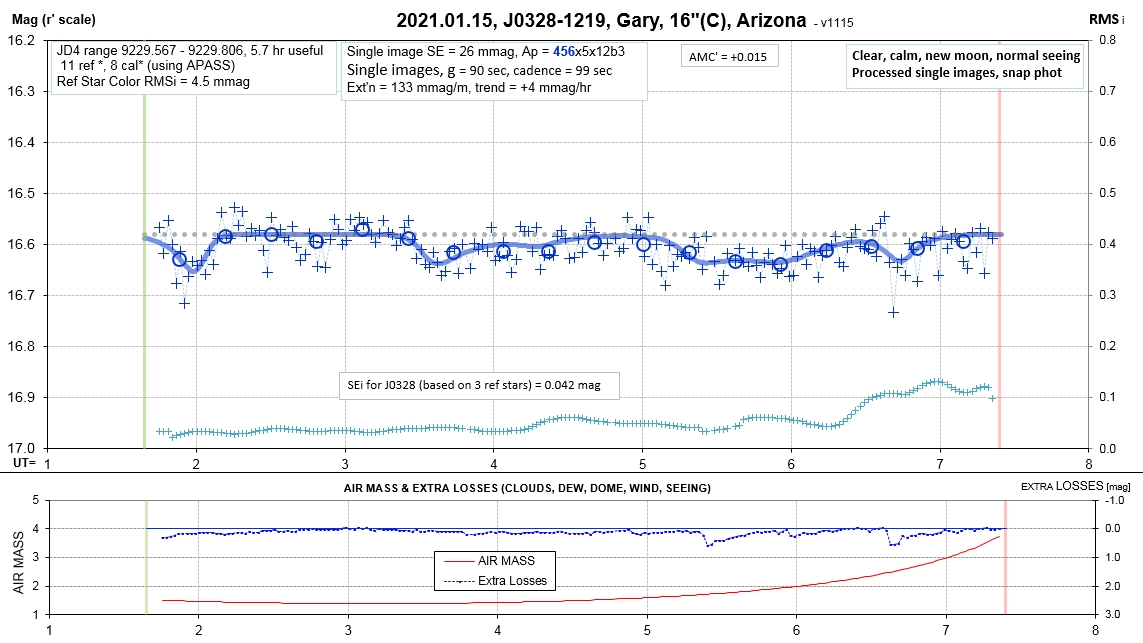 2021.01.14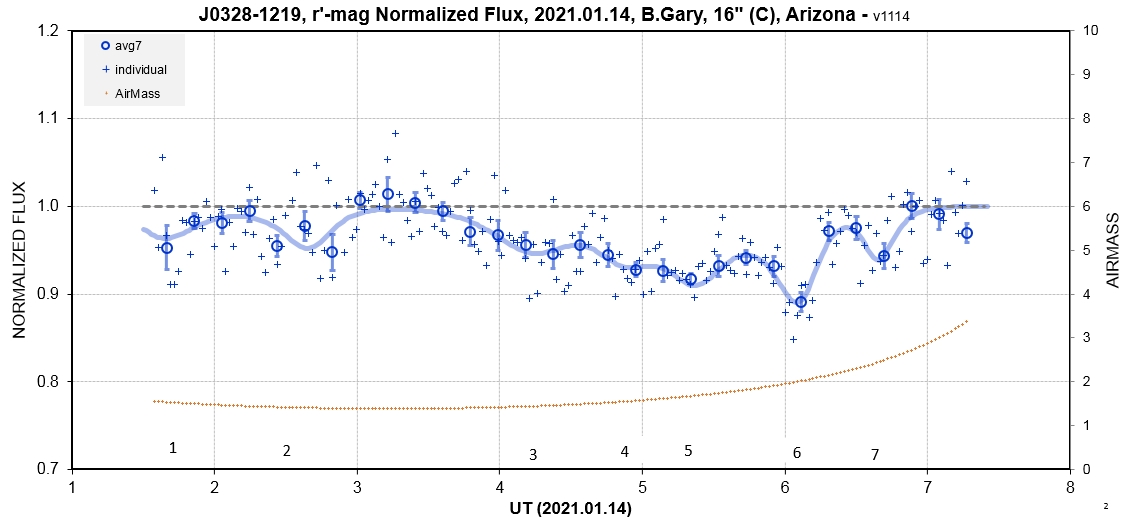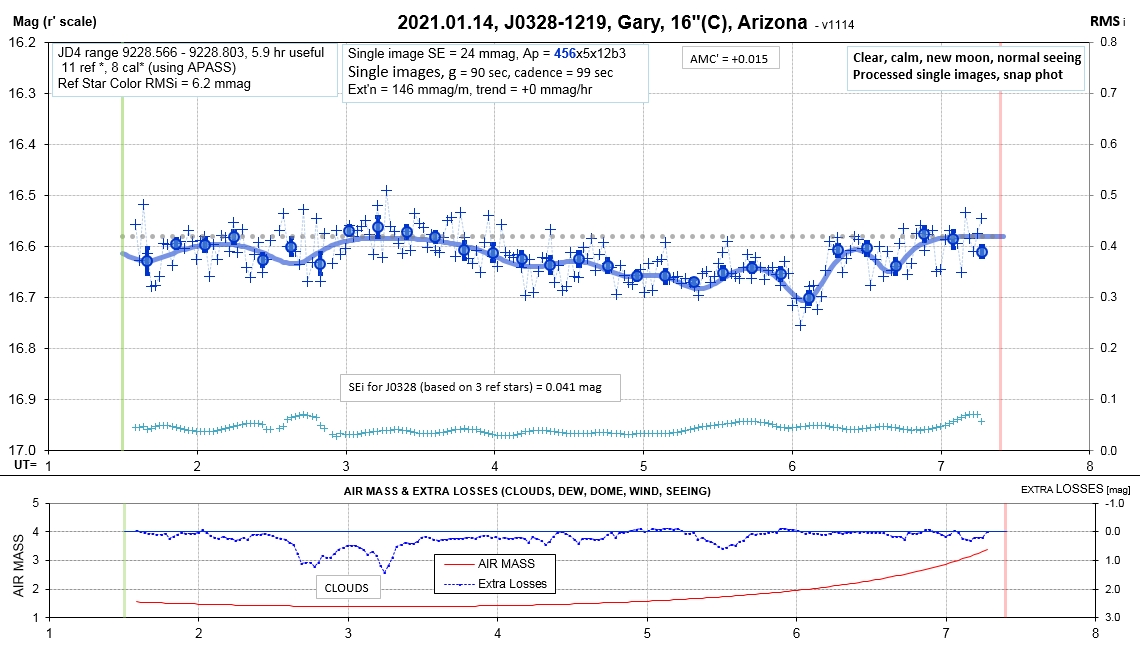 2021.01.13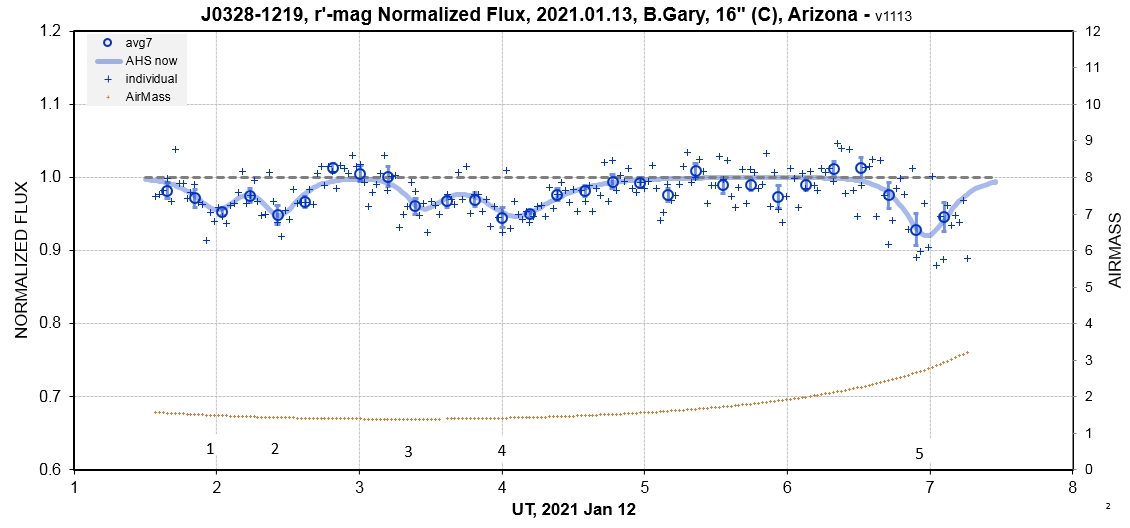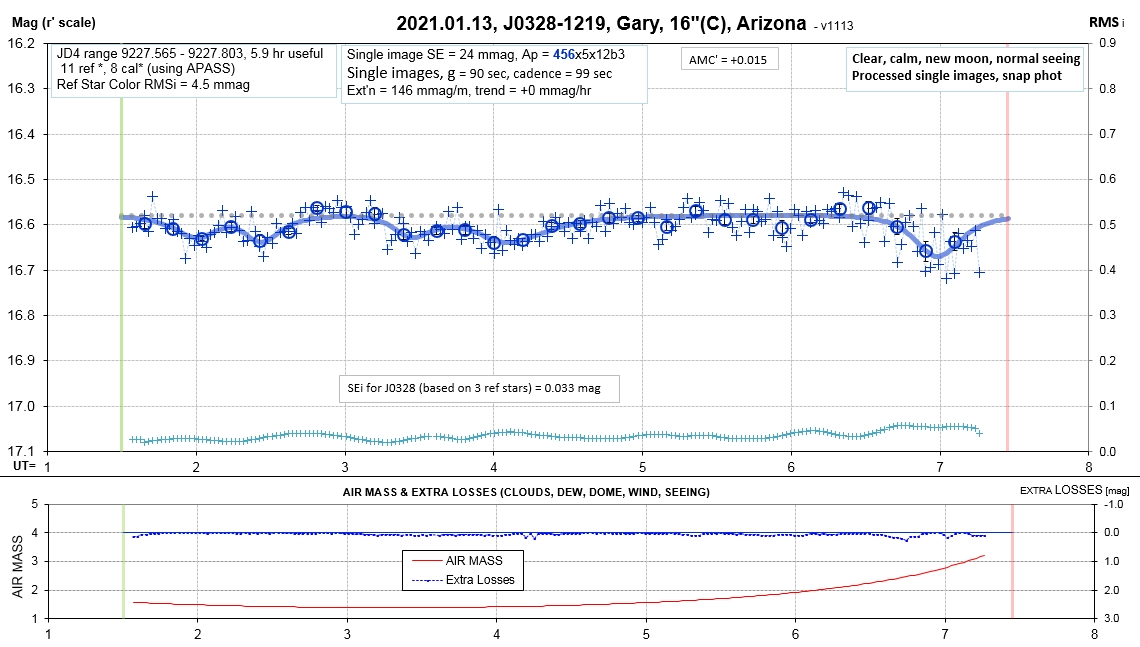 2021.01.12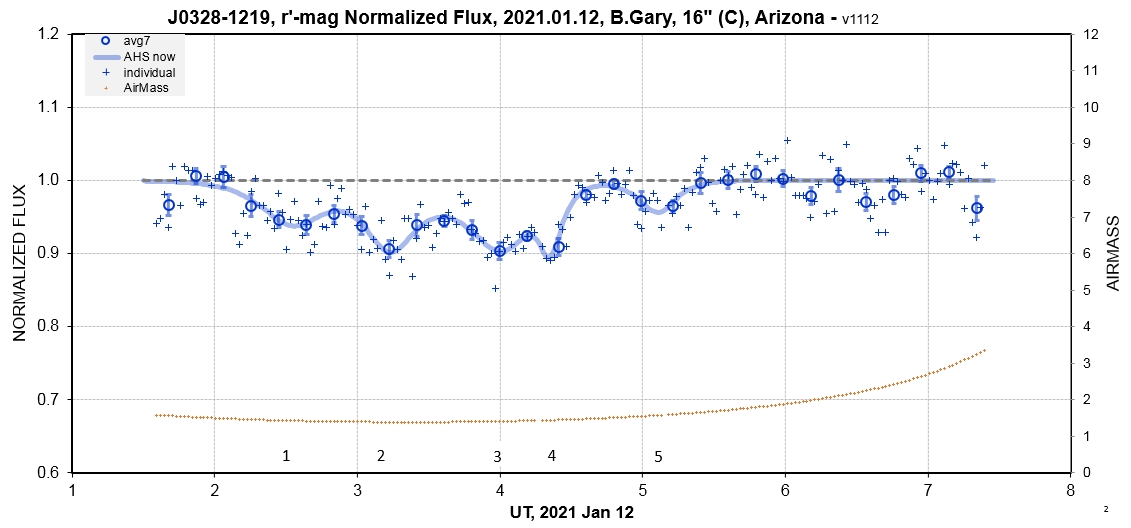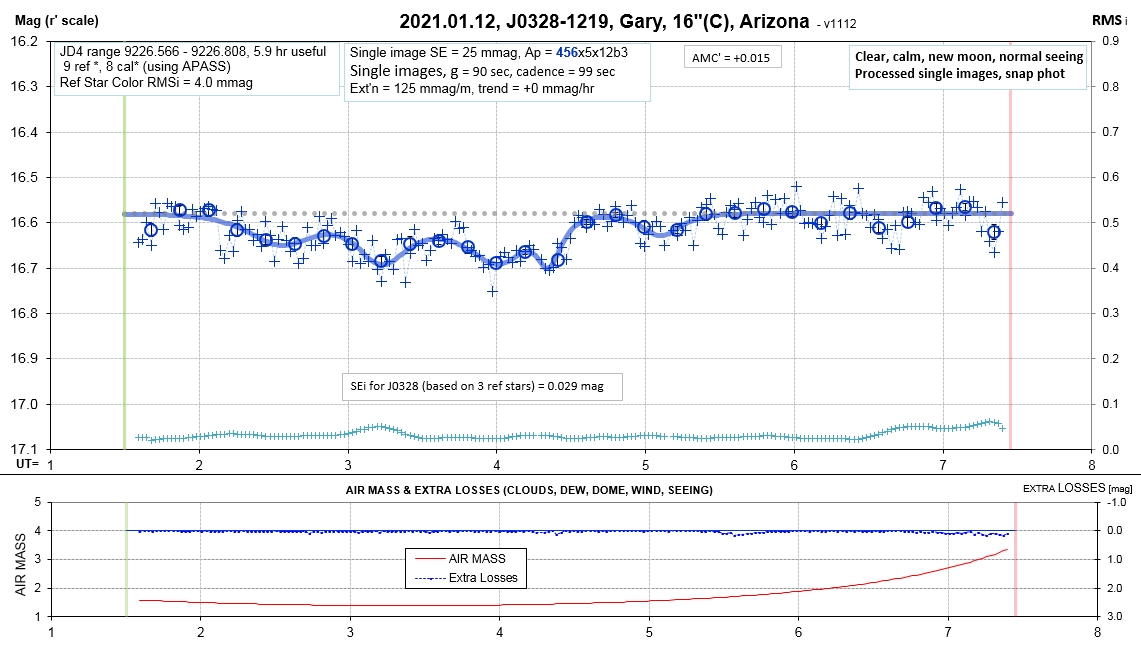 2020.12.17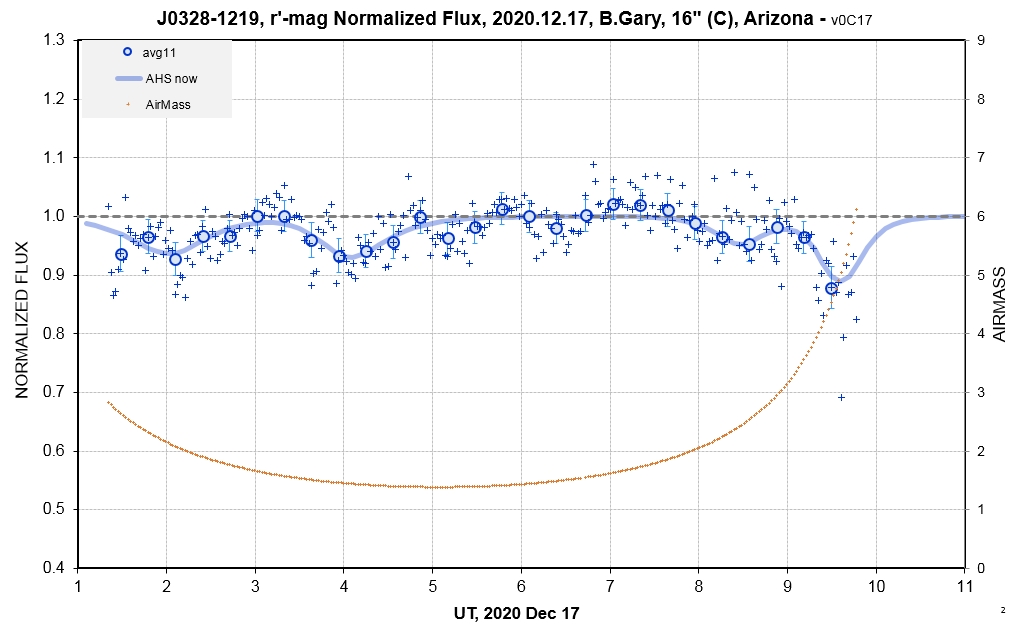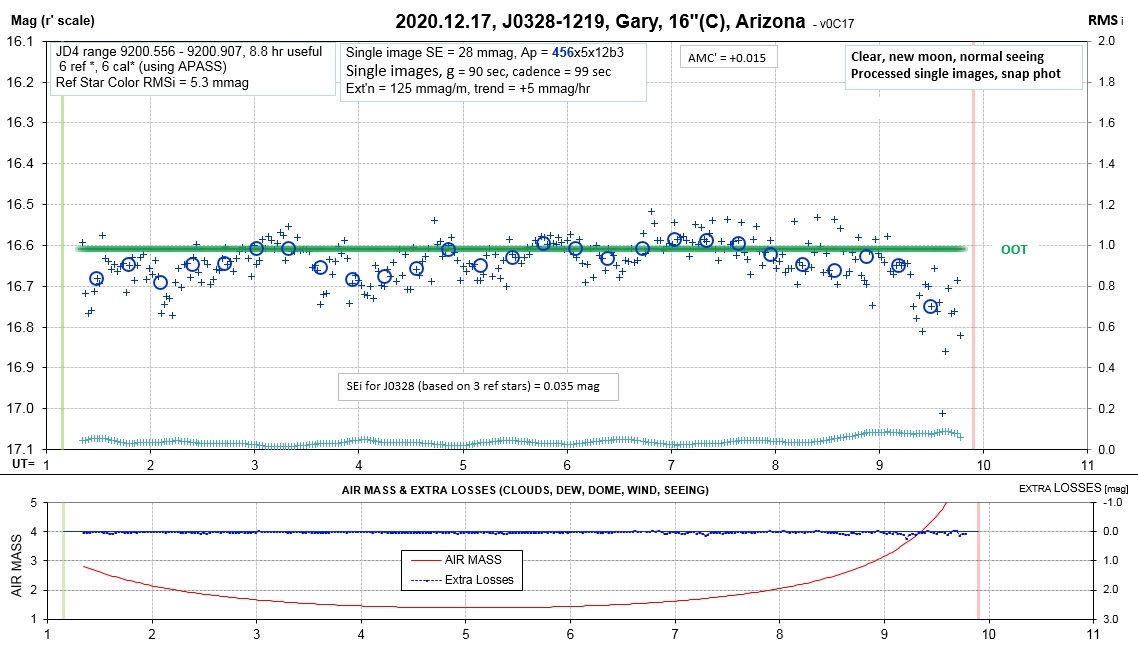 2020.12.16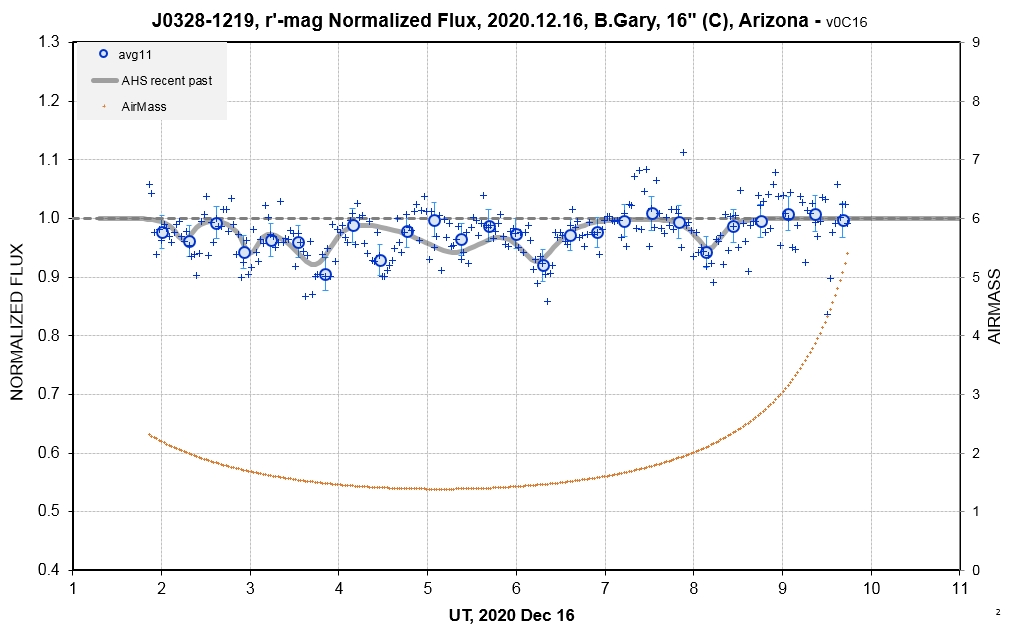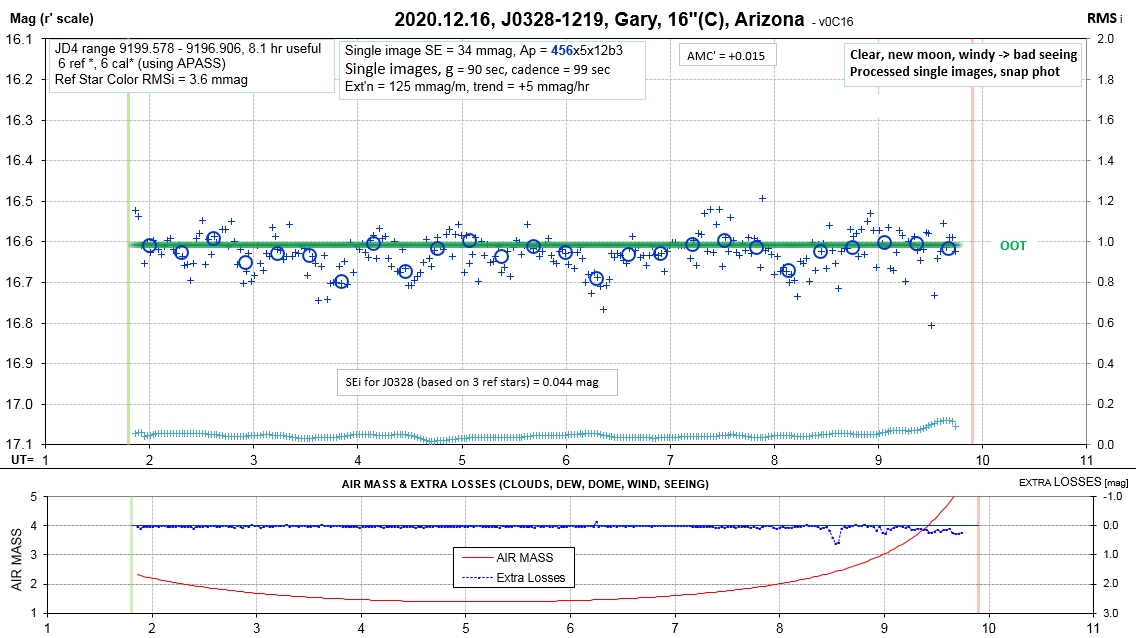 2020.12.13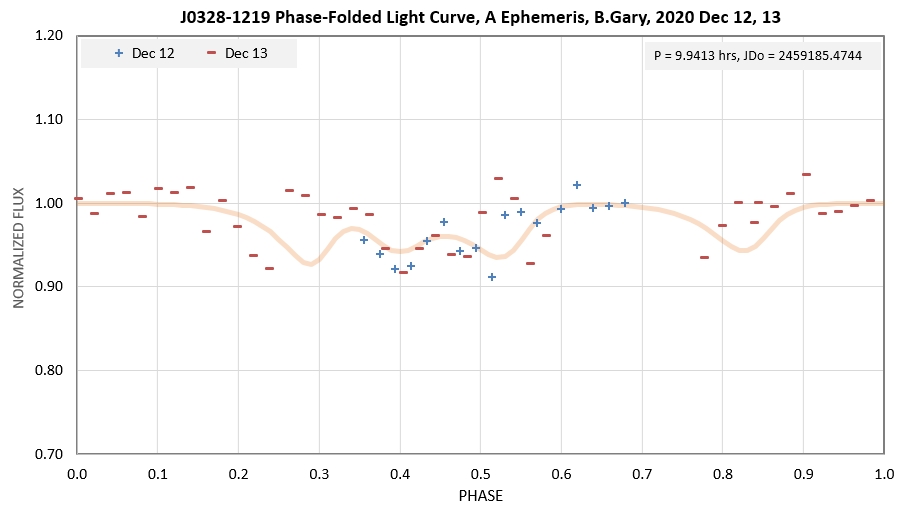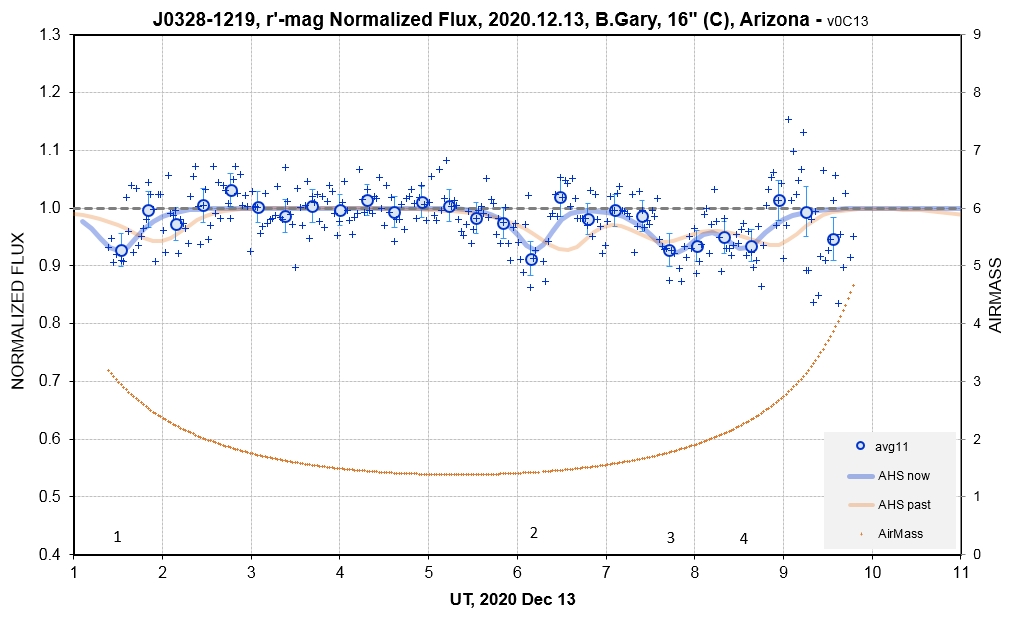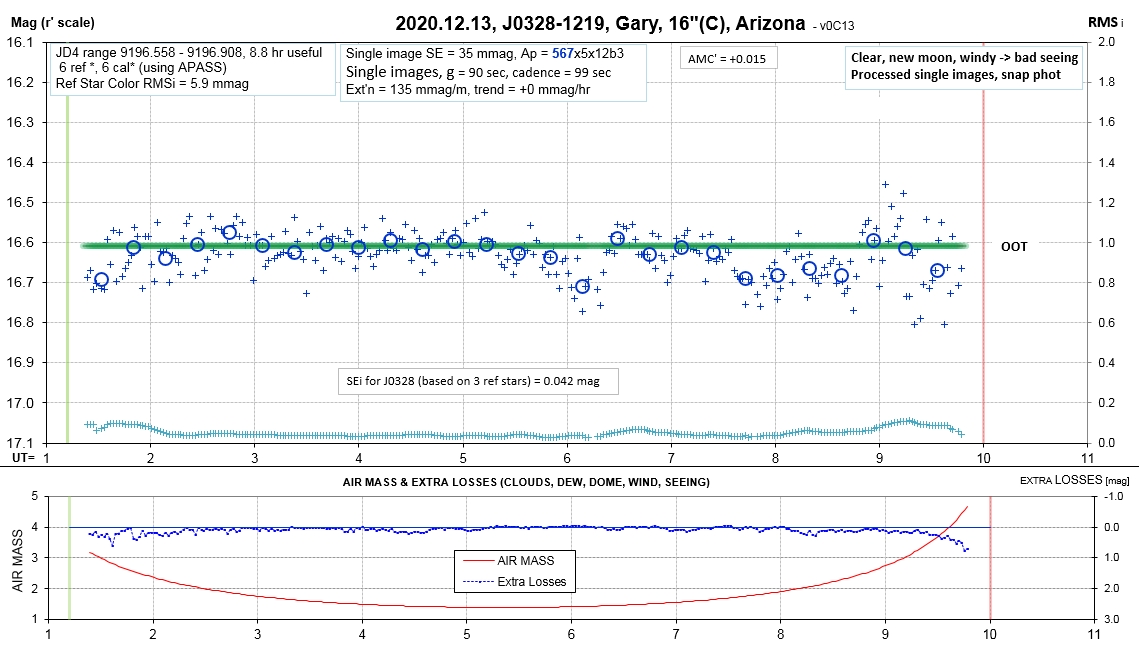 2020.12.12

Clouds ended the observing session early.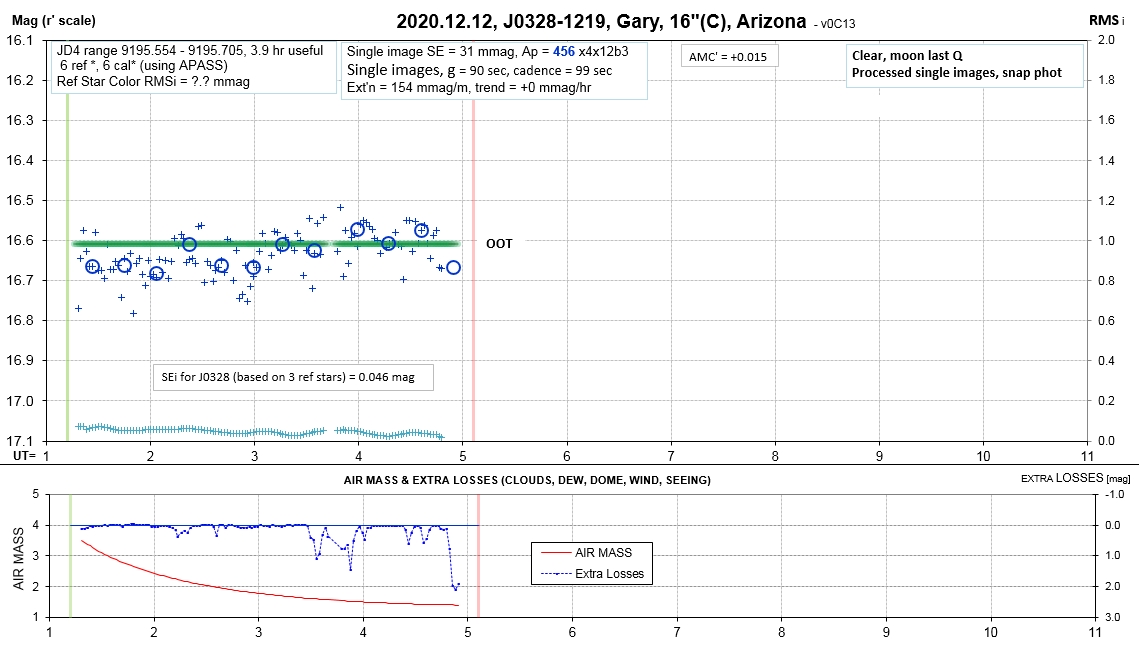 2020.12.07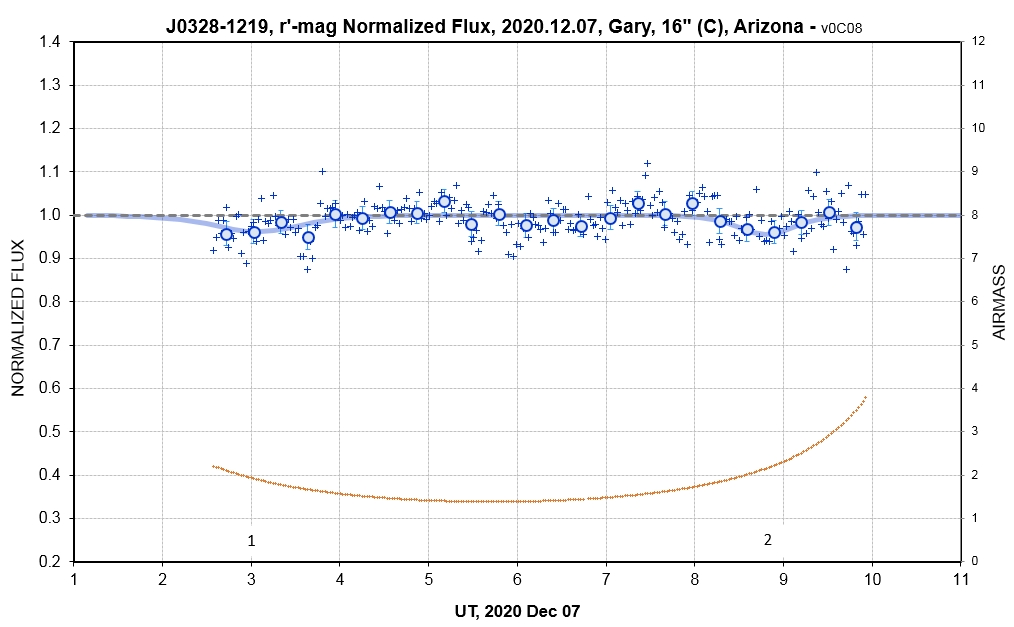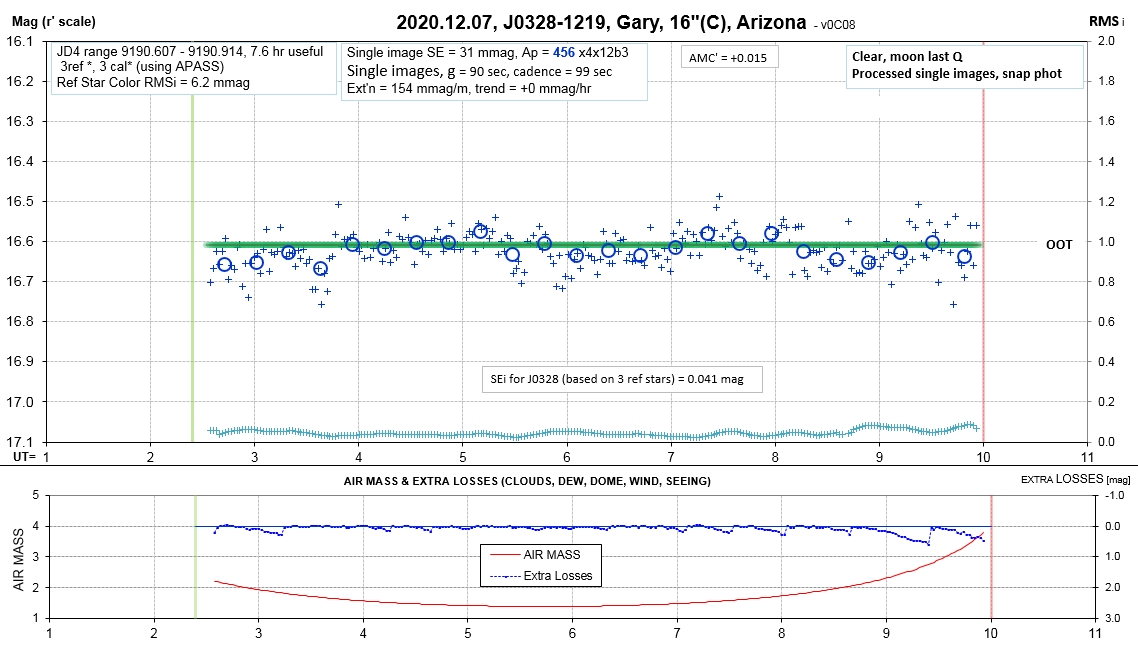 2020.12.06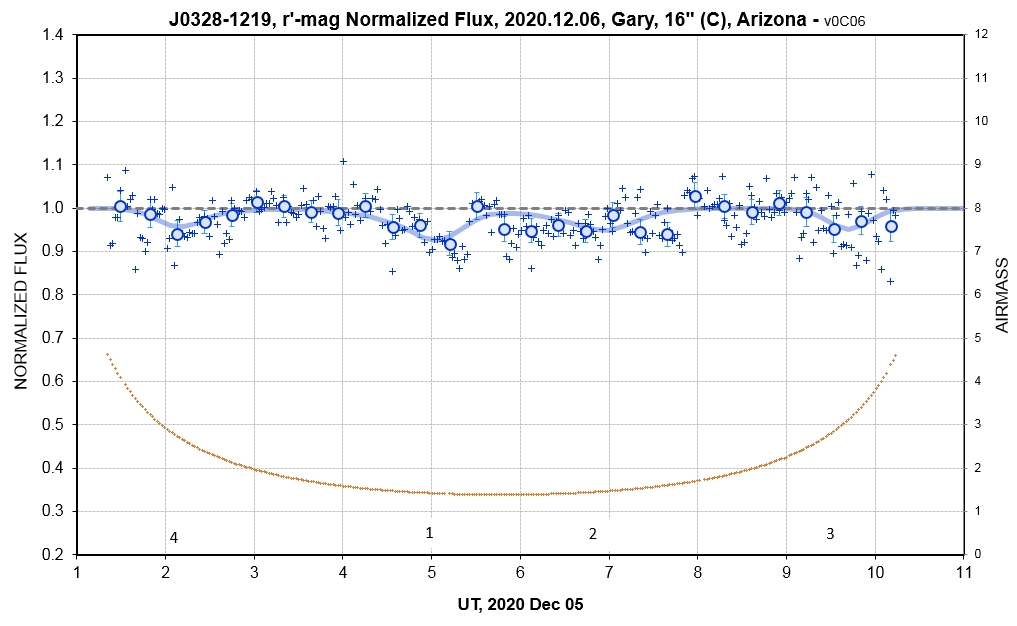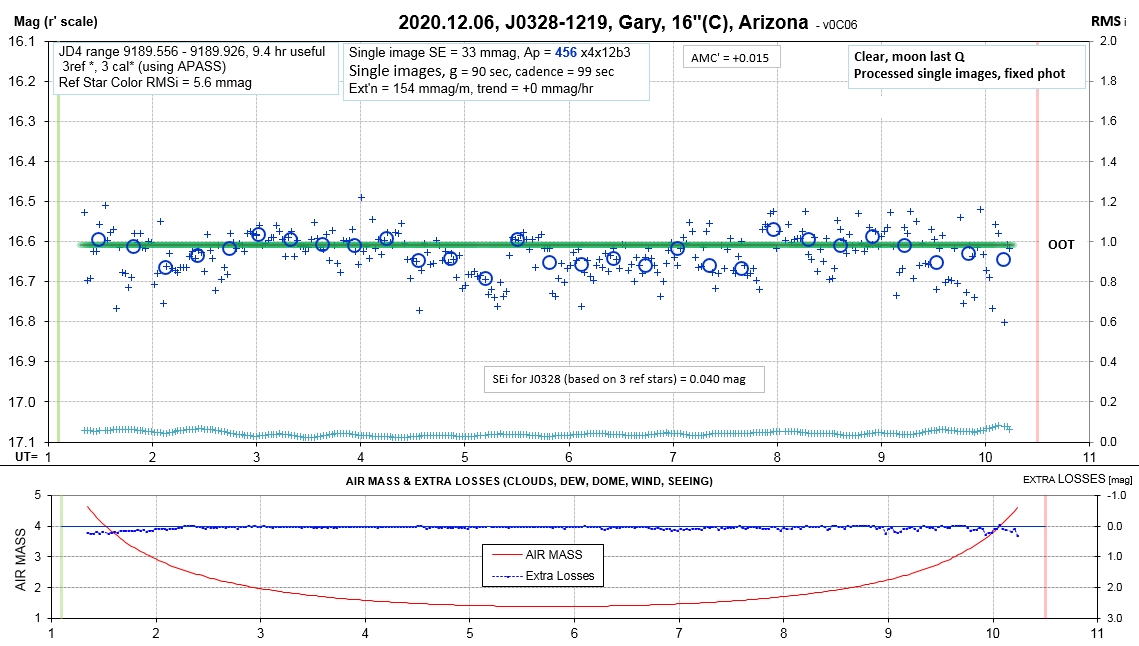 2020.12.05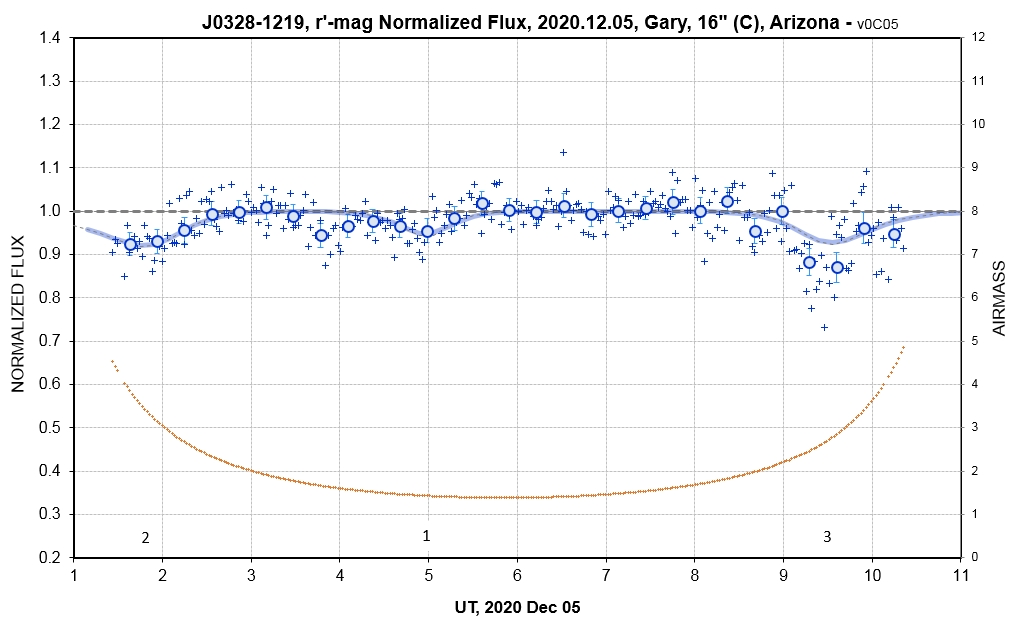 The model AHS trace is based on fitting data from all 4 observing sessions to date (cf. Fig. 1).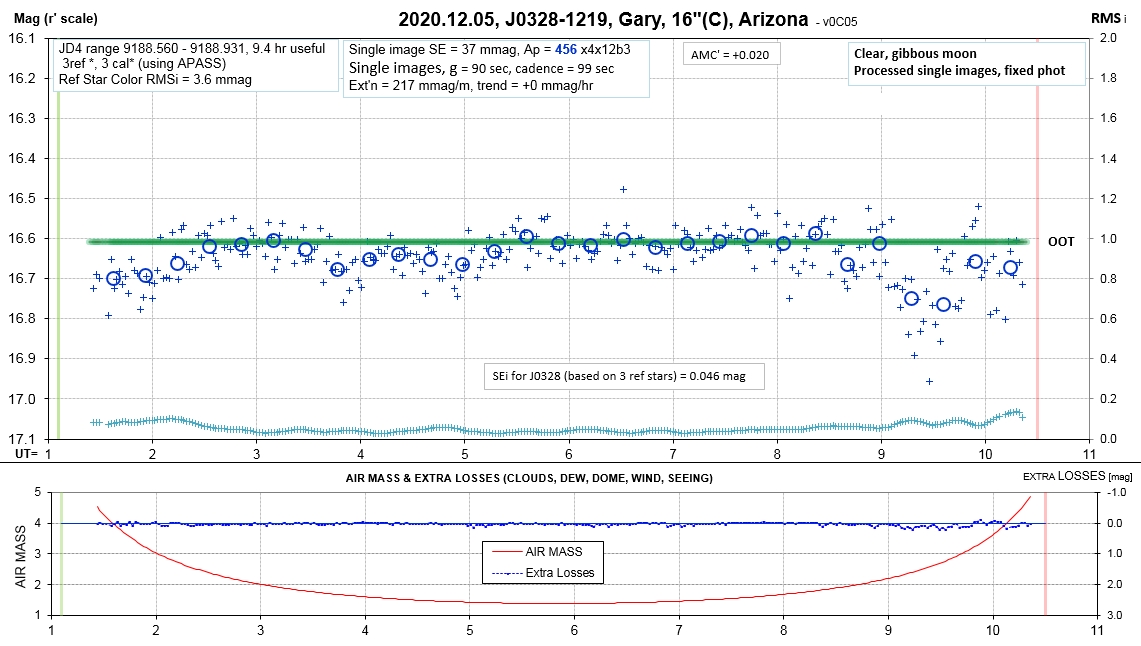 2020.12.04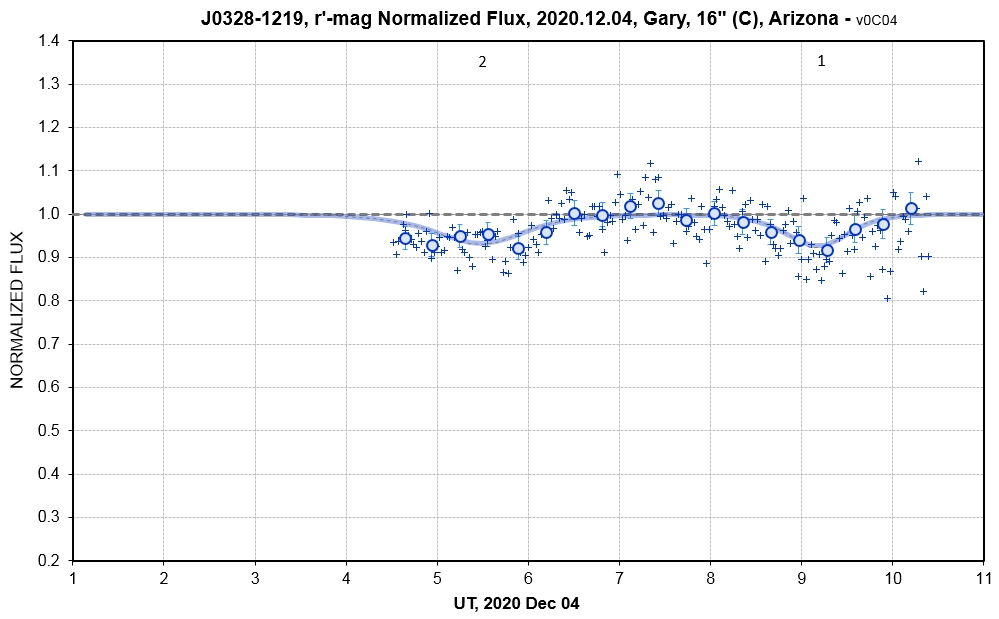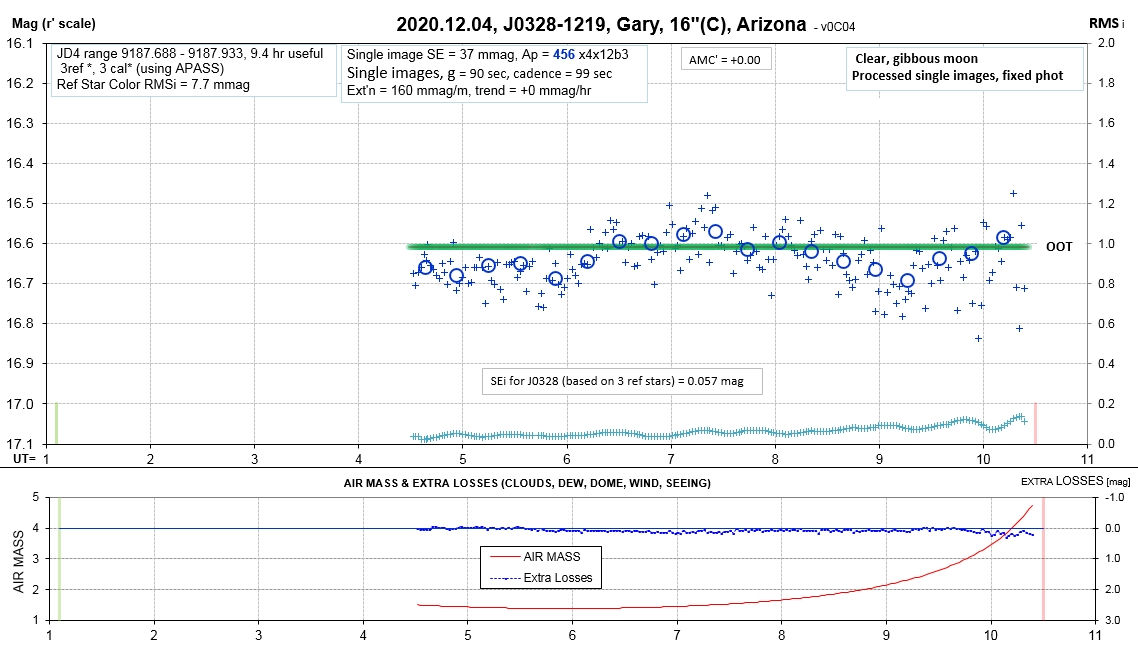 2020.12.03

Windy after 5 UT.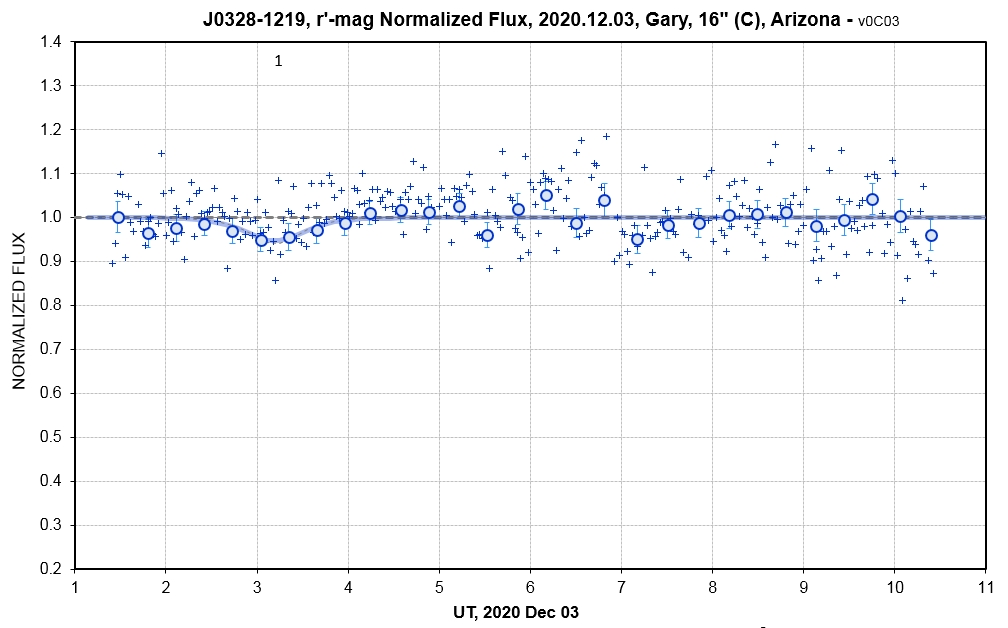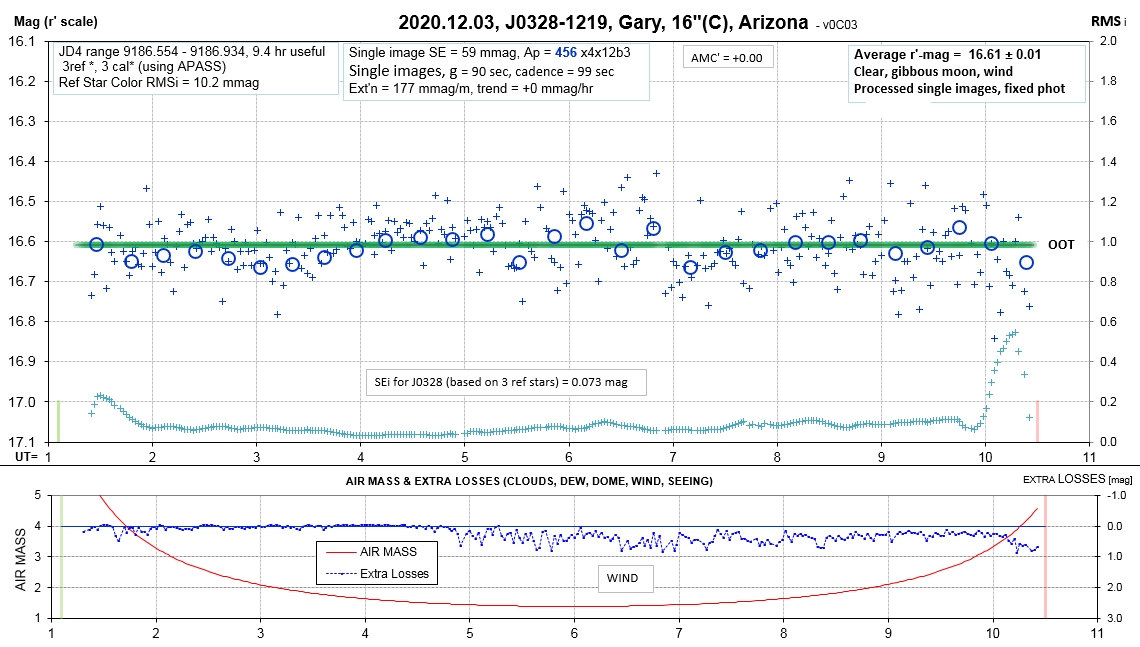 2020.12.02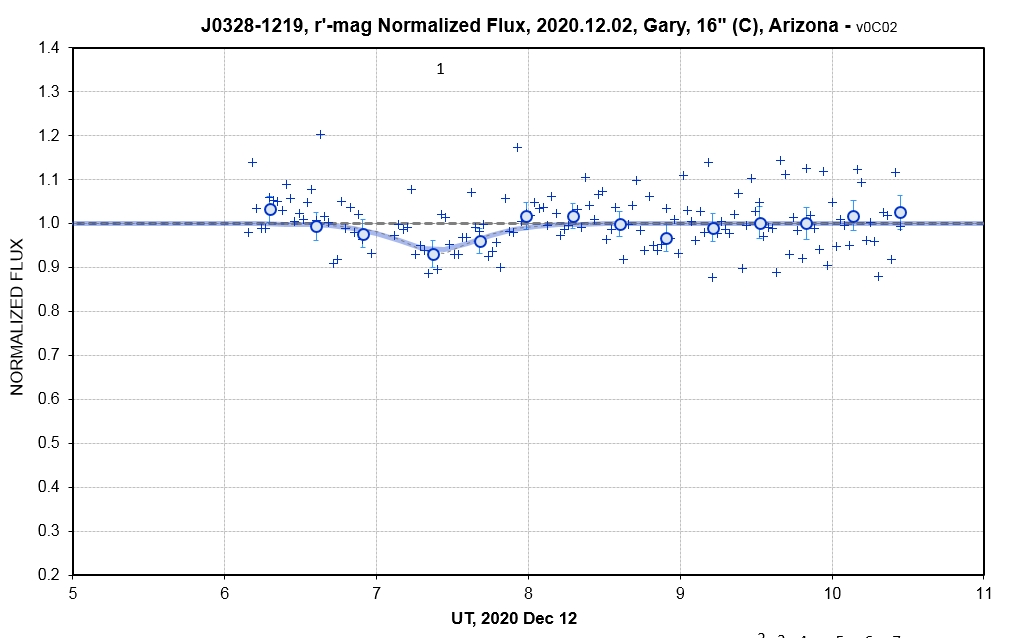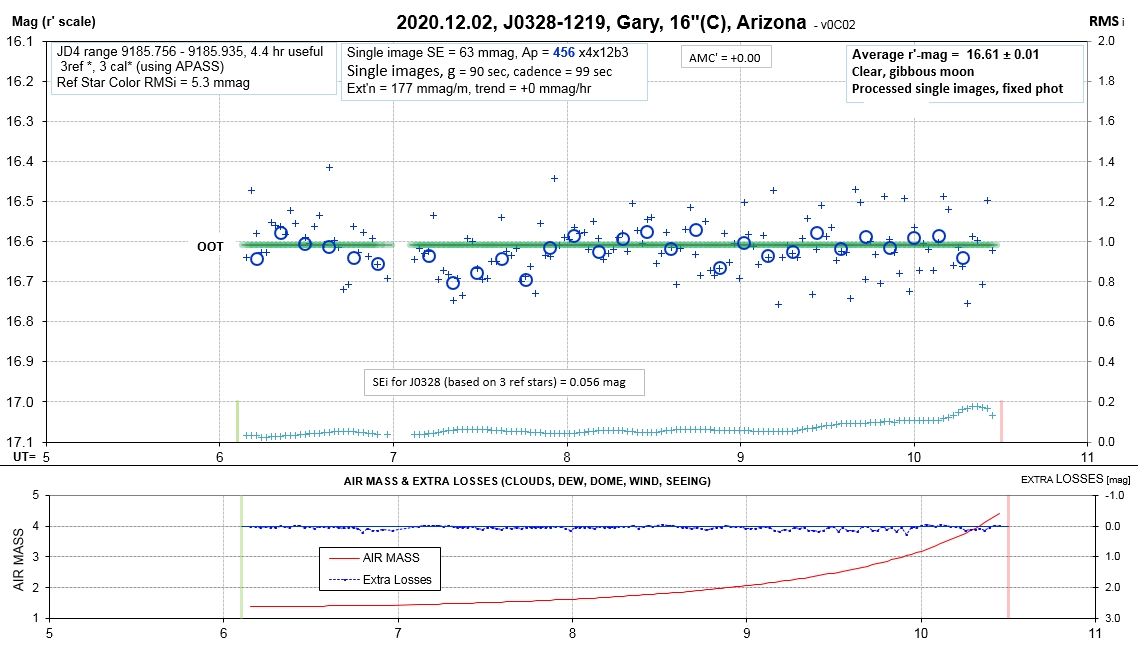 Finder Image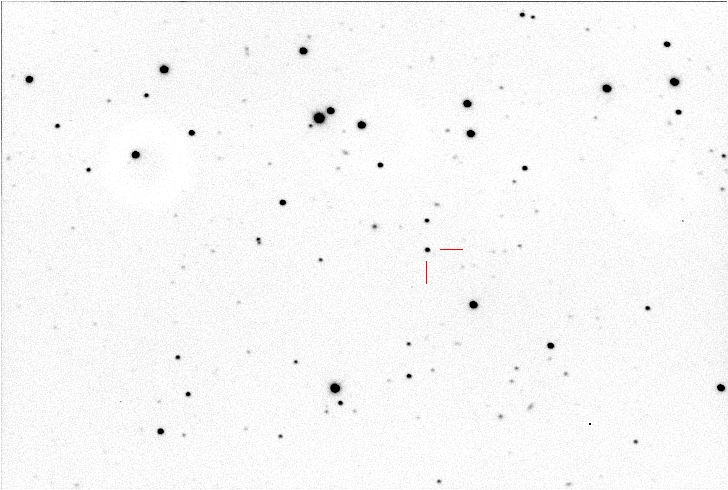 Finder image. FOV = 15 x 10 'arc. North up, east left.

Periodicity

Here's a periodogram of my December and January data using Peranso: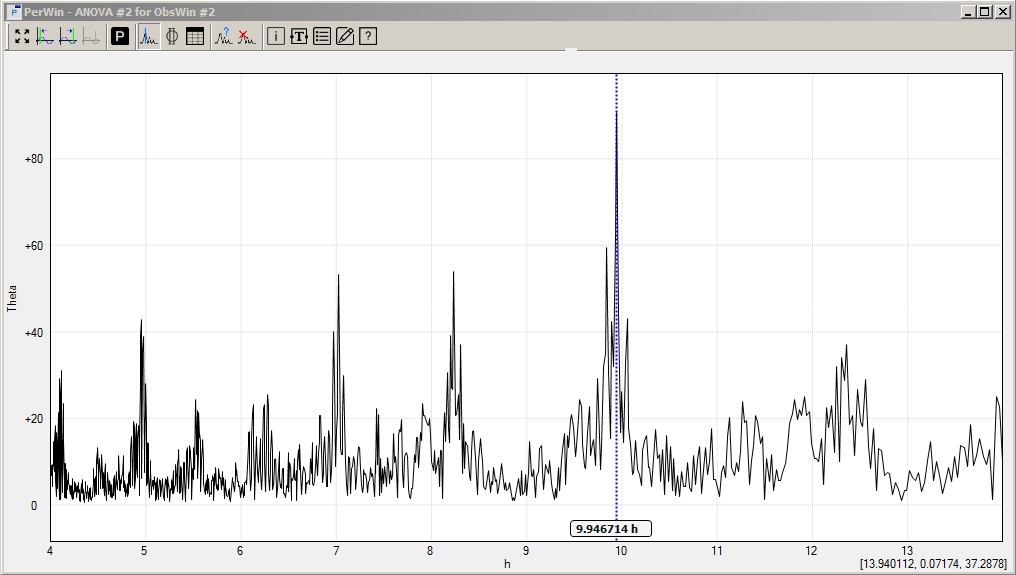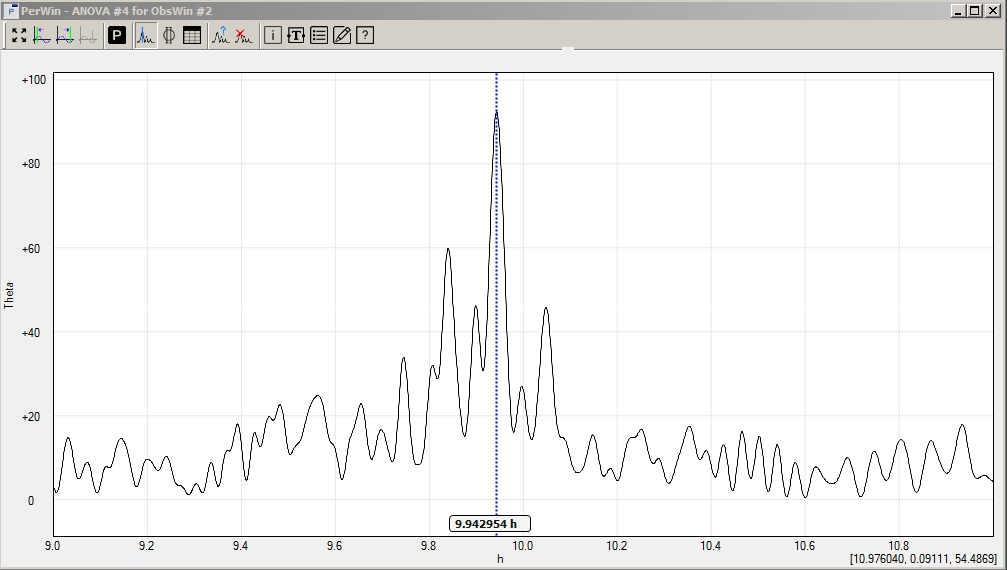 It would appear that J0328 brightness varies with a periodicity of 9.943 hours based on my HAO observations for December and January. However, it is possible that components exist for P = 9.85, 9.94 and 10.05 hours. In other words, the three peaks in this periodogram suggest that there are three rings of dust cloud debris that transit.

My Collaboration Policy

Please don't ask me to co-author a paper! At my age of 81 I'm entitled to have fun and avoid work. Observing and figuring things out is fun; writing papers is work. My observations are "in the public domain" and are available for use by anyone. If my data is essential to any publication just mention this in the Acknowledgement section.

References

Xu, Siyi, Samuel Lai and Erik Dennihy, 2020, "Infrared Excesses around Bright White Dwarfs from Gaia and unWISE I," arXiv

Joseph A. Guidry, Zachary P. Vanderbosch, J. J. Hermes, Brad N. Barlow, Isaac D. Lopez, Thomas M. Boudreaux, Kyle A. Corcoran, Bart H. Dunlap, Keaton J. Bell, M. H. Montgomery, Tyler M. Heintz, D. E. Winget, Karen I. Winget, J. W. Kuehne, 2020, "I Spy Transits and Pulsations: Empirical Variability in White Dwarfs Using Gaia and the Zwicky Transient Facility," submitted to ApJ, arXiv

External Links of Possible Relevance

WD1145 summary of 4 observing seasons
WD1145 for 2020/21 observing season
Resume of webmaster

________________________________________________________________

This site opened: 2020.12.04.