J0139 (ZTF J013906.17+524536.89) Photometry Monitoring by Amateur Bruce Gary
Bruce L. Gary, Last Updated 2019.10.16 17 UT

This web site reports photometry measurements of a white dwarf with a suspected planetesimal that is shedding dust debris when its 110-day elliptical orbit brings it close to the star's Roche distance. The presence of fades means that the orbiting debris crosses in front of the star. My intent is to observe this star at intervals of a few days, with all-night observing sessions (in order to assess hourly timescale variations) to record the multi-day "big" fade event Oct 15 ± 2 days and to detect smaller fade events.

Introduction
J0139 is a white dwarf (DA type, hydrogen atmosphere) that appears to undergo 30 - 45 % fades at 110-day intervals. Only two (possibly three) fades have been measured so far. I have adopted the following tentative ephemeris for the middle of the fades: JD = 2458661 + E × 110.3. The next two fades are due on 2019.10.15 and 2020.02.02. The discovery paper, Vanderbosch et al. (2019), suggests that the fades are due to a planetesimal in a 110-day orbit that is very eccentric (e > 0.97), and during periastron it is close to the Roche radius of the WD and fragments are dislodged that form a dust cloud in the same orbit.

List of internal links

Results to date
Physical model suggestion
Observing sessions
Finder image
Observing and Analysis Tips
References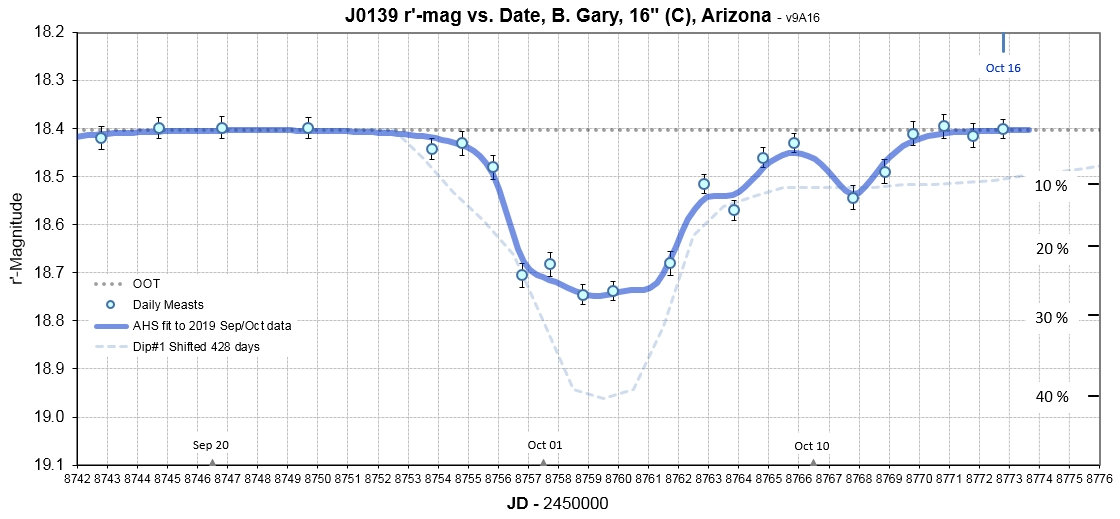 There is an approximate repeat of the two dip structures, 428 days apart. The depth of the current one is ~ 70 % of the earlier one.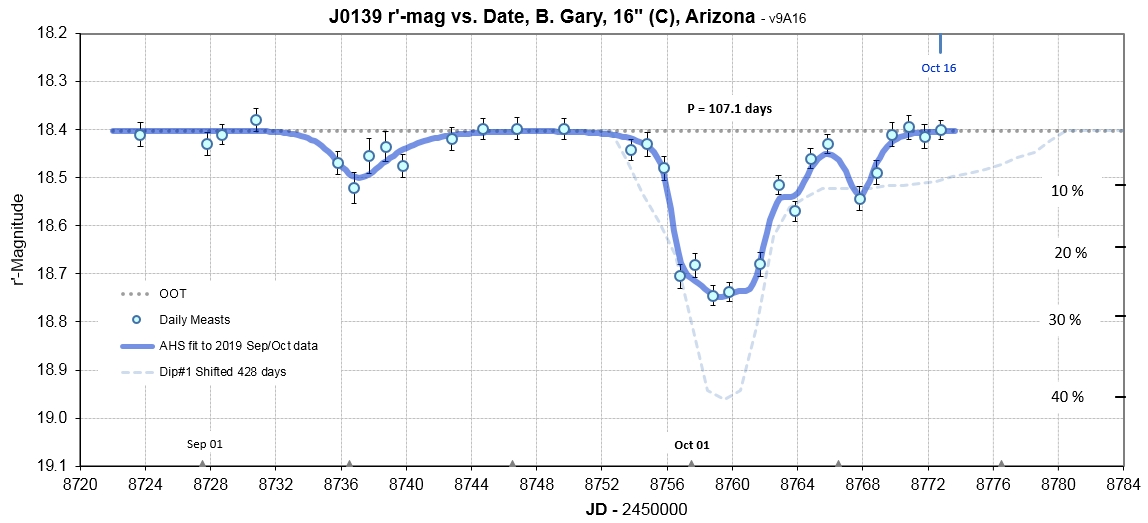 P = 107.1 days provides good agreement between this season's big dip and the one 4 periods ago.

Physical Model Suggestion

The present dip appears to have a two-component shape, so far resembling the 428-day shifted first dip (dotted trace in above LCs). The dip structure consists of an abrupt onset, or ingress, and has a U-shape that is symmetric until near the end of egress. Before egress is complete the second component becomes important and, based on the first dip (shifted 428 days), this second component exhibits a long and slow decline.

This might be understood as a spherical dust coma that produces the 6-day wide first component. The second component "dust tail" lasts ~ 16 days. The dust tail could be produced by small particles pushed outward (and at trailing azimuths) by radiation pressure. If the small particles have a specific lifetime function (due to sublimation?) then the tail should gradually end at some distance which we can associate with the 20 days that it is seen to exist (referenced to the center of the U shape).

There's a way to test this suggestion. If the main dip consists of large particles (e.g., radius > 1 micron) then this dip will have the same depth at all optical wavelengths, such as those observed by Zachery Vanderbosch (g'- & r'-band). If the second component "tail" consists of small particles (e.g., radius < 1 micron) then this dip should be shallower at the longer optical wavelengths. .


2019.10.16
2019.10.15
2019.10.14
2019.10.13
2019.10.12
2019.10.11
2019.10.09
2019.10.08
2019.10.07
2019.10.06
2019.10.05
2019.10.03
2019.10.02
2019.10.01
2019.09.30
2019.09.29
2019.09.28
2019.09.27
2019.09.23
2019.09.20
2019.09.18
2019.09.16
2019.09.13
2019.09.12
2019.09.11
2019.09.10
2019.09.09
2019.09.04
2019.09.02
2019.09.01
2019.08.28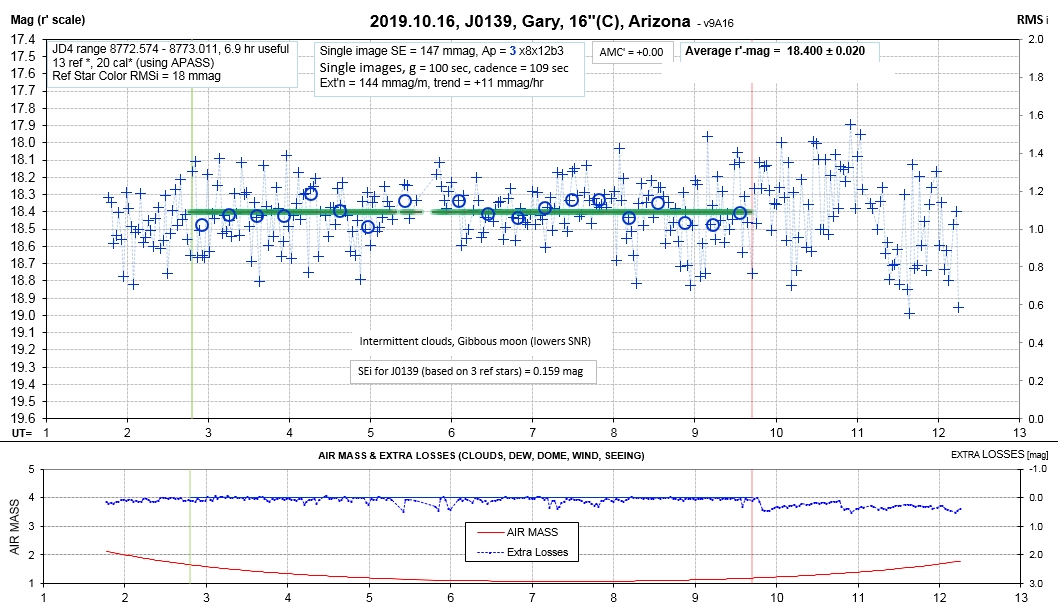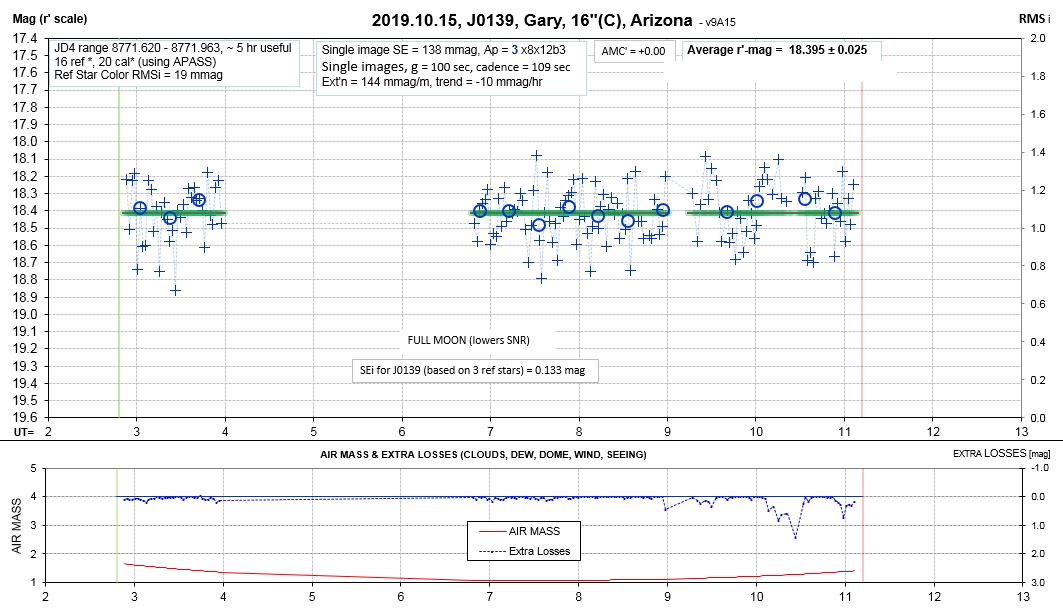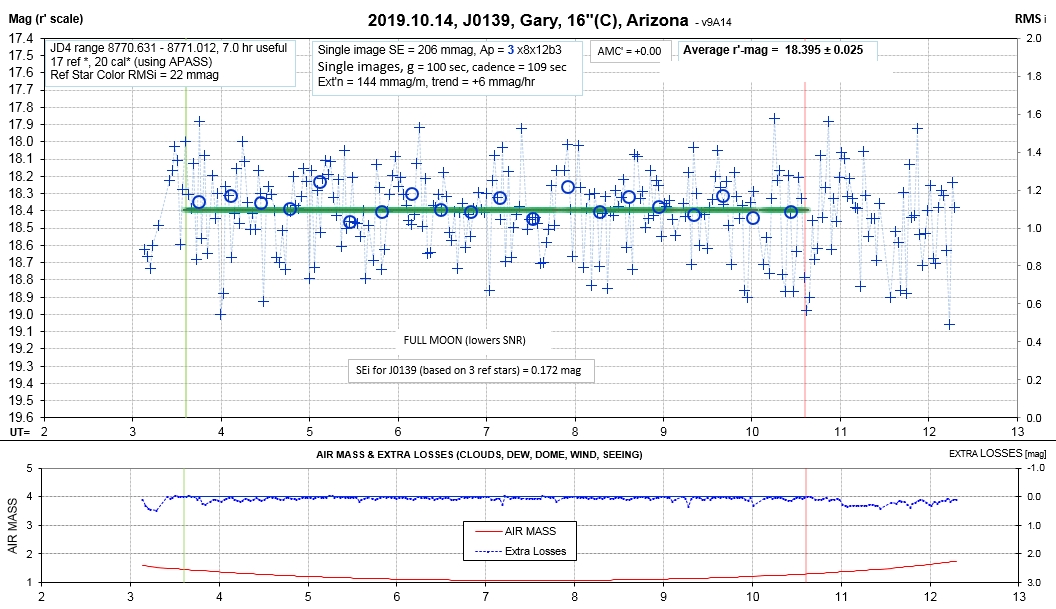 Very noisy due to full moon.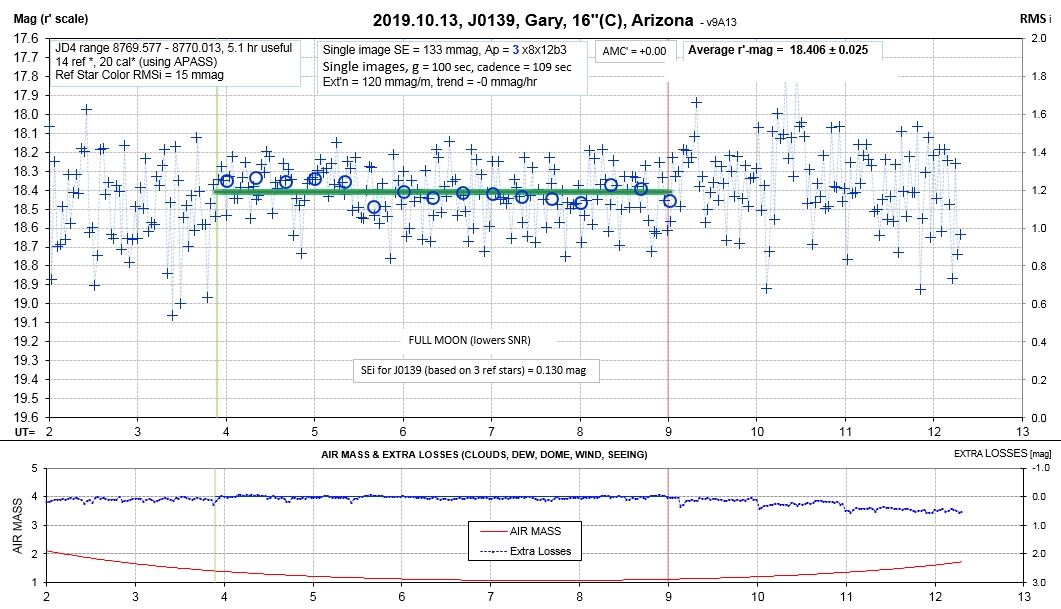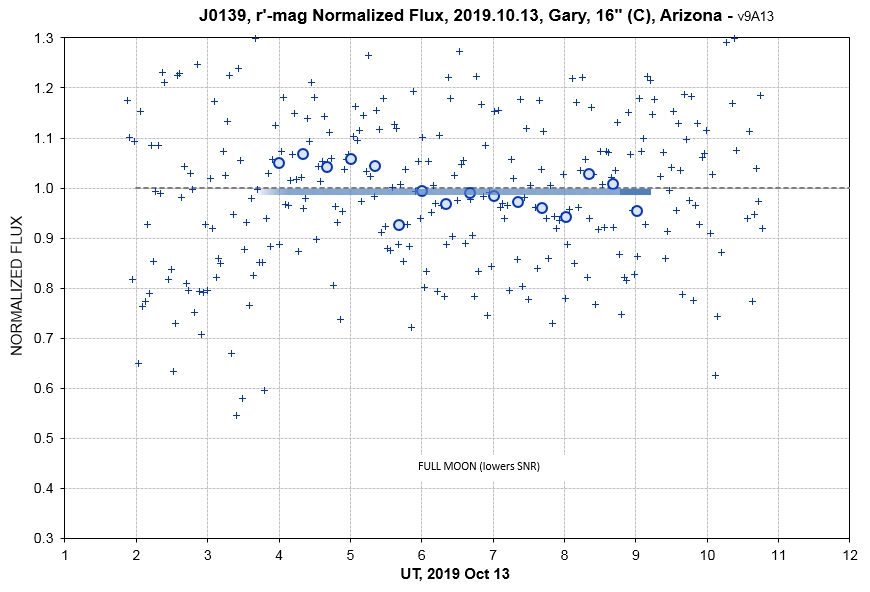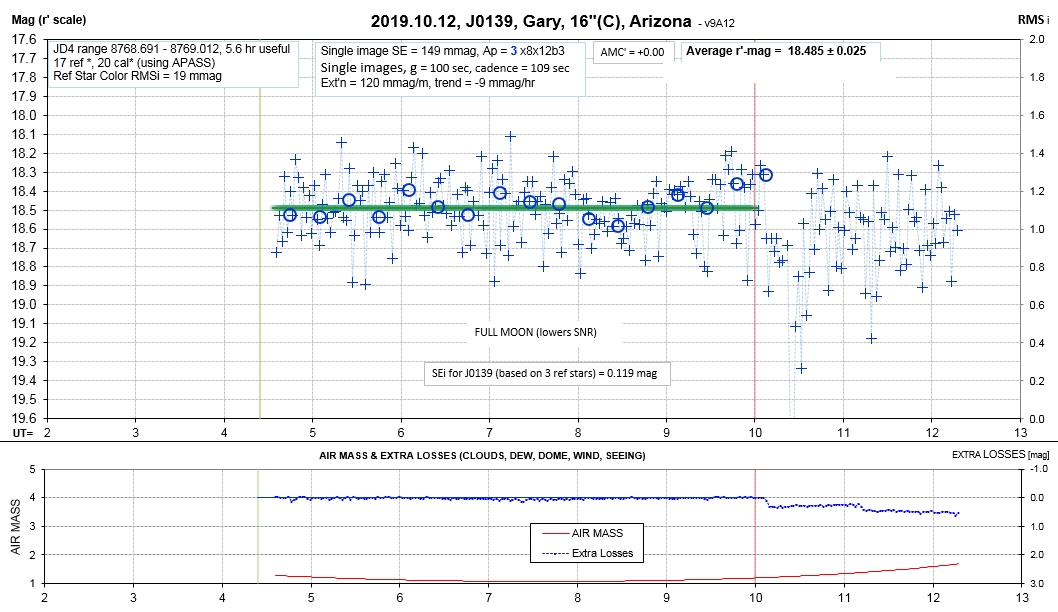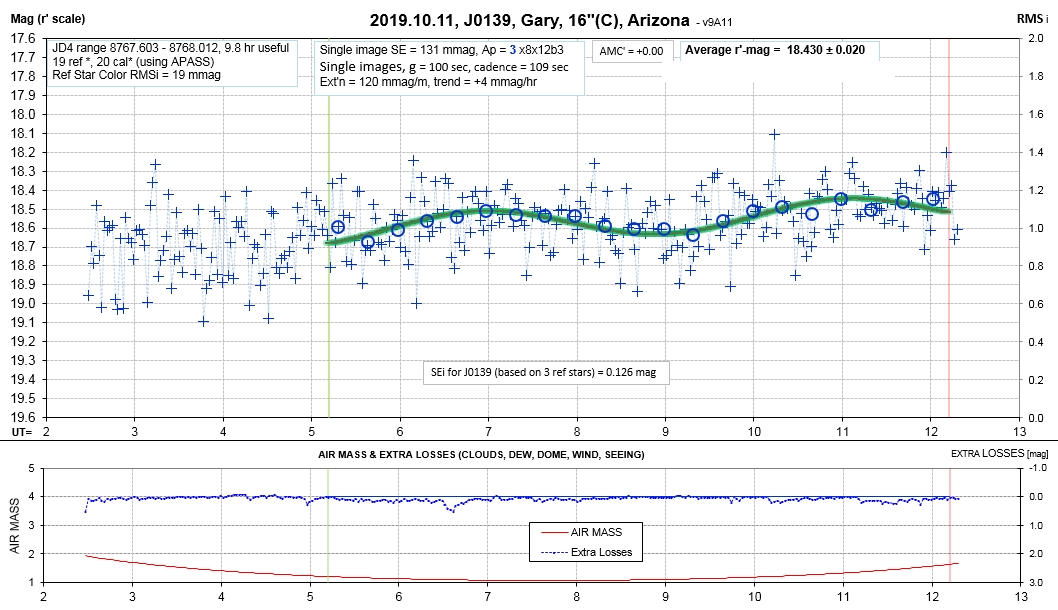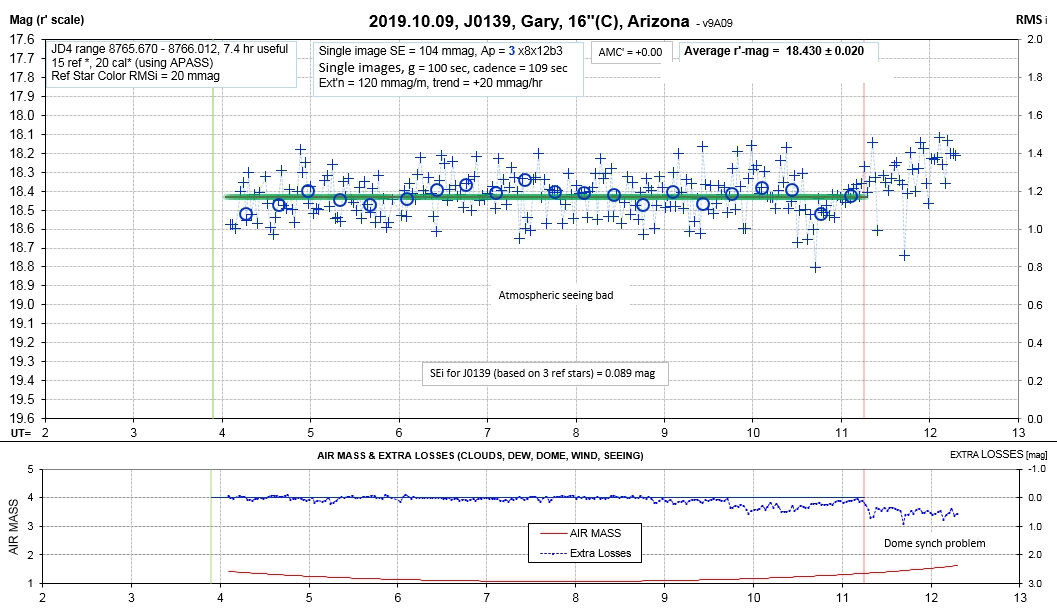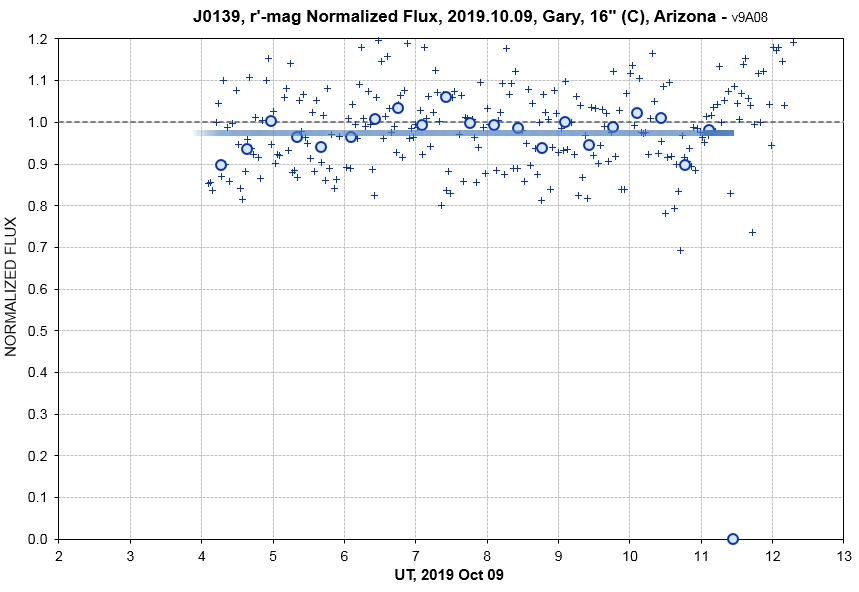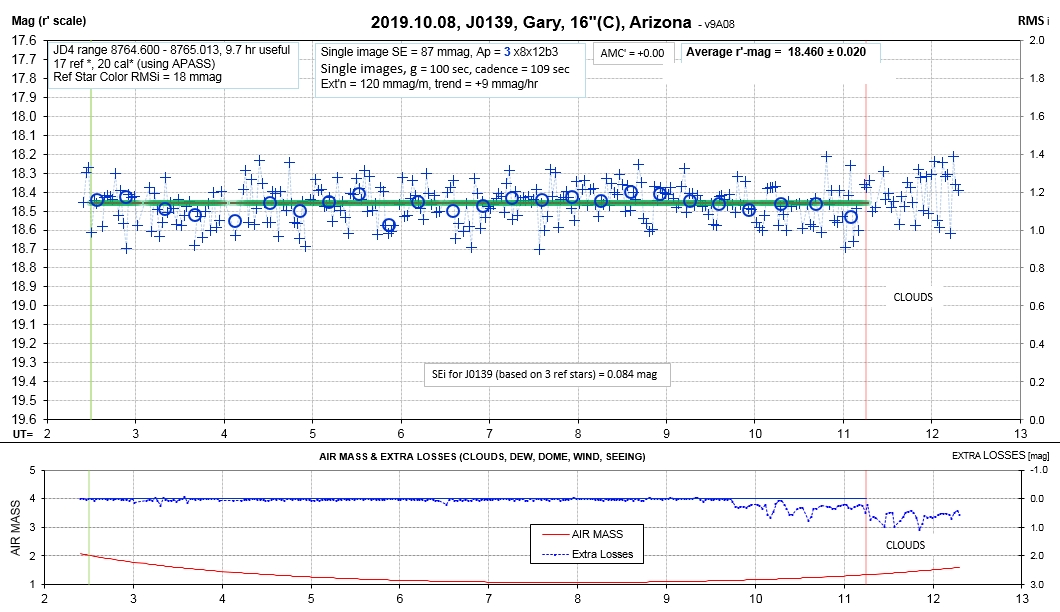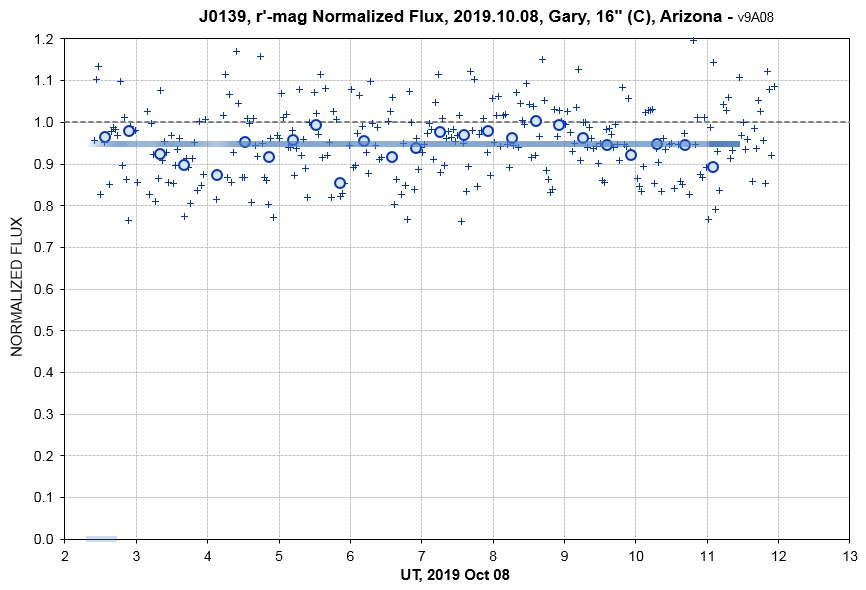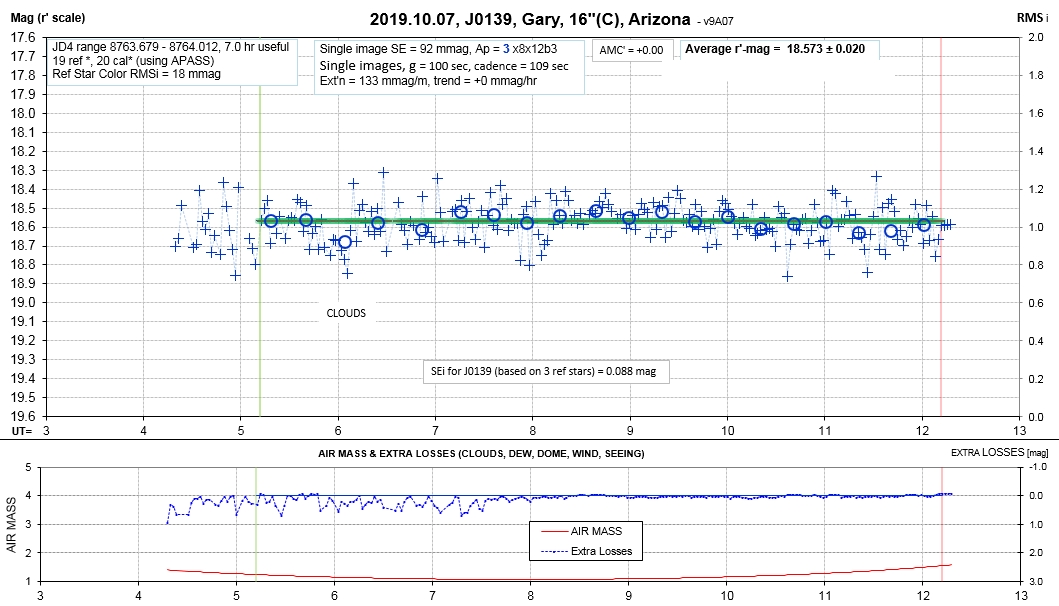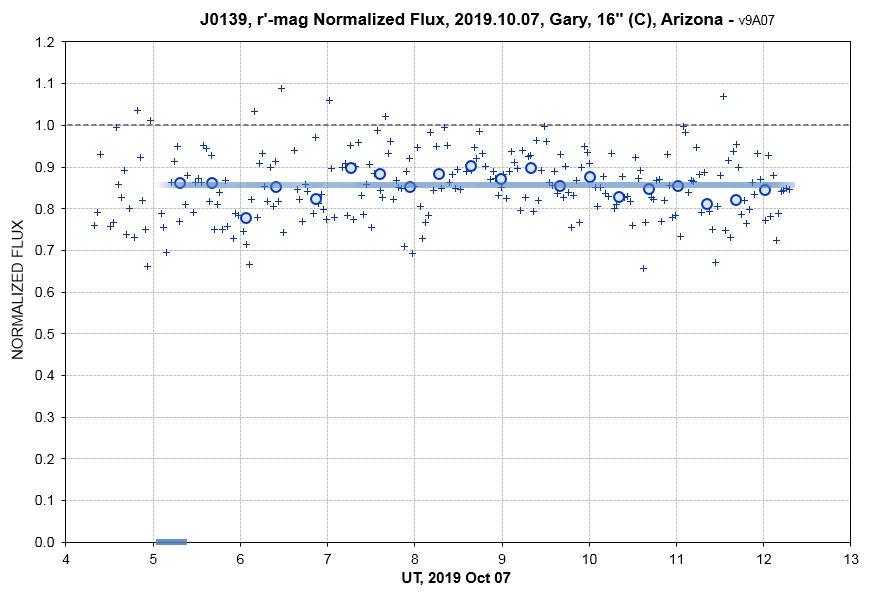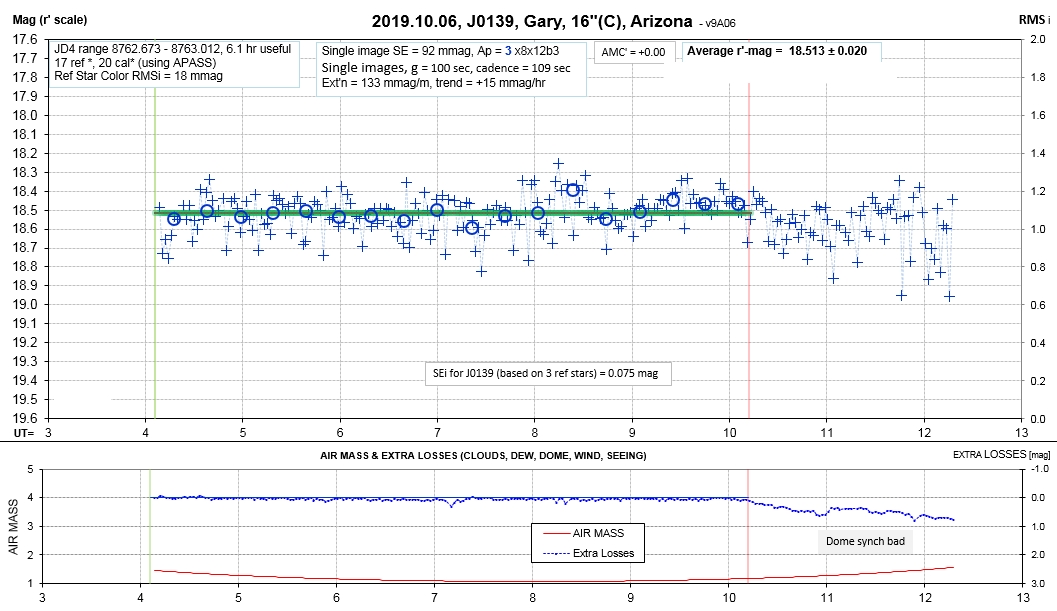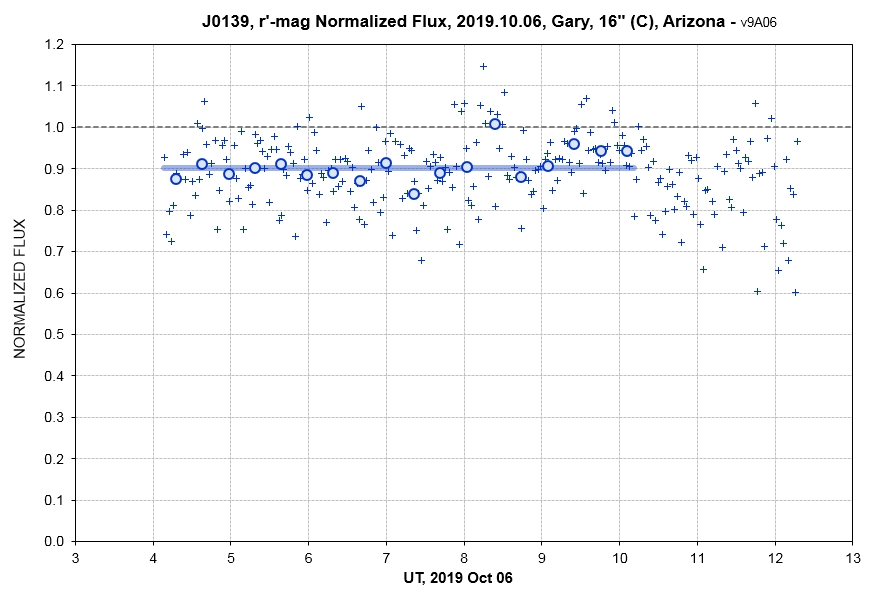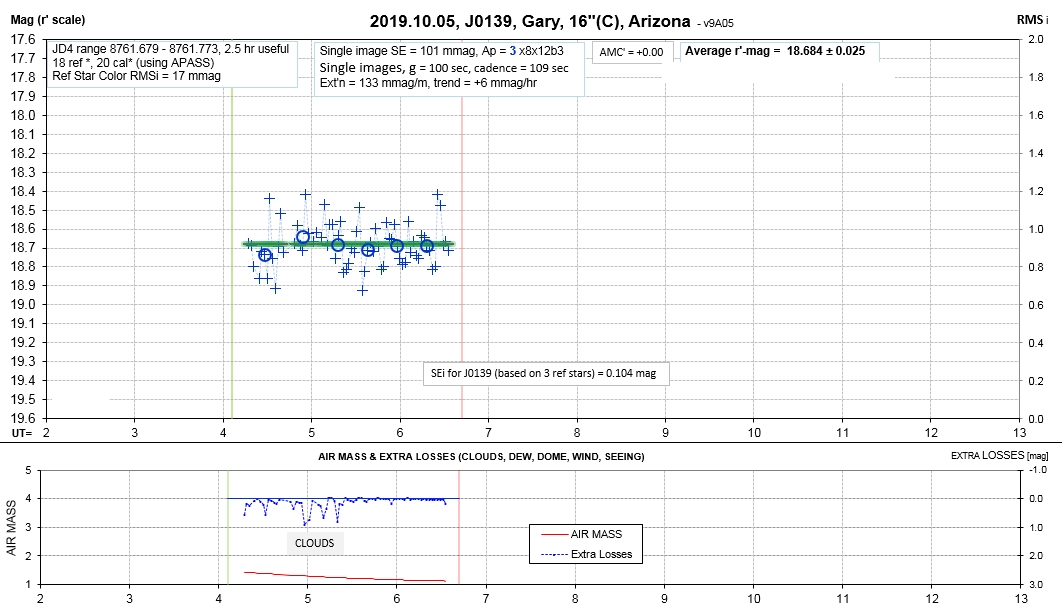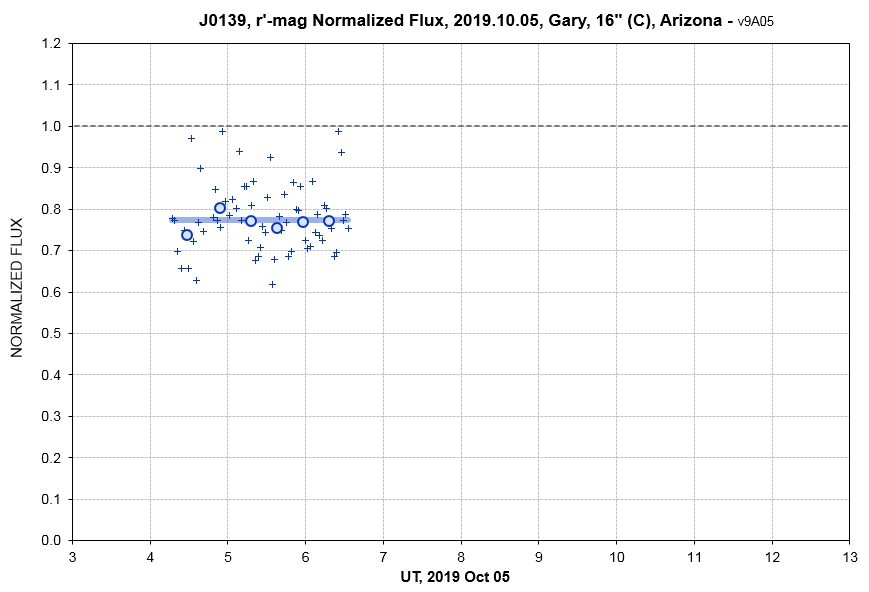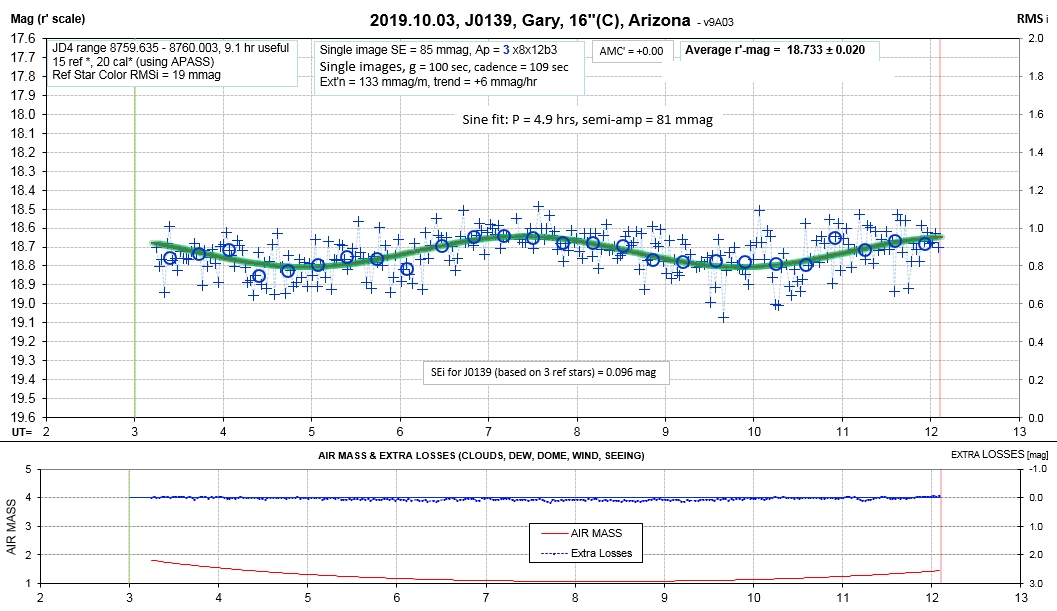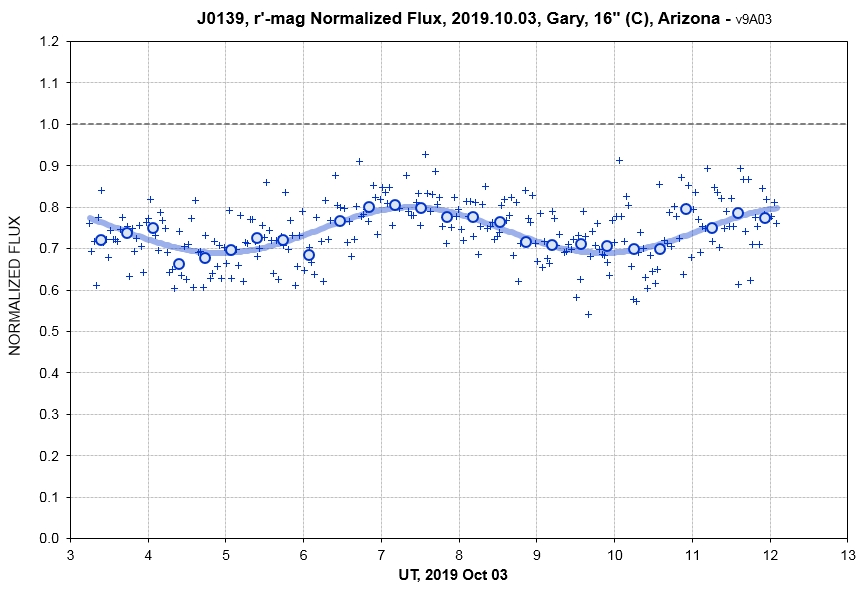 Need someone else's LC to know if this sinusoidal variation is real.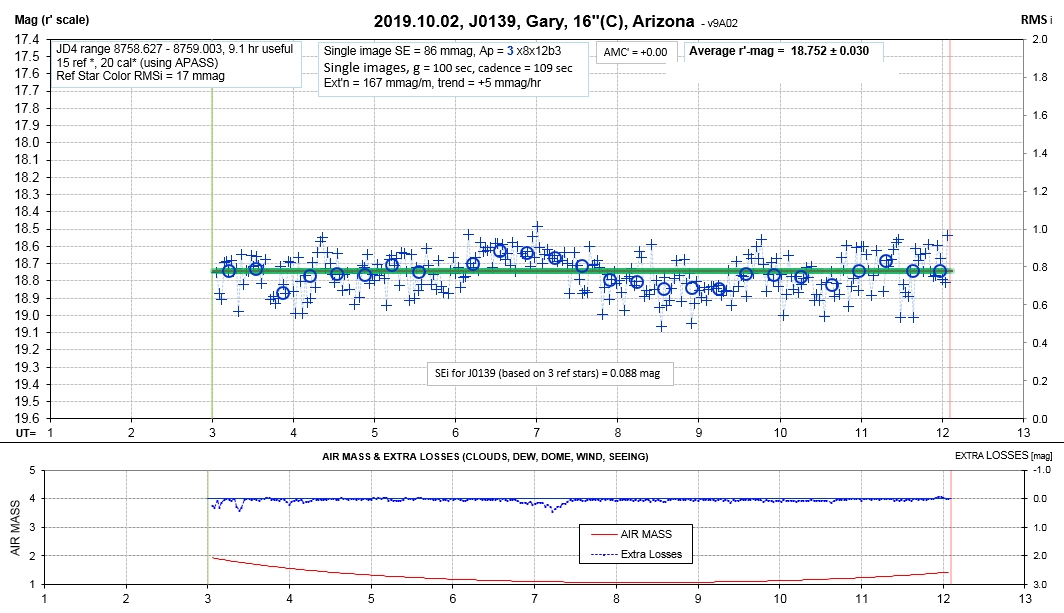 I think these variations are real.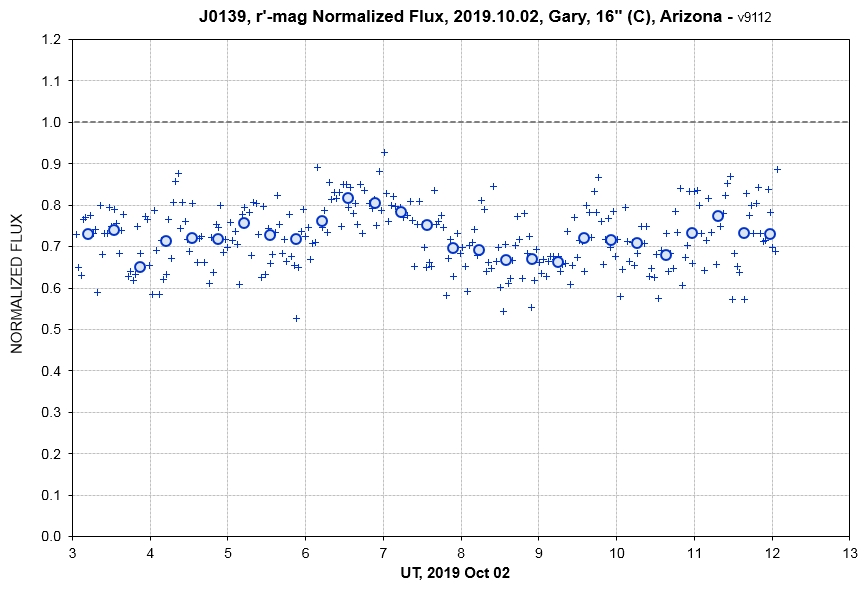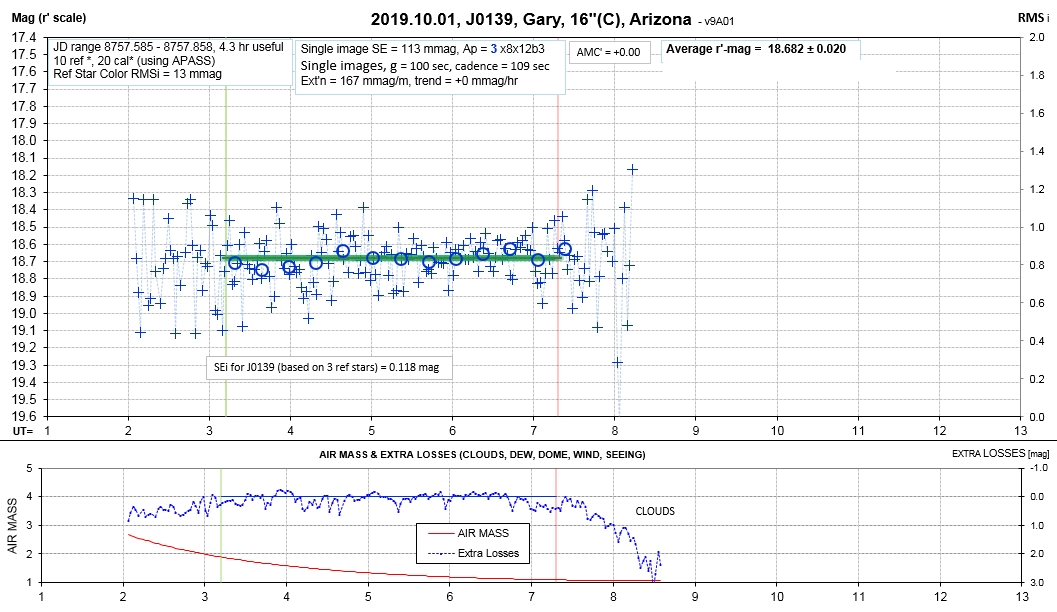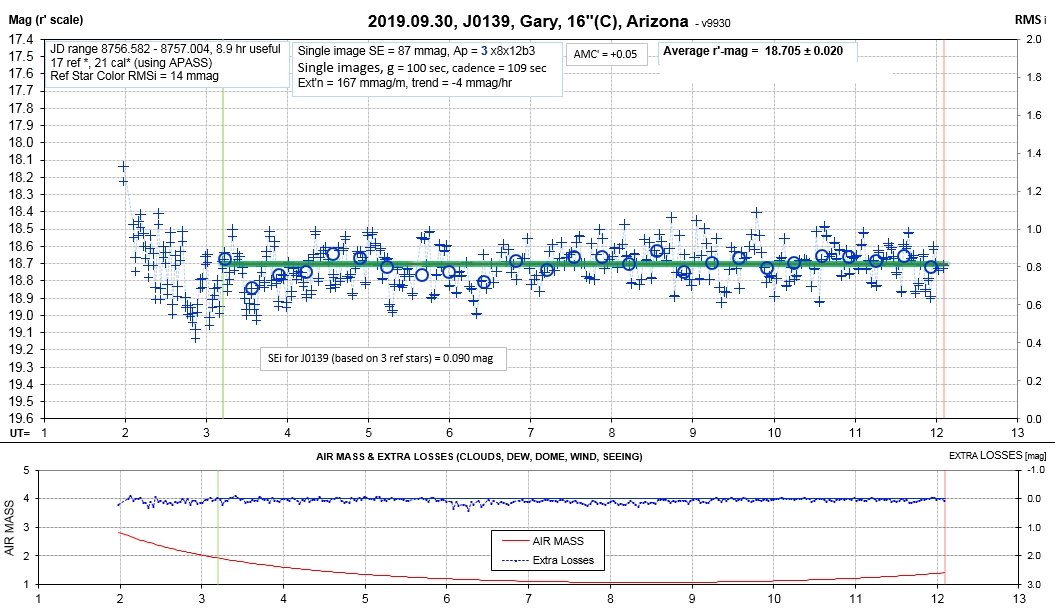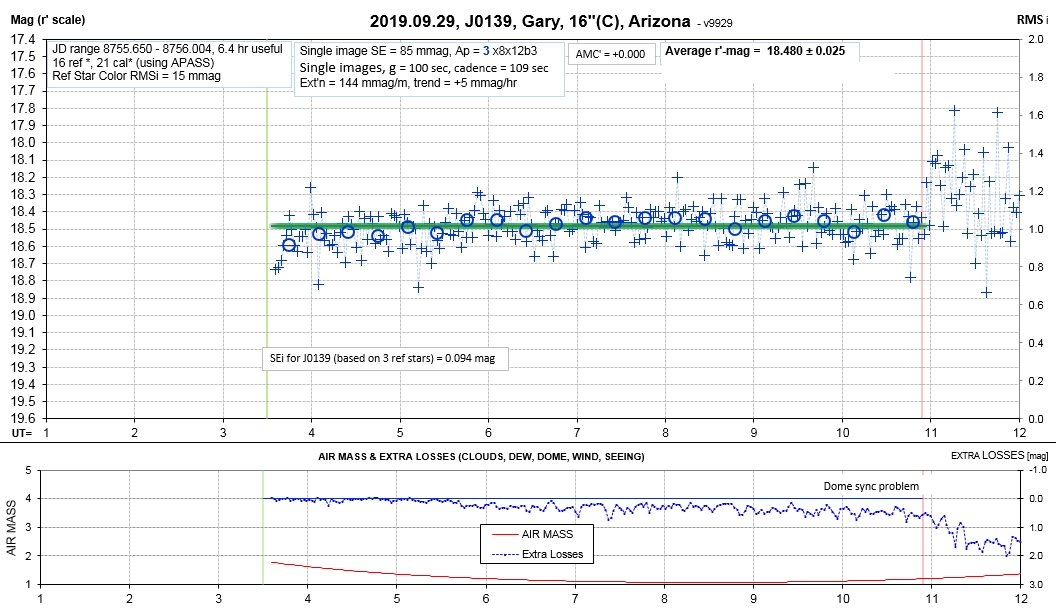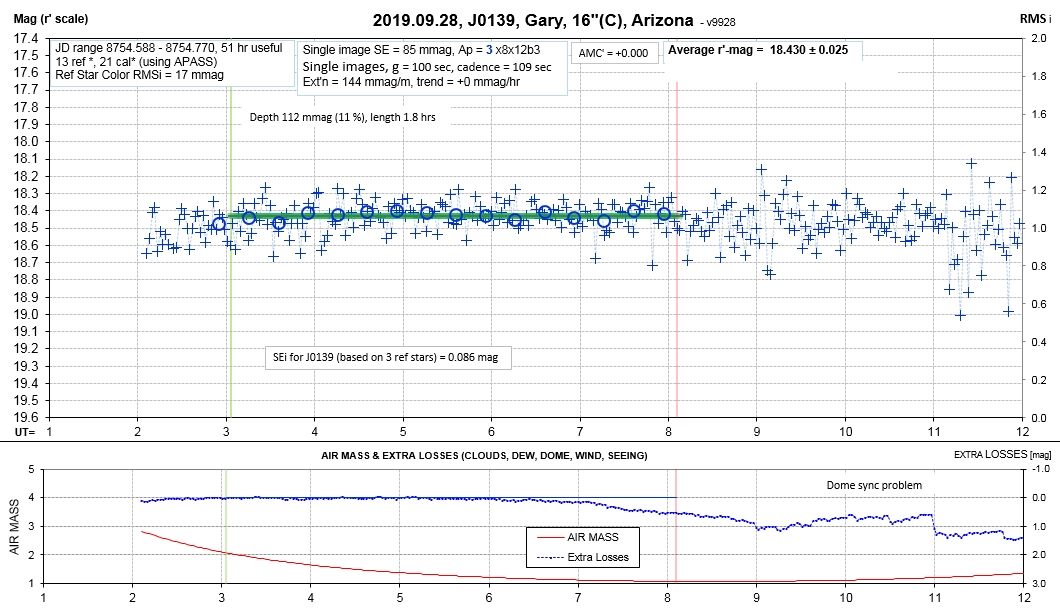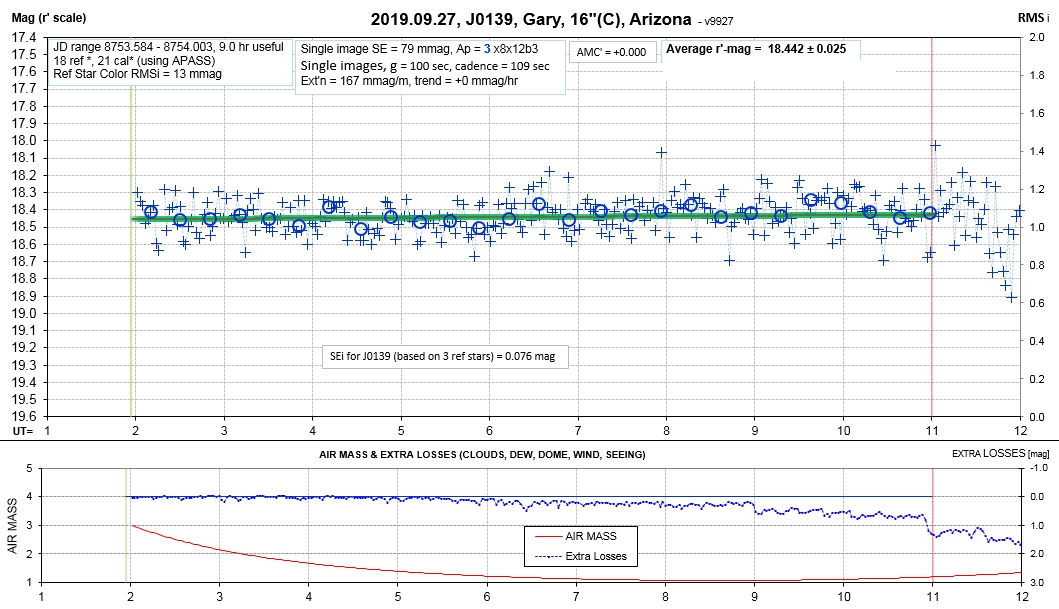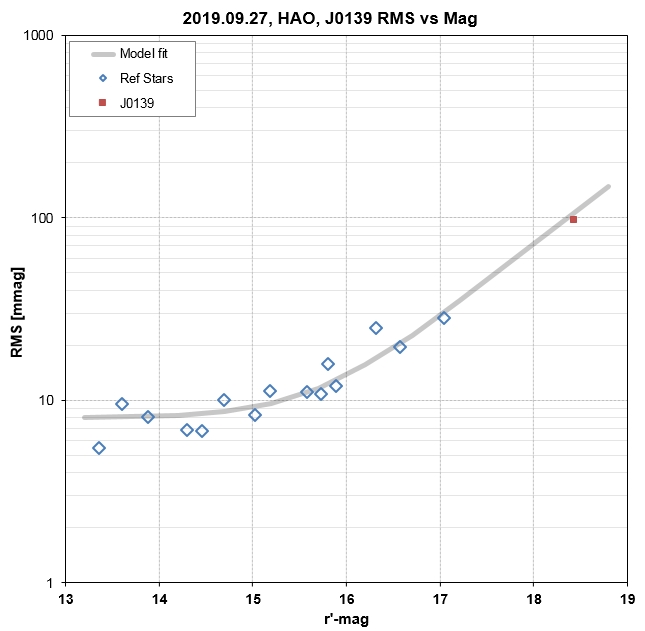 Still no evidence for target variability during observing session.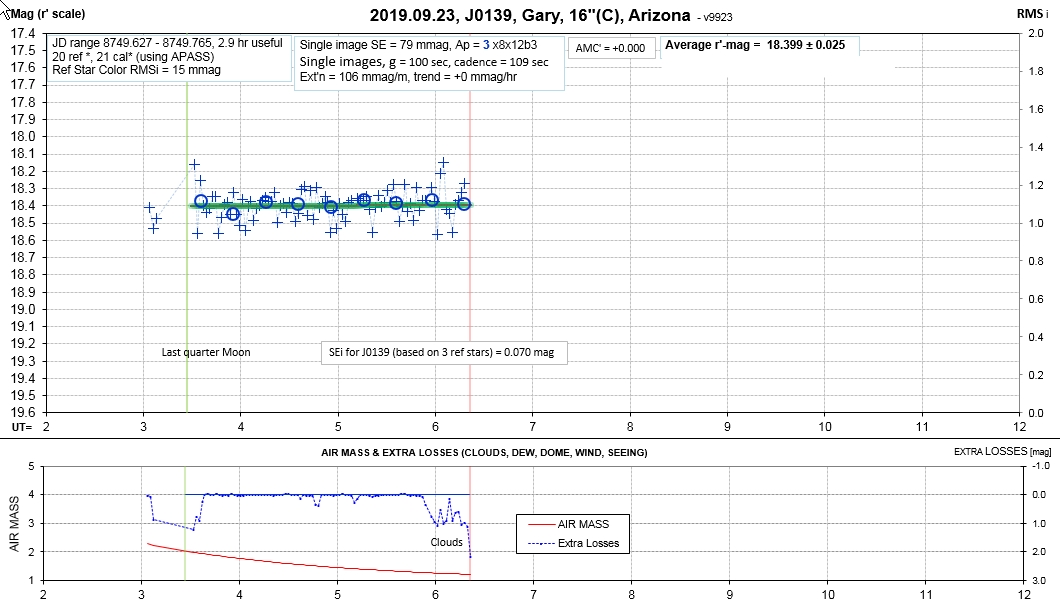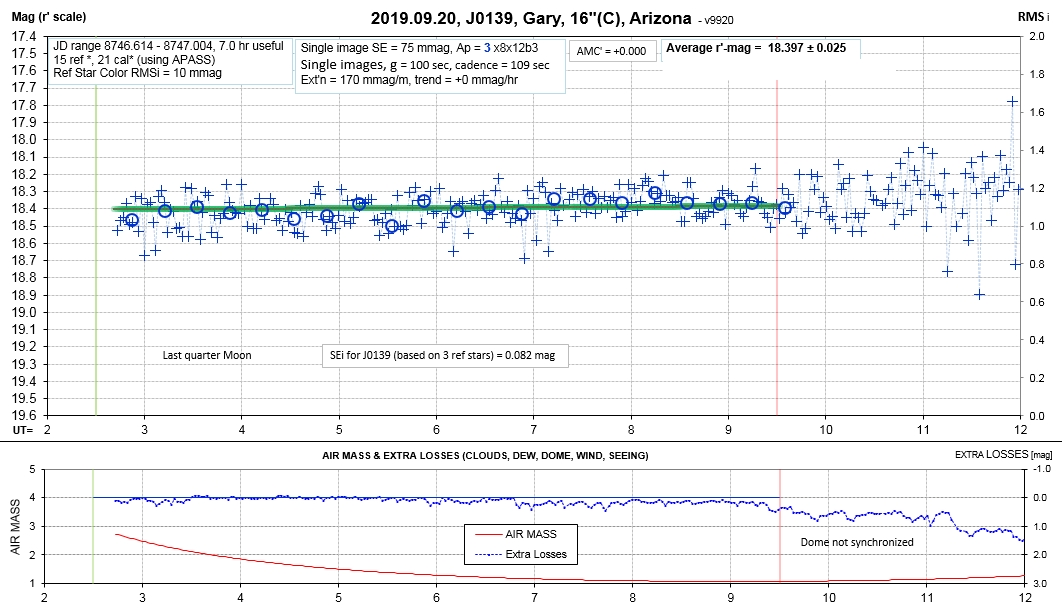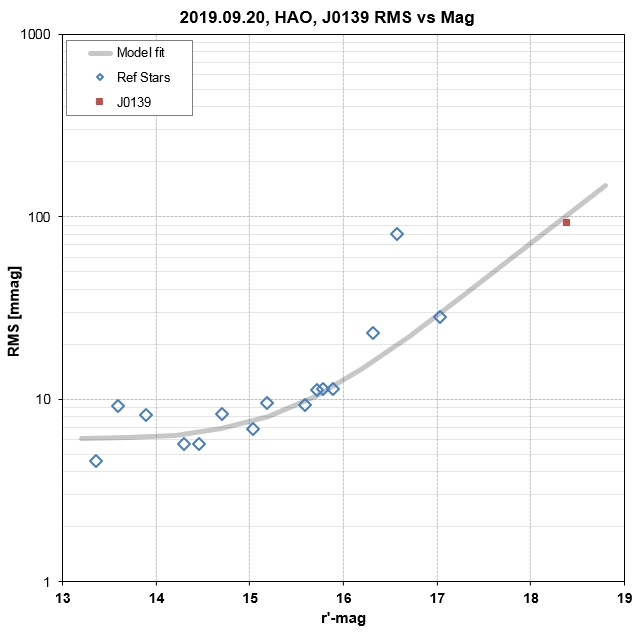 Still no evidence for target variability during observing session.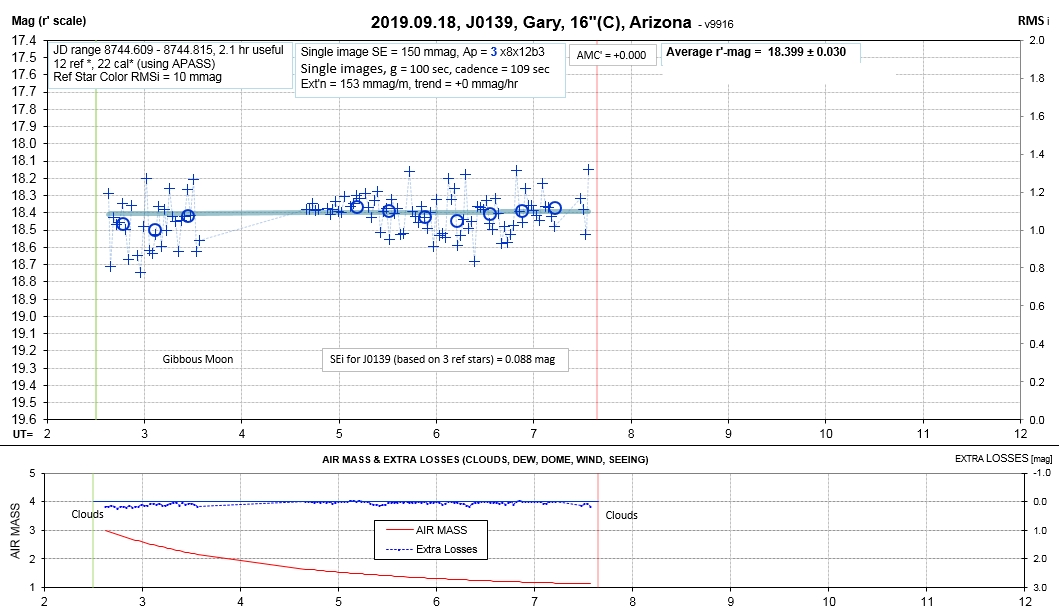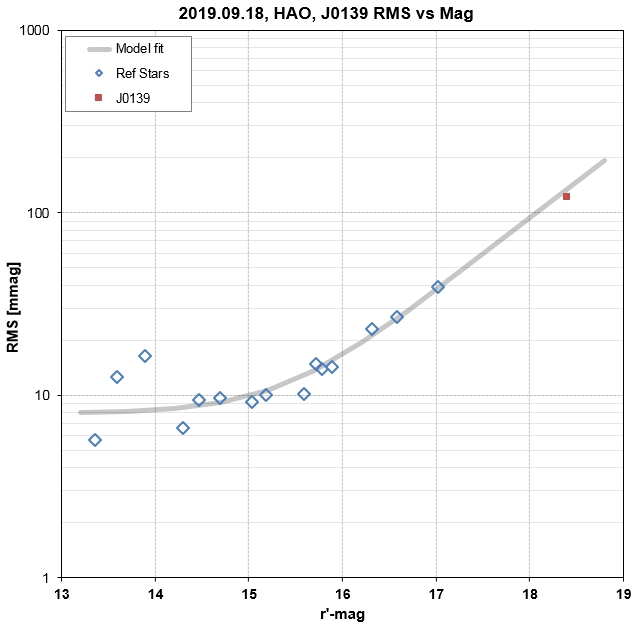 Still no evidence for target variability during observing session.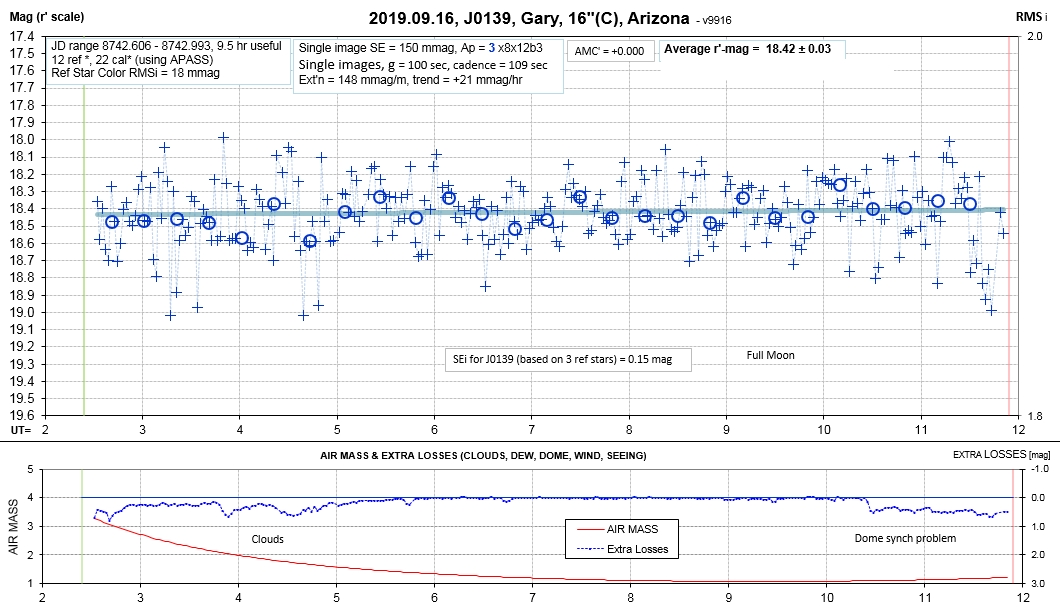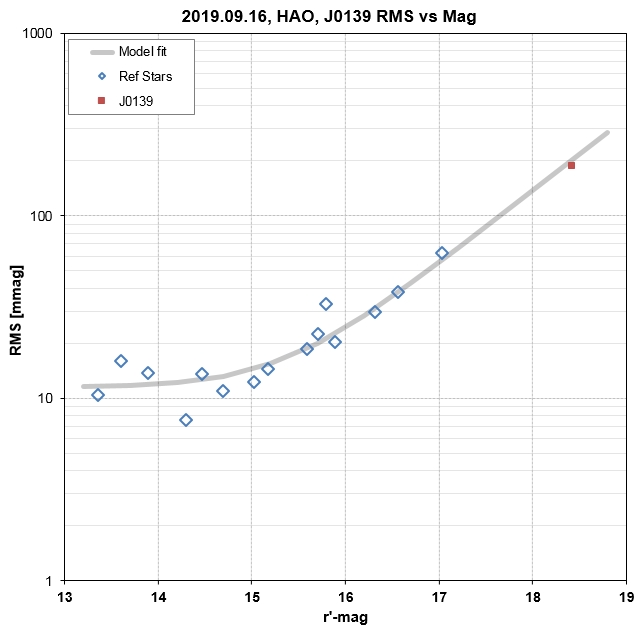 Still no evidence for variability during observing session.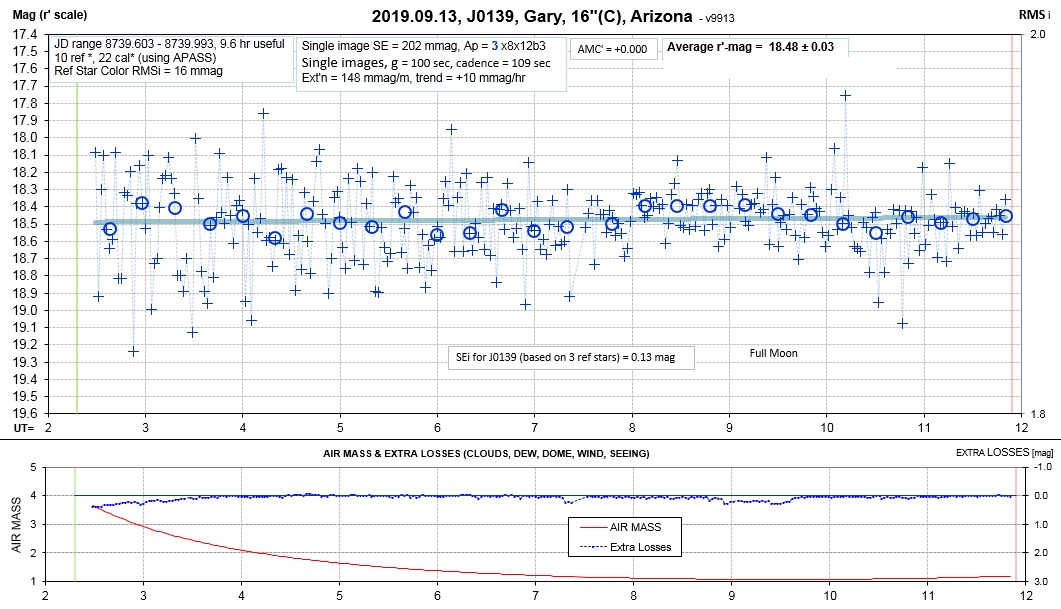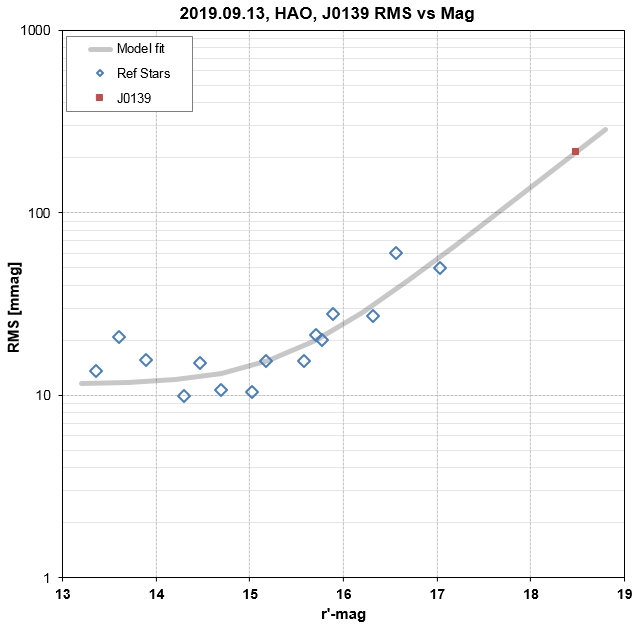 Still no evidence for variability during observing session.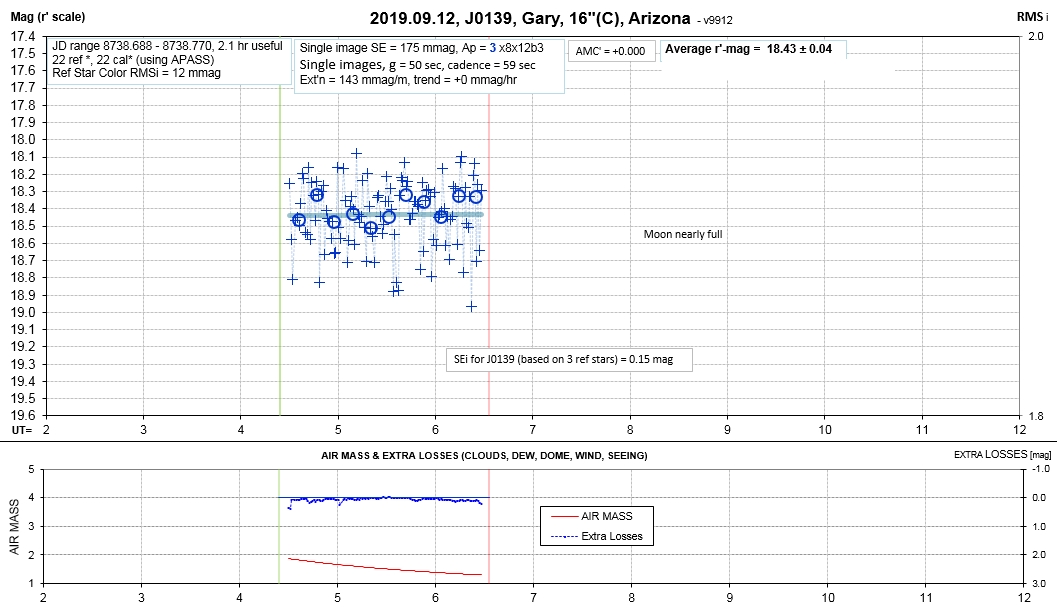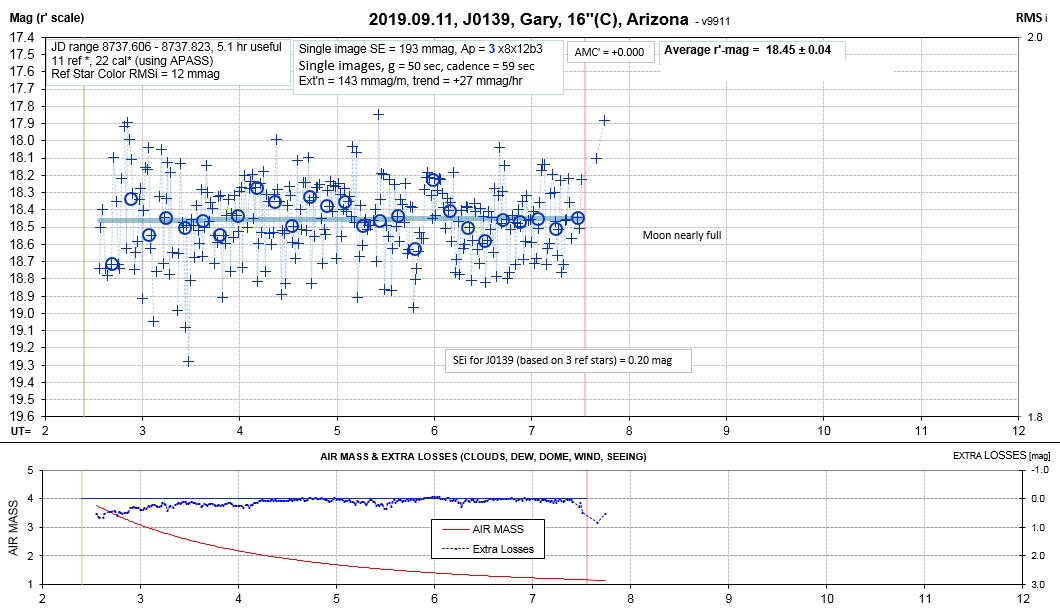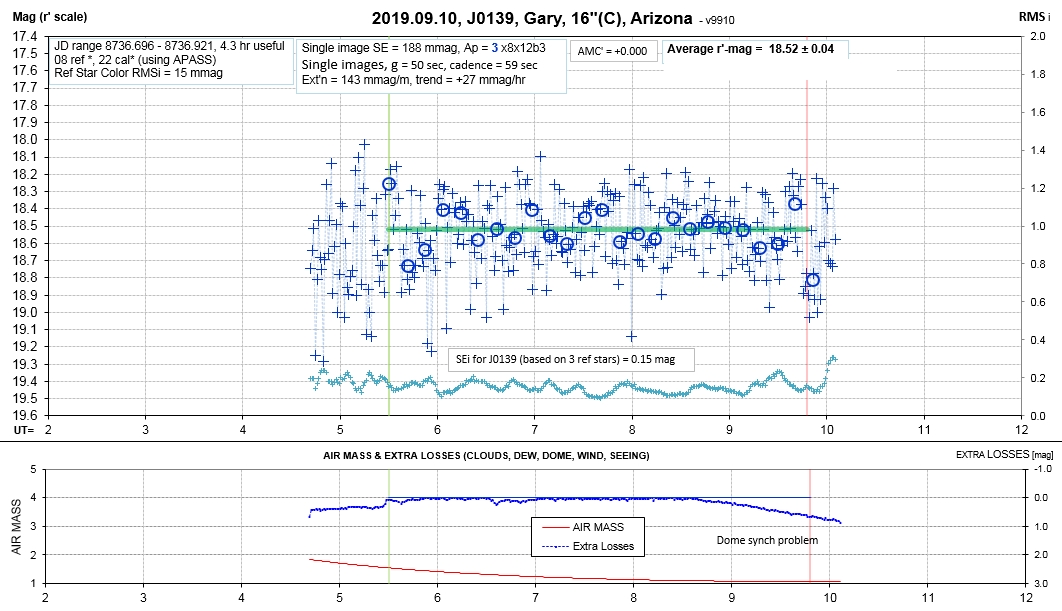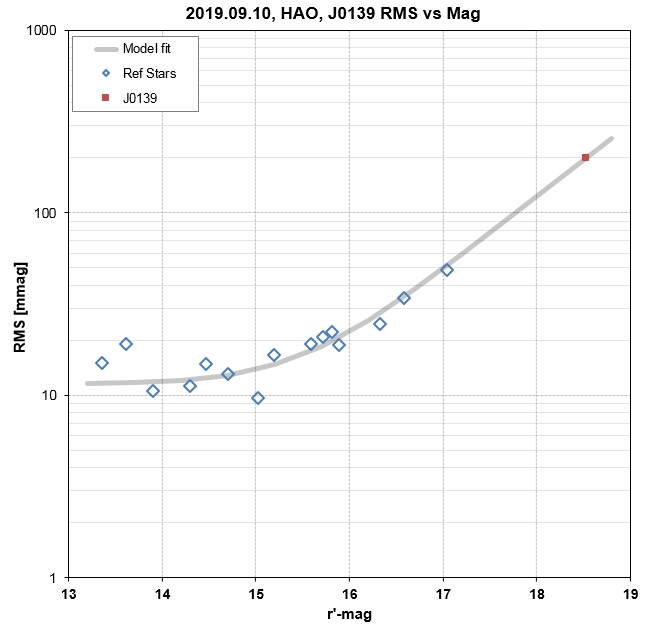 Still no evidence for variability during observing session.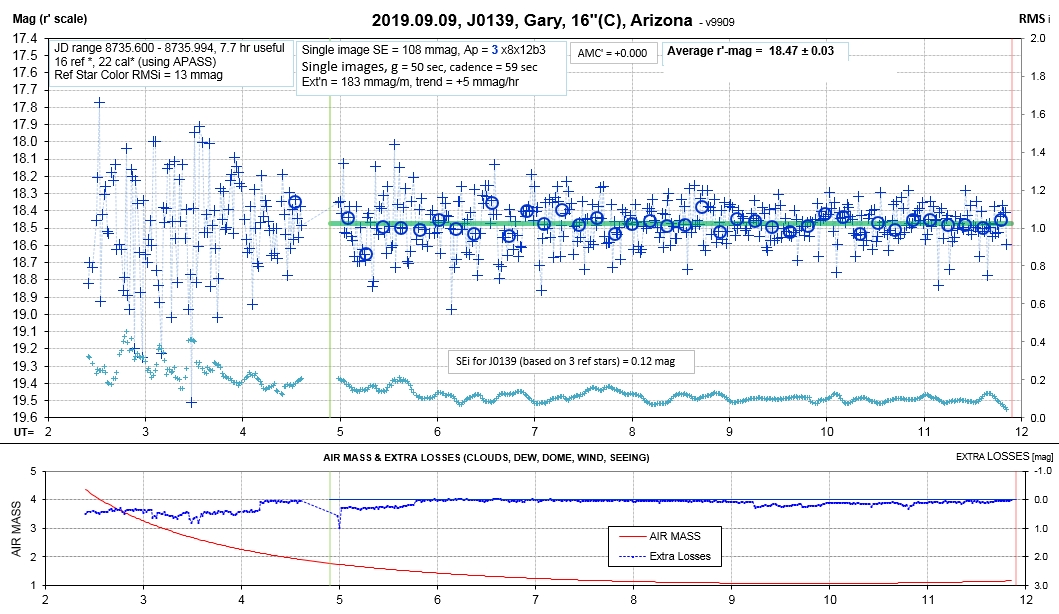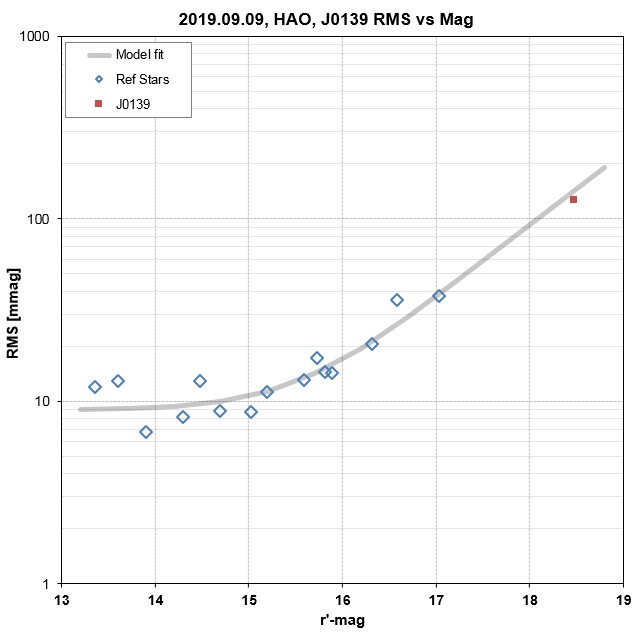 No evidence for J0139 variability during observing session.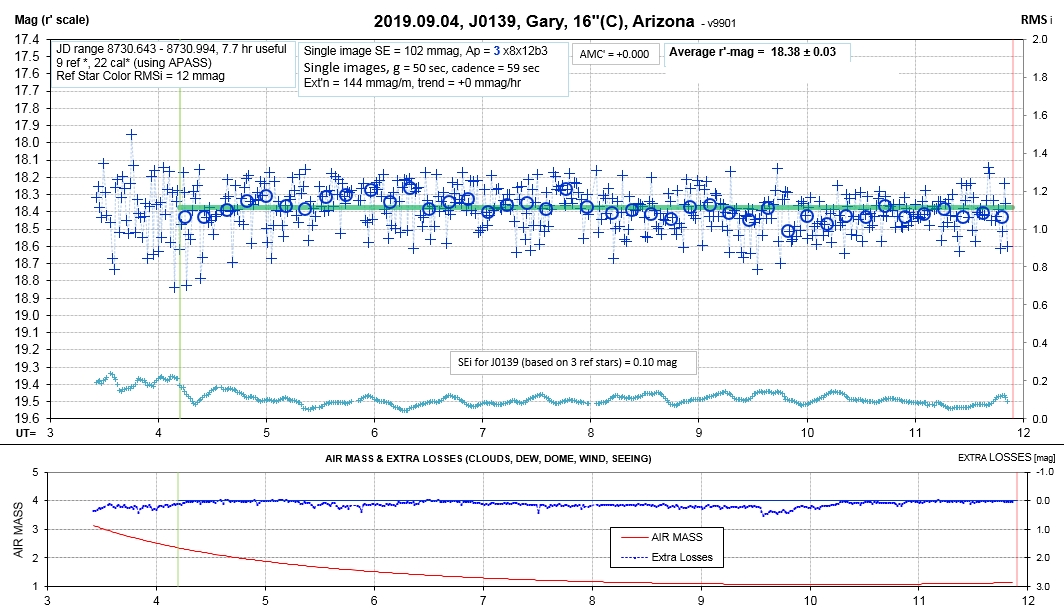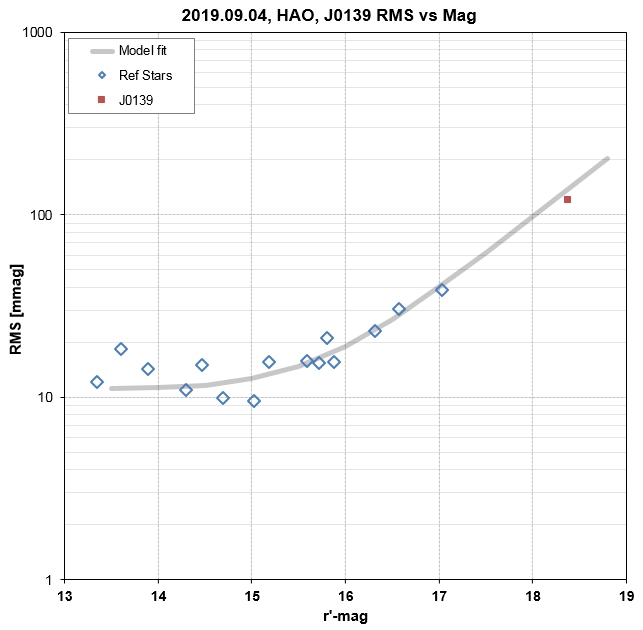 No evidence for J0139 variability during observing session.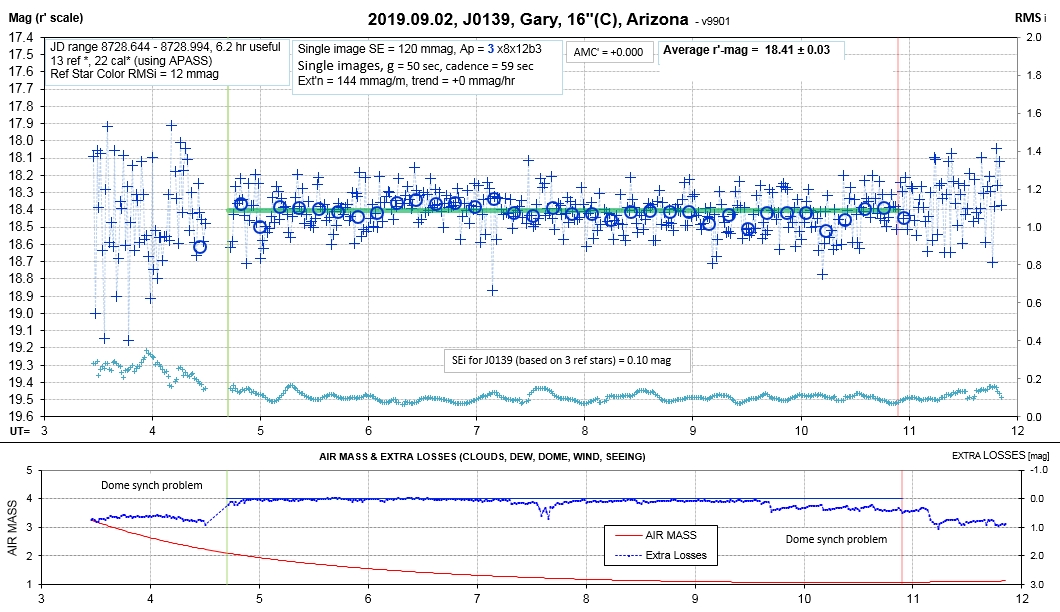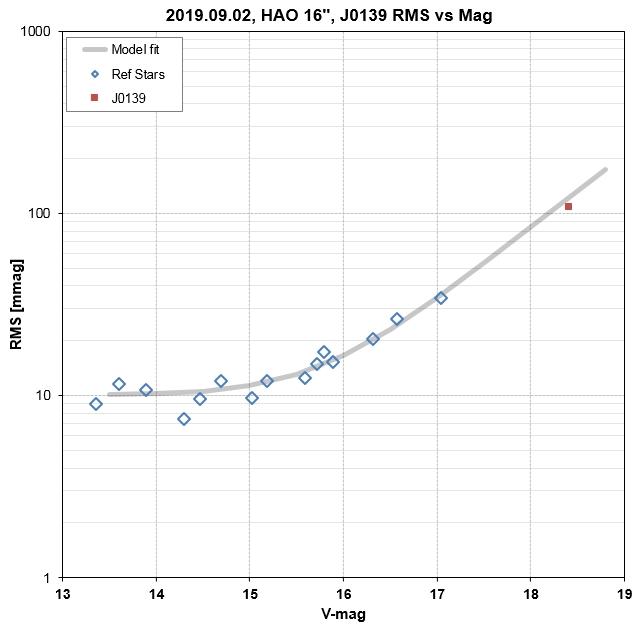 No evidence for J0139 variability during observing session.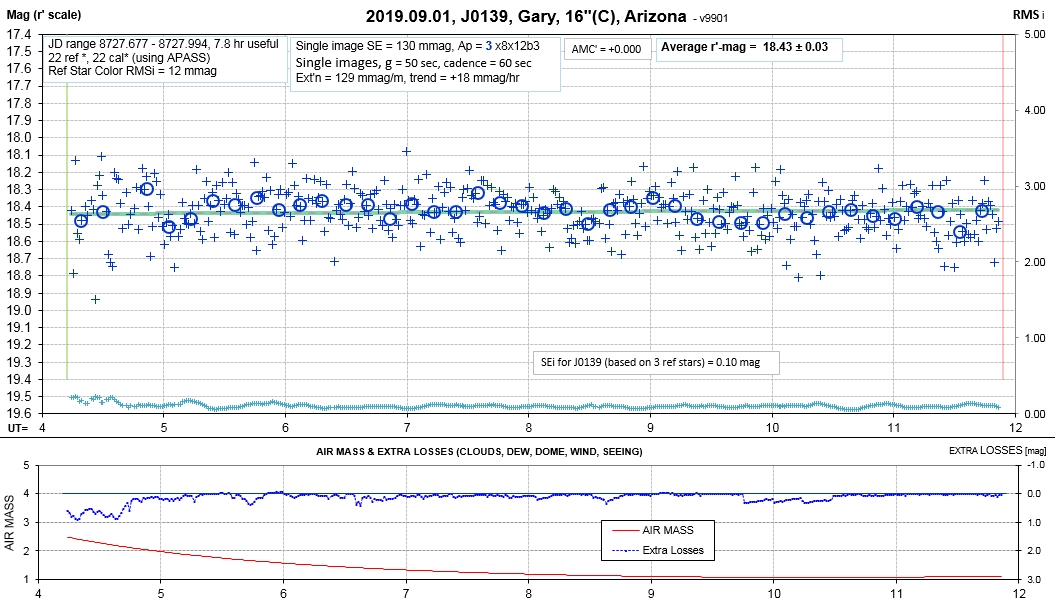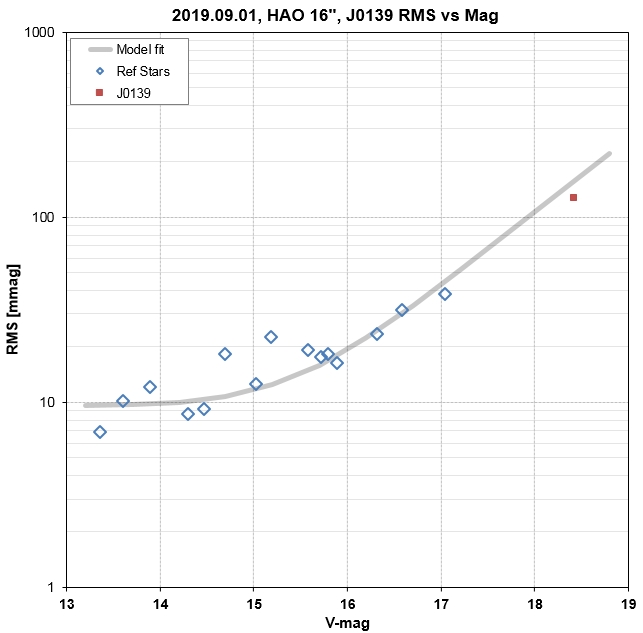 No evidence for J0139 variability during observing session.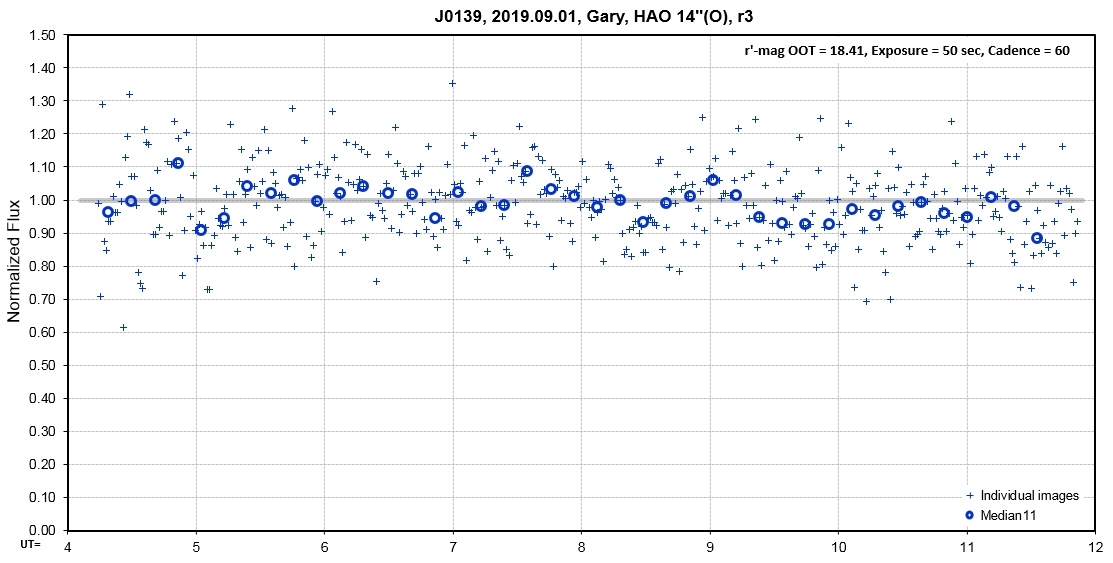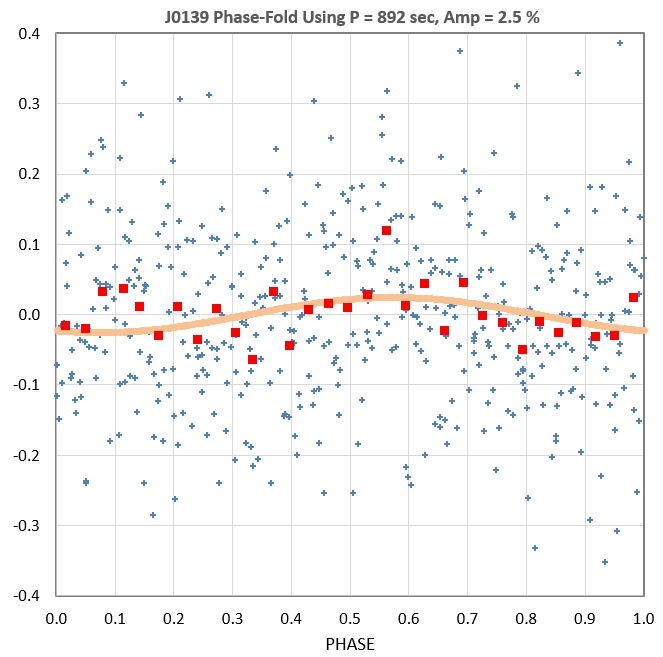 Could this be a pulsation?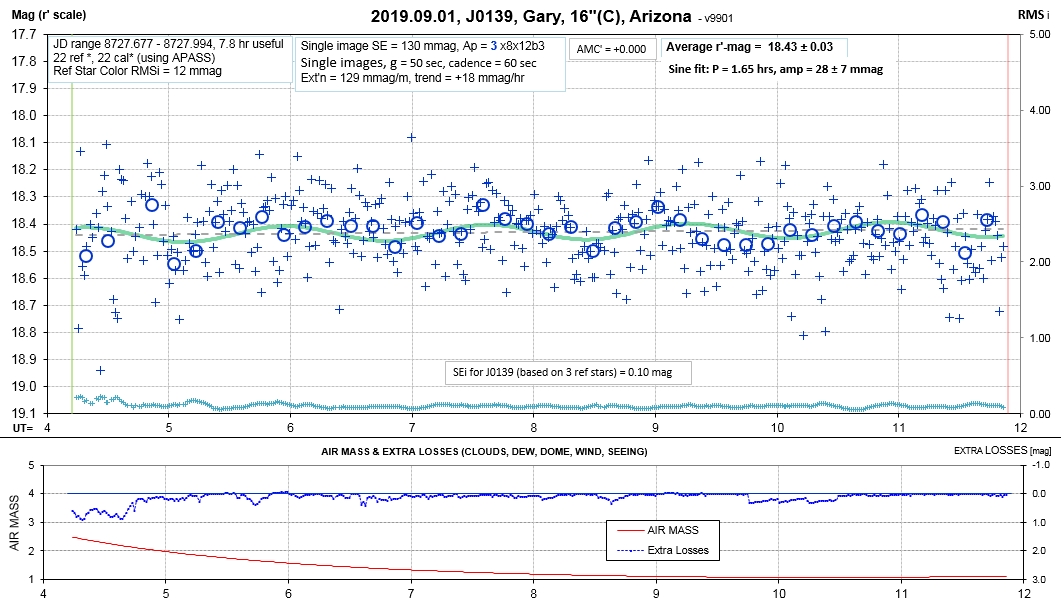 The sine fit is statistically significant (at 4-sigma), but it might just be a fluke "curiosity." Could it be related to star rotation?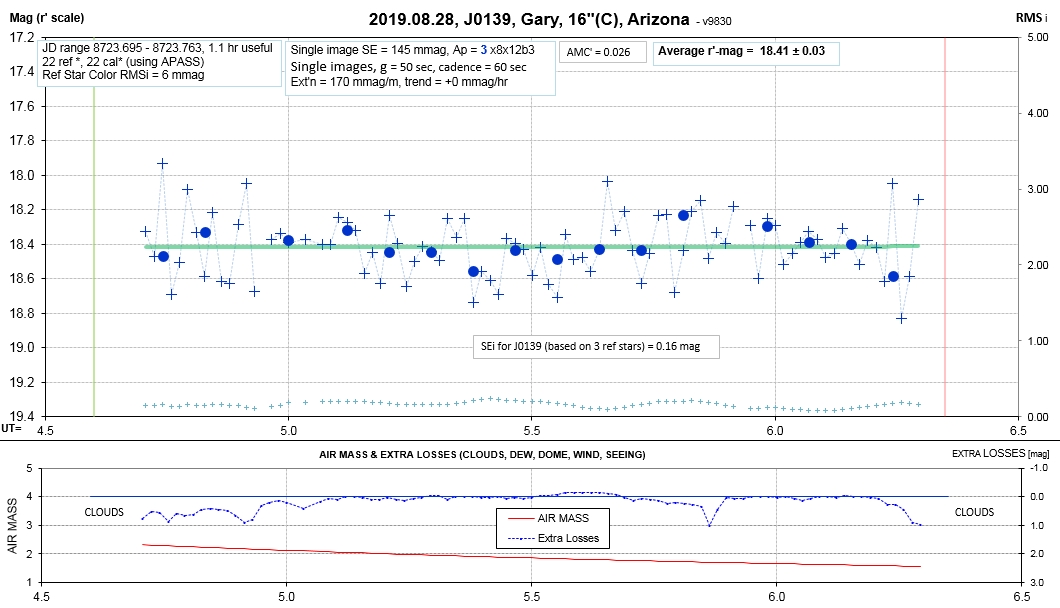 v

J0139 is located at RA/DE = 01:39:06.2 +52:45:37.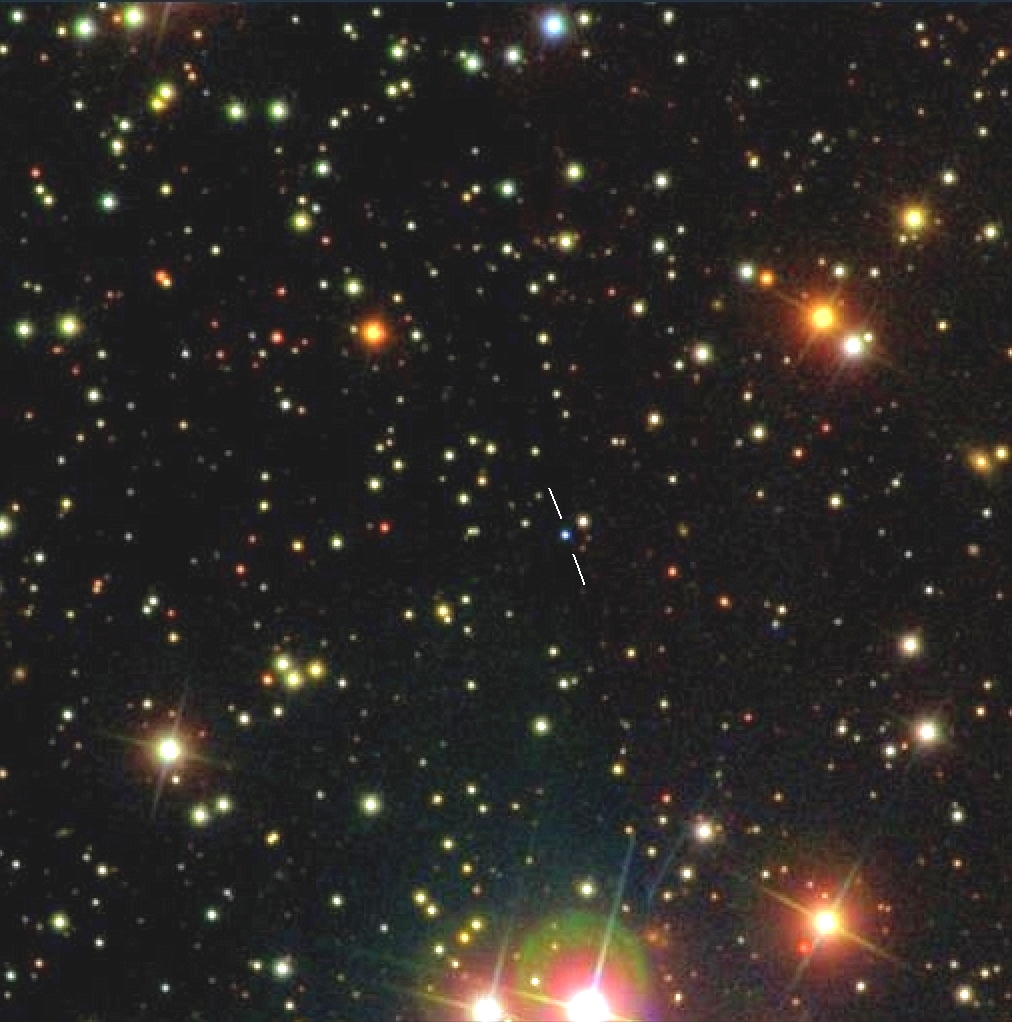 Figure F1. SDSS image, northeast upper-left.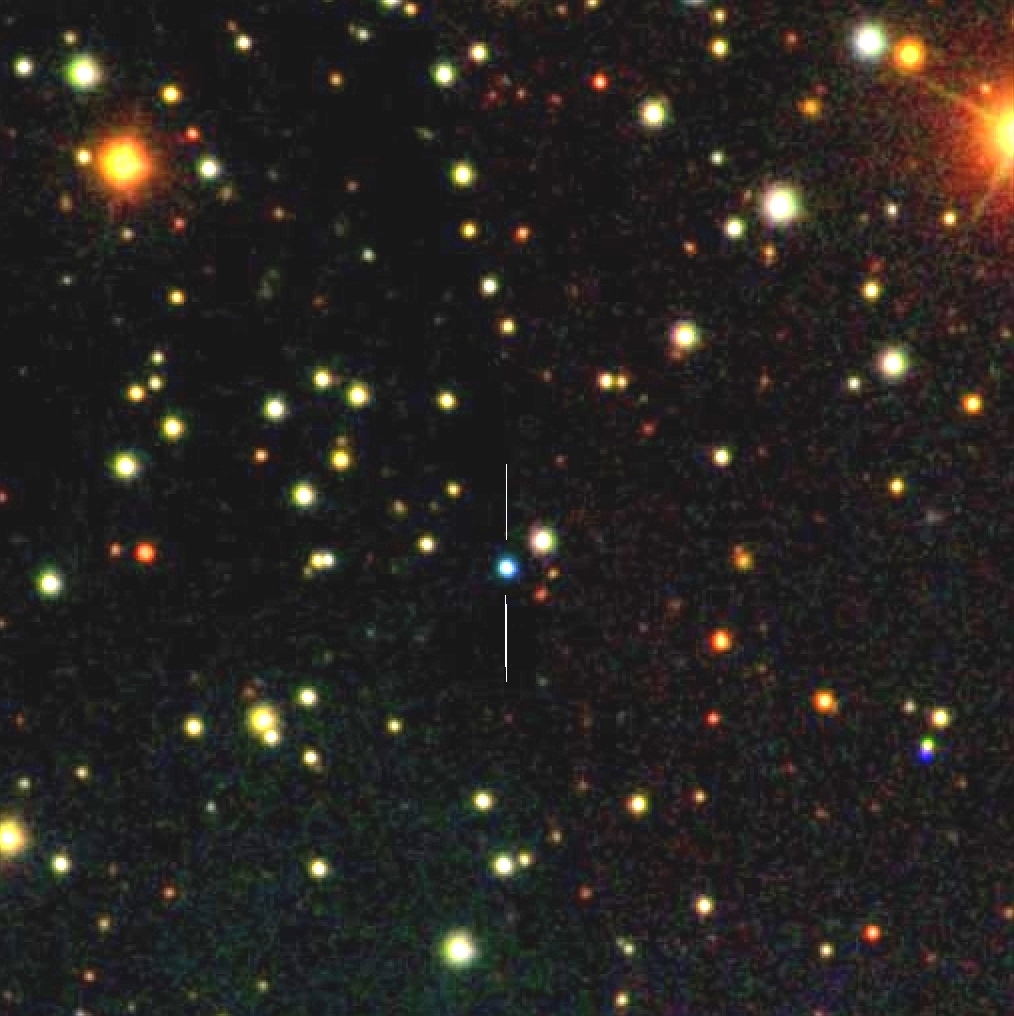 Figure F3. SDSS image.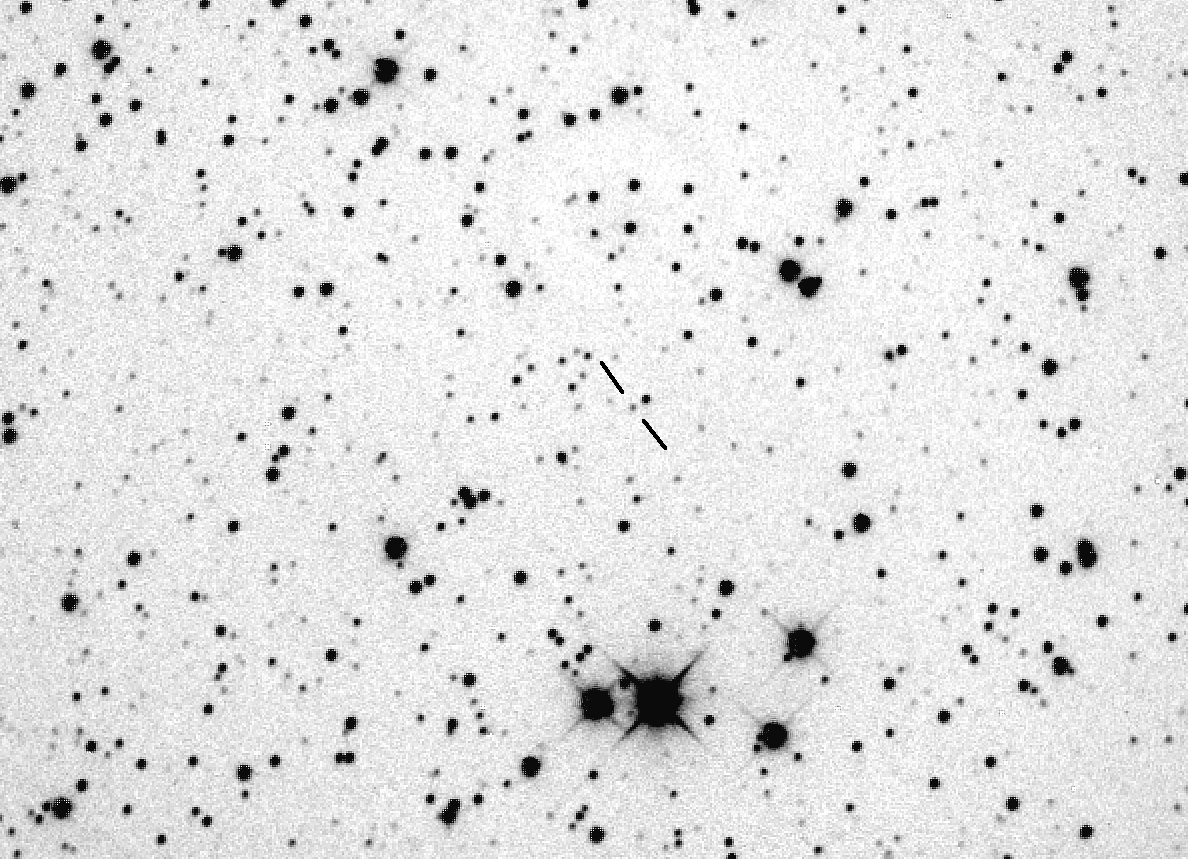 Figure F3. Image taken with my AstroTech 16" telescope. FOV = 12.5 x 9.0 'arc, north up, east left.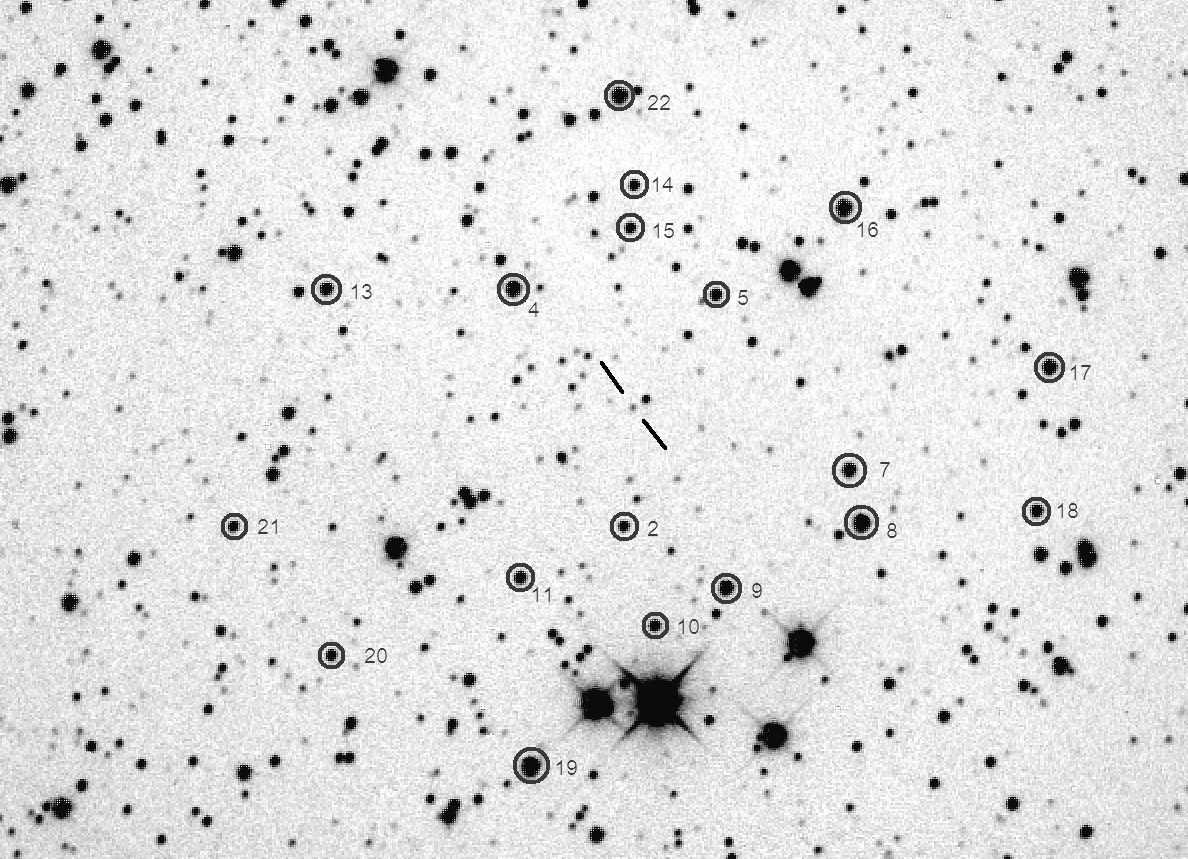 Figure F4. Some of the stars I use for reference. See below for r'-mags that I've adopted for these stars.

| | | |
| --- | --- | --- |
| Star # | r'-mag | B-V-0.64 |
| 2 | 15.882 | 0.13 |
| 4 | 13.854 | 0.78 |
| 5 | 15.181 | 0.25 |
| 7 | 14.446 | 0.21 |
| 8 | 13.338 | 0.14 |
| 9 | 14.291 | 0.02 |
| 10 | 15.562 | 0.25 |
| 11 | 15.014 | 0.20 |
| 13 | 14.692 | 0.41 |
| 14 | 15.770 | 0.25 |
| 15 | 15.704 | 0.25 |
| 16 | 13.560 | 0.65 |
| 17 | 14.167 | -0.02 |
| 18 | 15.088 | 0.58 |
| 19 | 12.828 | 0.22 |
| 20 | 15.852 | 0.25 |
| 21 | 15.887 | 0.19 |
| 22 | 13.495 | -0.17 |

Observing and Analysis Tips for this Target

The target star, J0139, is faint (V = 18.4) so unfiltered is the best option. However, consider that the target is bluer than all nearby reference star candidates. The combination of "unfiltered with very blue target" means that systematic offsets will differ for each observer (because each observer's unfiltered effective wavelength will be different). Therefore we should expect that comparing measurements from different observers will require determination of an empirical offset for each observer. This is easy to do. To maximize the usefulness of this process it will be important that each observer adopt a FOV placement that is the same every night (so that flat field systematics, which everyone has, are the same for each observing session). Also, use the same reference stars every night.

The goal is "day timescale" variations, not hourly or shorter timescale variations. With a 14" telescope, unfiltered, no full moon, 100-second exposures will yield SNR per image ~ 10 (i.e., 10 % SE). This SE per image is large compared with all other systematics. For example, scintillation is typically 5 to 10 mmag per image, or 0.5 to 1.0 %. It is also not necessary to keep the star field fixed with respect to the pixel field throughout the night to minimize flat field variations during an observing session.

The most important tip is to choose photometry setting carefully and stick to them for processing every observing session. This is because there's a brighter star close to the target star (9 "arc away), as shown in the next image. The danger we want to avoid is for atmospheric seeing changes to cause some of the flux of the brighter star from entering the signal circle and making the target star appear brighter than it is. If one observing session has bad seeing compared to another, there's a risk of the target reading for that night to be influenced by the nearby star. My rule of thumb is to choose a signal aperture radius that places the circle less than halfway to the interfering star.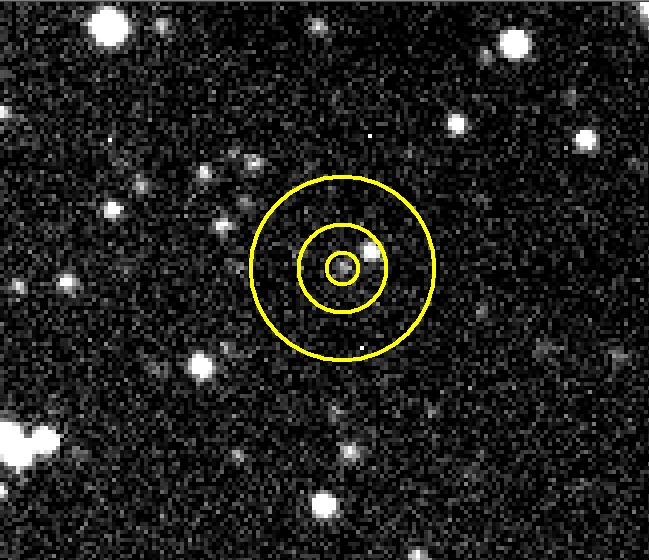 Figure T01.
Subset of a single image (3.5 x 3.0 'arc, north up, east left) showing photometry circles centered on the target. The brighter star within the gap annulus is 9 "arc away. All of its flux must be kept within the gap annulus in order to avoid some of its flux from entering the signal circle.
As an aside, you'll note three "hot pixels" in the above image. One of them is in the background annulus. This is OK because it will be ignored (by MaxIm DL, and presumably any other good quality photometry program). Hot pixels inside the signal circle cannot be tolerated, so placement of the FOV should take this into account.

My Collaboration Policy

Please don't ask me to co-author a paper! At my age of 80 I'm entitled to have fun and avoid work. Observing and figuring things out is fun; writing papers is work. If my data is essential to any publication just mention this in the Acknowledgement section.


Vanderbosch, Z., J. J. Hermes, E. Dennihy and 8 others, arXiv: https://arxiv.org/abs/1908.09839


Related Links

Wikipedia description of J0139
WD1145 photometry monitoring
Resume


____________________________________________________________________
This site opened 2019.08.30.